Vietnamese Fashion Designer Introduces Southern Cuisine Through Fashion Made From Specialities
Turning familiar Southern dishes and specialities such as Banh xeo, Banh la mit,Banh beo ... into "princesses", designer Nguyen Minh Cong proves fashion is unlimited.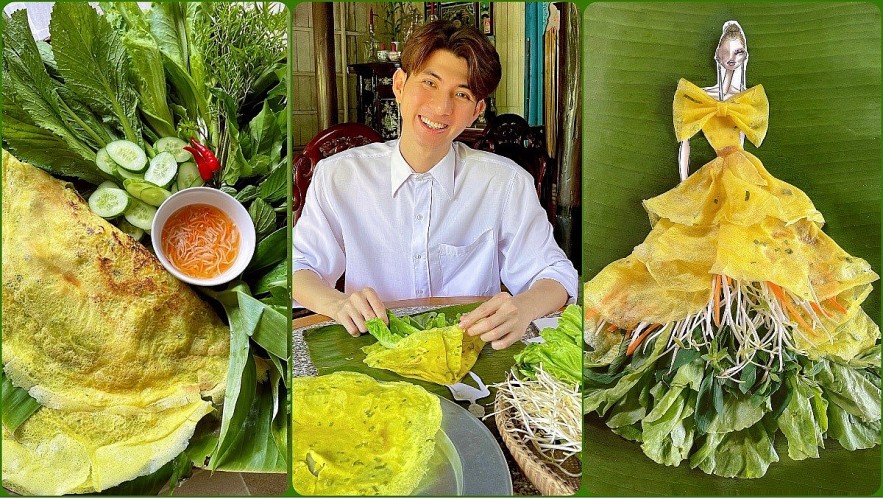 Designer Nguyen Minh Cong uses the language of fashion to tell the story of regional cuisine PHOTO: NSCC
Recently, "princess designer" (nickname in Minh Cong's profession) has just randomly launched a collection called Fashion - Food | Mini Collection 2021 was made in his hometown of Vinh Long, under the support of a "professional and long-experienced" team that are… his parents.
Returning to his hometown in Binh Tan district, Vinh Long province to visit his parents, designer Nguyen Minh Cong did not expect this trip to last up till 4 months due to social distancing.
In the days in the countryside, in addition to helping his parents to work in the fields, other spare days spent by Nguyen Minh Cong and his mother in the kitchen to cook and treat the family with delicious dishes. In particular, the cake specialities of the Southern countryside made his friends excited when showing them off on social networks.
Because all fashion plans, especially the new collection were delayed due to the pandemic, causing much work missed, so recently, Nguyen Minh Cong has had an interesting idea when using the food he made to design mini dresses. He said this was a way for himself to be both creative and happy because he can meet his cooking and fashion designing preferences. The biggest challenge that Nguyen Minh Cong had to overcome was how to sketch the collection of princess dresses with Southern dishes. Nguyen Minh Cong chose his collection of cakes such as: pancakes, jackfruit leaf cake, tapioca cake, beo cake, sweet wet cake, da lon cake and pomegranate seed dew... All of them are not only eye-catching, but also so attractive to make people mouth water.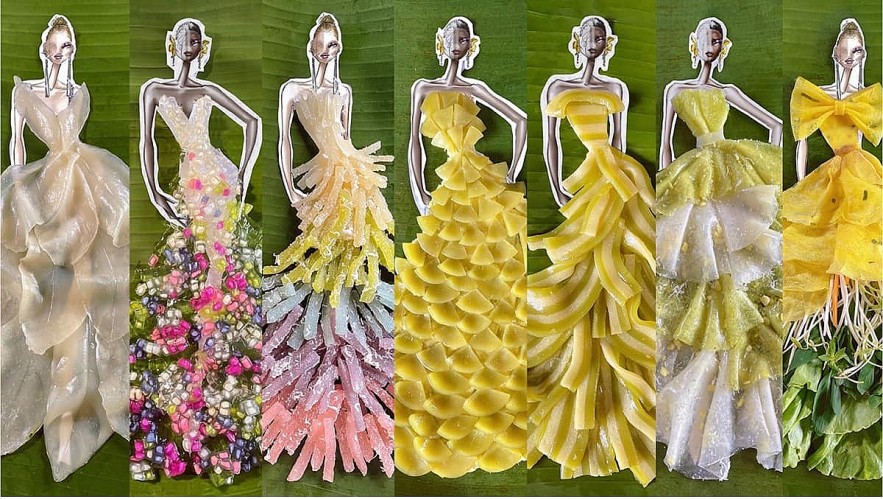 "When going home to visit my paretns, I didn't prepare drawing or sewing tools in advance, I missed my job so I thought of making fashion from food. I use paper cut mannequins and then design food on it. The background I use is a banana leaf that my mother meticulously cuts in our garden to create closeness and color my outfits. Besides, the banana leaf has a non-stick effect, so it will help cake decorating to taste better. My mother saw me fidgeting and humorously said: 'You were born a chef, but your mother sent you to fashion school?', and the whole family laughed!", Nguyen Minh Cong confided.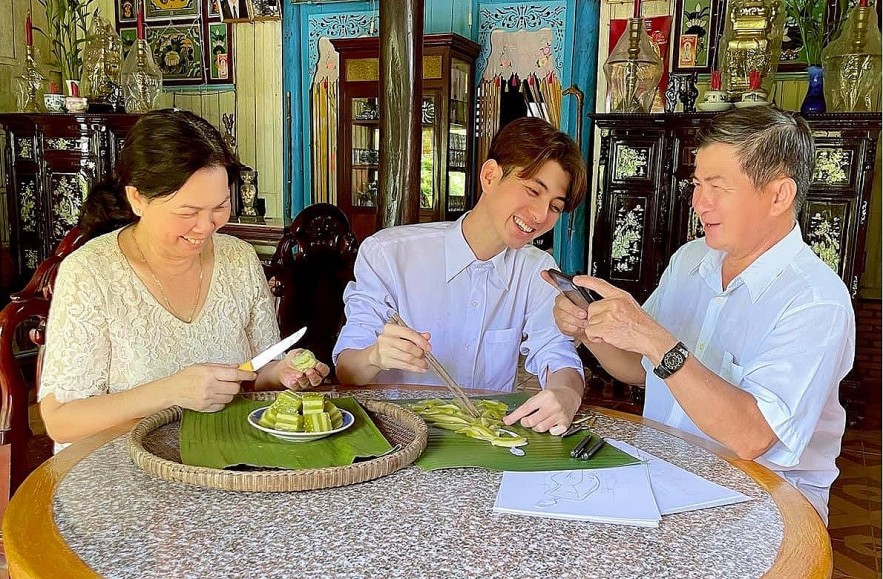 Designer Nguyen Minh Cong and his parents in the countryside during the holidays create a 'delicious, eye-catching' fashion collection PHOTO: NSCC
This collection also has the contribution of Nguyen Minh Cong's parents. "My parents really liked this idea because it was not only close but also recreated the beautiful childhood memories of my parents. In addition, the collection also contributes to promoting Southern cuisine, which is inherently rich and unique. When I had the idea to make this interesting collection, the three volunteered to shoot a video review, even though this was the first time they had held a camera. In addition, my father also went to the garden to find ingredients such as banana leaves and pandan leaves to lend me a hand. My mother helped make cakes and also prepared the dishes for me to design and decorate beautifully. Looking at the moment when the whole family worked diligently, while creating and finally enjoying together, I felt extremely happy. This is a meaningful period of time that we have not experienced in many years of being busy."
Below are pictures of Fashion - Food mini collection 2021 full of creativity by designer Nguyen Minh Cong:
Jackfruit leaf cake - Bánh lá mít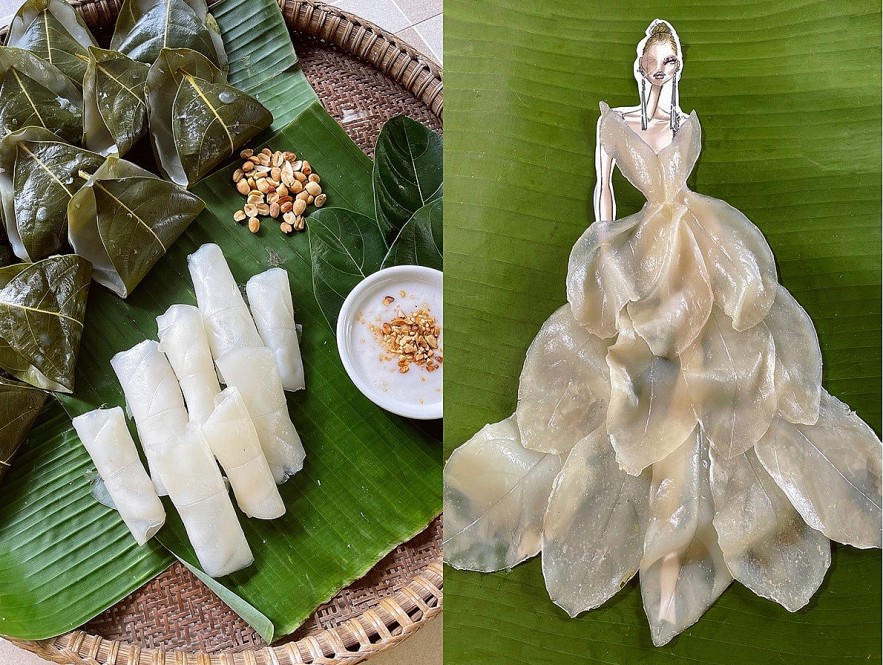 Jackfruit leaf cake.
The white princess dress with an impressive deep neckline was designed by designer Nguyen Minh Cong using the main ingredients of jackfruit leaves and rice flour. The layer of rice flour, after being thoroughly stuffed, is stretched thinly onto each jackfruit leaf and steamed to create a layer of veins that looks like a textured chiffon fabric. Each ivory-white leaf is layered alternately to create a float that makes the princesses more gorgeous when stepping out of fairy tales.
Steamed Cassava with Coconut Cake (Bánh tầm khoai mì)
All of us must have eaten at least once a colorful and fragrant cassava cake, but we can't imagine how gorgeous and beautiful the princess dress made from this cake is.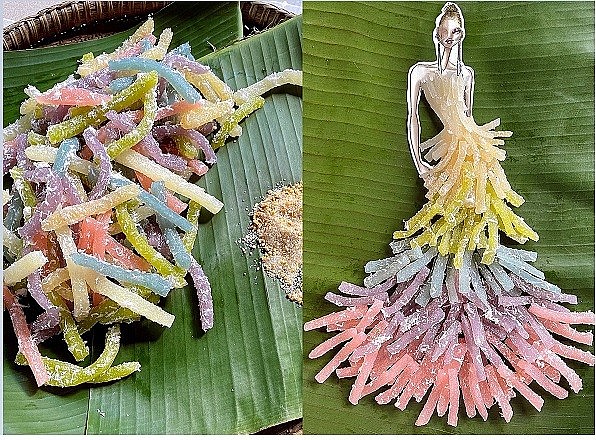 Steamed Cassava with Coconut Cake (Bánh tầm khoai mì)
The 5-tier evening gown with 5 colors was meticulously created by designer Nguyen Minh Cong from supple tapioca fibers with the highlight of the ombre turning from dark to light to create soft tassels. Besides, the white grated coconut fibers form the feathers as the highlight to create softness, flexibility and femininity for the princesses.
Bloating fern-shaped cake - Bánh Bèo
Devotees who are in love with the green bean paste cake served with thick coconut milk will be surprised to see the extremely gorgeous dress that designer Nguyen Minh Cong took pains to cut each small piece of the triangle meticulously put together.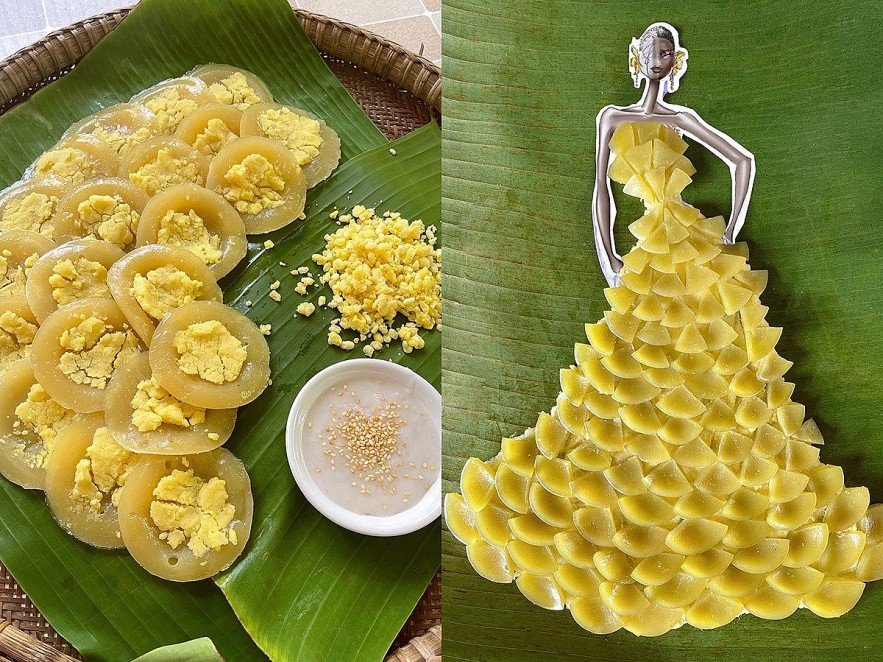 Banh beo
Dozens of puzzle pieces are layered on top of each other to look like fish fins with a layer of bean paste underneath to create a gorgeous and unique golden princess dress.
Uot sweet cake - Bánh ướt ngọt
You will surely find it interesting when the signature dress that creates his trademark Princess Princess is here. The princess dress made from sweet and soft cake is used by the designer to use the flexibility, softness and thinness of the cake layer to create a flexible and lively look. Not only attracting with two layers of white and green combined, Nguyen Minh Cong also used coconut and green beans to spread evenly on the body of the dress to create the feeling of meticulously attached stones to increase the attractive part.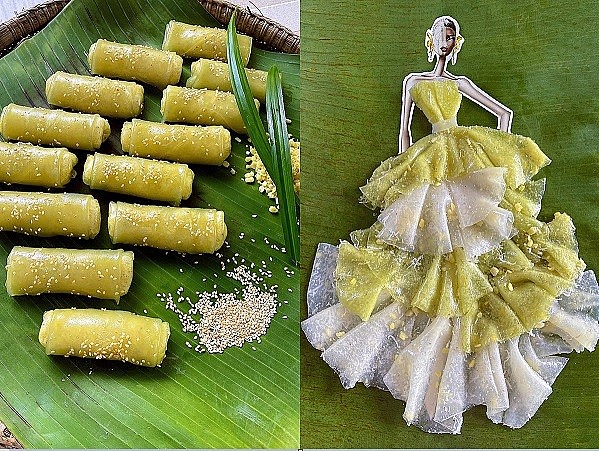 Uot sweet cake - Bánh ướt ngọt
Vietnamese southern crepe - Bánh xèo miền Tây
The large western pancake in the middle of the pan is picked out and crispy, rolled with raw vegetables and dipped in a cup of sweet and sour fish sauce that will make everyone irresistible. However, with a uniquely designed dress from this pancake, no one could eat it because it's too eye-catching.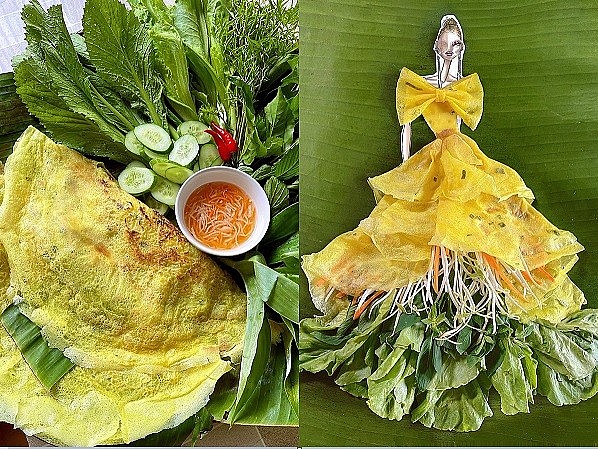 Vietnamese southern crepe - Bánh xèo miền Tây
Nguyen Minh Cong uses a layer of crispy yellow pancakes to form a skirt with the bottom of the skirt being the green color of lettuce, herbs, and bean sprouts forming a white fringe. This is one of the creations that Nguyen Minh Cong is very passionate about.
Vietnamese grass jelly dessert- Sương sa hột lựu
The cup of pomegranate dew tea you usually enjoy every hot summer afternoon is suddenly beautiful and strangely sparkling. "Princess Princess" makes full use of its sparkle and beauty to create an extremely sexy and seductive dress. The transparency and flexibility as well as the vibrant colors of the material contribute to the elegance and sensuality of the dress.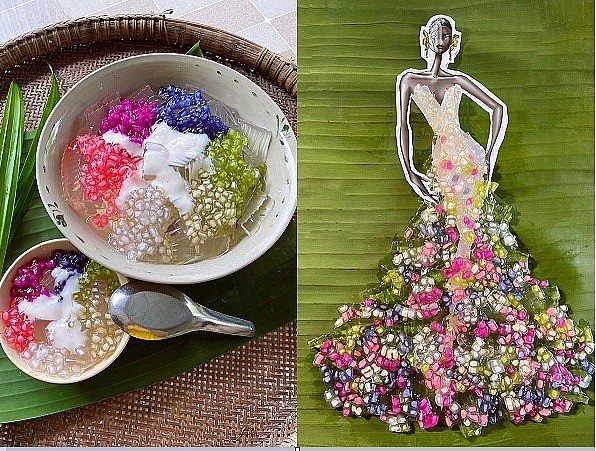 Vietnamese grass jelly dessert- Sương sa hột lựu
Nguyen Minh Cong said, the most interesting thing about this dress is that the colors from vegetables help the dress tell a story of nature in which there are clouds and sky, young grass, and beautiful flowers.
Vietnamese steamed layer cake - Bánh da lợn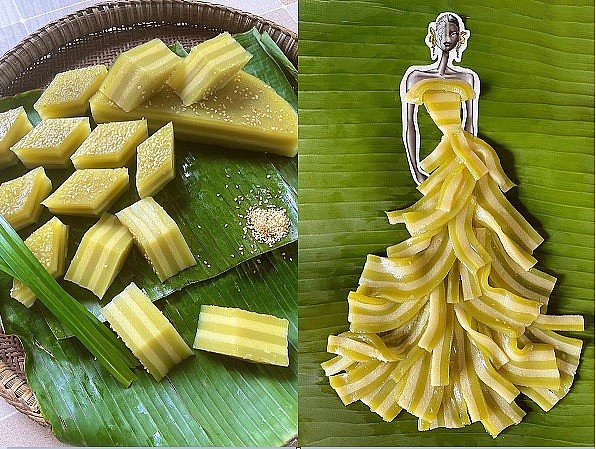 Vietnamese steamed layer cake - Bánh da lợn
Any girl who sees this steamed layer cake at first glance will think of having to wear such a beautiful dress at least once in her life. Using spoons, chopsticks, knives and scissors as the main tools, designer Nguyen Minh Cong skillfully cuts slices along the cake to create beautiful blue-and-white plaid pieces. Taking advantage of the softness of the cake, Nguyen Minh Cong curls it to create a buoyancy and separates the cake layer to add volume to the lines to make the dress more vivid.