Vietnamese in US Founds Online Yoga Community To Share The Art Of Mindfulness
With a view to inspire greater compassion, kindness, and empathy in the world, Caroline Vo left her high-paid job and came up with the idea to build an online yoga practice community.
Excelling in college and getting a good job was the only path Boston native Caroline Vo, now 36, felt she could follow. "I come from Vietnamese immigrant parents: It was very much ingrained that you go to school, work hard, get good grades, and then you go to college, get a good job, and kind of find your way," she explains.
As CNBC reported, Vo attended American University's Kogod School of Business, studying business administration with a specialization in marketing and management. After graduating, she says, "I interviewed with a company and I secured a job and then worked my way up the corporate ladder to get that high-paying salary."
Despite her success at work, adapting to many roles at different companies, Ms. Vo always felt uncomfortable and decided to submit her resignation in April 2018. A month later, she booked a plane ticket to Vietnam.
Omflow founder, Caroline Vo Courtesy Caroline Vo
Since then, everything changed. Within eight months, she began exploring her homeland and then traveling around Southeast Asia. Ms. Vo went to Cambodia, Thailand, Myanmar, Malaysia, and Singapore. While in Thailand, she participated in and practiced Vipassanā meditation. "I really learned to understand, appreciate and love my own breath," she shared. From there, she came up with the idea to apply this breathing method to yoga. So she set off for India, completed a yoga course and received her certification as a yoga instructor.
After returning to the US, Ms. Vo came up with the idea to build an online yoga practice community, in Houston (Texas). "I told myself this was an investment in myself. I put all my savings of 401,000 USD (9.1 billion dong) to invest in an idea that I think can inspire others on how to live every moment to the fullest," CNBC quoted him as saying. Miss Vo. From there, as News Fox-24 reported, she founded and became the CEO of the online platform Omflow.
The biggest challenge for Vo was searching for and training yoga teachers, as Grow reported. Omflow is an online platform and she wanted to ensure the teachers were still able to enforce mindfulness through a screen. "Just because it's online and virtual, it doesn't mean that has to replace human connection. It could enhance it," Vo says.
Caroline on the Mekong River in Vietnam in 2018.Courtesy Caroline Vo
Since opening in May 2019, Omflow has at least 4,000 subscribers and currently maintains more than 400 members. Vo's online yoga community offers different courses, depending on the needs of the user.
Omflow offers both single yoga practices and bundle subscriptions: For $14 you get one yoga practice, while $56 will get you five. Unlimited class access is $159 per month.
Vo initially wanted to make Omflow as big as possible, similar to other at-home wellness systems. But she didn't want to impose a cost barrier on her users.
"I want to inspire greater compassion, kindness, and empathy in the world. This means every person is mindful, present and aware of others and themselves. It means individuals taking accountability for who they are and what they exchange and put out into the world so they could understand that the effect that they have at a scale is in-fact, the effect that starts within themselves. Omflow is working on this movement through the practice of yoga, self, breath and body.", she said with Authority Magazine.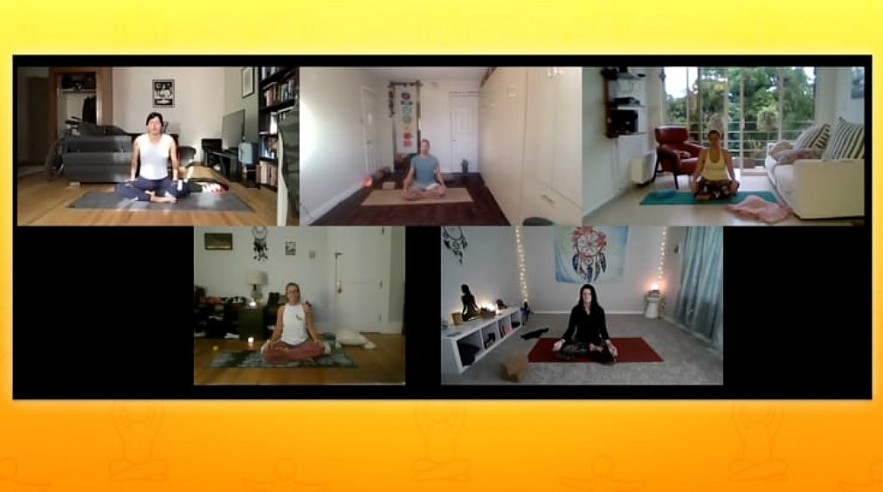 An Omflow yoga practice. Courtesy Caroline Vo
Caroline Vo shared 5 steps to develop mindfulness during certain times:
1. Be present. Regardless of the pandemic or not, life is uncertain. Life will always be unpredictable and there's no way to manage or control this. This was true before the pandemic, and it will be true after the pandemic. Recognize this truth and work towards shifting your thoughts and focus from the past and the future to this present moment. This is important to practice even after the all the upheaval and political uncertainty and pandemic fears settle down.
2. Be aware. Notice, observe, heighten your awareness of what is happening. Not in a reactionary way but simply as an observer. Learn through sensations, recognition, awareness.
3. Don't judge. Upon observing, work to not judge. Work to remove expectations as you're not able to control situations but only control how you decide to respond.
4. Recognize and quiet the ego. If you notice that your ego is present and that your ego is the one responding to what's happening, quiet it. Instead move through a place of logic.
5. Practice. Mindfulness is not a quick hit or an easy solution. It takes practice and time, constant self reflection, constant resetting and recalibrating. Work to implement these steps through the practice of each one as they arrive, or all together in the form of meditation.
Caroline Vo is the Founder & CEO of Omflow, a 24 hour live, interactive online yoga studio that allows students to connect and practice yoga in real-time through 2-way video streaming. She started Omflow in 2019 after experiencing a need as a yoga teacher to teach without the confinements of a geographic location, limitation in pay and constrained studio schedule. As a yoga student, Caroline also felt there was a need that existed in the market to be able to access high quality yoga practices at a more affordable rate, at more convenient times.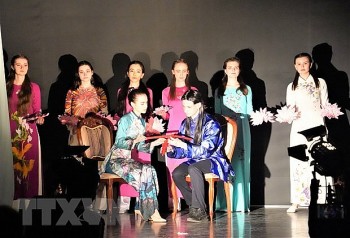 Overseas Vietnamese
Two exchange programmes were held in Russia, attracting manyemany and students of Vietnamese studies from leading universities in Russia.