Vietnamese inventor receives US patent for impregnating wood with polymer solution
Vietnamese inventor Tran Hoai Nam has received a US patent for his methods and systems of impregnating wood with a polymer solution and the products thereof. The project resulted from dozens of years of conducting research, which was even more difficult as Nam didn't have methodical and professional education in this field.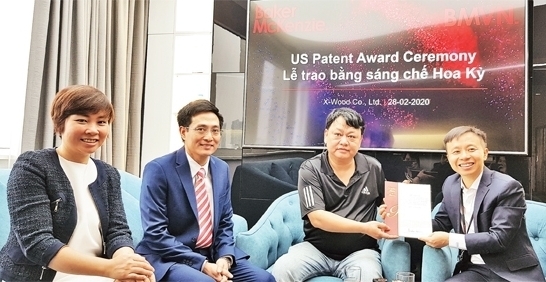 Tran Hoai Nam (third from left) receives a US patent for impregnating wood with polymer solution
The 49-year-old inventor had to quit university early and take on many jobs to survive. He hadn't considered it until 2005 when one of his friends told him about how difficult it was to dye wood. As a man who loves inventing new things, Nam started his research on wood dye. He quickly found that it was challenging to make wood dye penetrate deeply into wood from within and never fade.
It took him three years to come up with the idea of impregnating wood with a polymer solution to produce water-proof and termite resistant wood products with long-term durability.
It was an unprecedented experiment as even doctors and academics who specialised in forestry hadn't thought of it.
Nam decided to leave his job to focus on this project, and spent days and nights at a woodworking workshop in Phu Tho. He doesn't remember how many failed experiments he had, which cost him a huge amount of money and even forced him to sell his houses to invest in further research. Despite seven years following his passion with no gain, Nam didn't feel discouraged or quit this project.
His effort was finally rewarded. Nam explained that impregnating wood with polymer solution helps wood products with a lower cost than valuable natural wood by increasing their quality. Nam's products can survive 30 years in hot and humid climates without termites.
Nam's invention has opened a new door for the wood industry. Once widely applied, it will eliminate deforestation for timber production while providing a new source of material for Vietnam's wood processing industry. With more outstanding qualities than natural wood, this type of wood can be used to make both indoor and outdoor wood furniture.
In addition, Nam's invention has also made a significant contribution to protecting the living environment as his impregnating process helps to prevent the use of chemicals during the use of natural woods, which can cause harm to people's health.
However, it was not easy for Nam to obtain a patent in the United States. Lawyer Tran Manh Hung, Director and Managing Partner of BMVN International LLC - a licensed law firm and IP agent and a member of Baker McKenzie – recalled that Nam and his colleagues had first contact for BMVN in May 2015 to ask for legal consultancy to file for a patent in foreign countries, including the US and Europe.
BMVN later had dozens of meetings with Nam to learn more about his invention during which they found that Nam's solution brings about high economic efficiency and significant benefits for the wood-processing industry.
Nam thereafter received detailed consultancy to fully describe his invention in Vietnamese, to satisfy the written description requirement of a patent specification. His description was then translated into English and his invention was filed on January 1, 2017. It was officially granted its patent by the United States Patent and Trademark Office on November 26, 2019.
According to Hung, the issue of the patent will help Nam have the exclusive right to use and commercially exploit his invention in a specific territory for a period of 20 years (once granted) after the initial filing of the patent application on January 20, 2017. He also has the right to deter others from "free-riding" on his innovation, whether by means of copying or reverse engineering his patented product without permission, and also to assign his patent to others.
NDO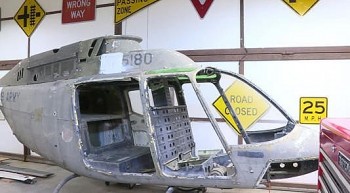 World
A piece of military history related to Vietnam is coming to life with a special project in a small Barton County townm in the US