Vietnamese Language and Culture Introduced on S. Korea's Jeju Island
While its hard work, a young teacher shared is happy to teach at 13 secondary schools on Jeju Island of Korea.
Young teacher spreading Vietnamese culture
Le Ngoc Uyen Sa is currently 26 years old and originated in Thua Thien Hue of Vietnam. She came to Jeju island in April 2022 under a contract with the Department of Education of Jeju province to teach the Vietnamese language and culture.
The opportunity came to Uyen Sa quite unexpectedly. After graduating from university, she worked as an interpreter for a Korean company in Ho Chi Minh City. 3 years later, she wanted to change the job and noticed the vacancy announcement of the Jeju Provincial Department of Education. Feeling that this is a good opportunity and that she is also suitable for the job, Uyen Sa immediately sent her application.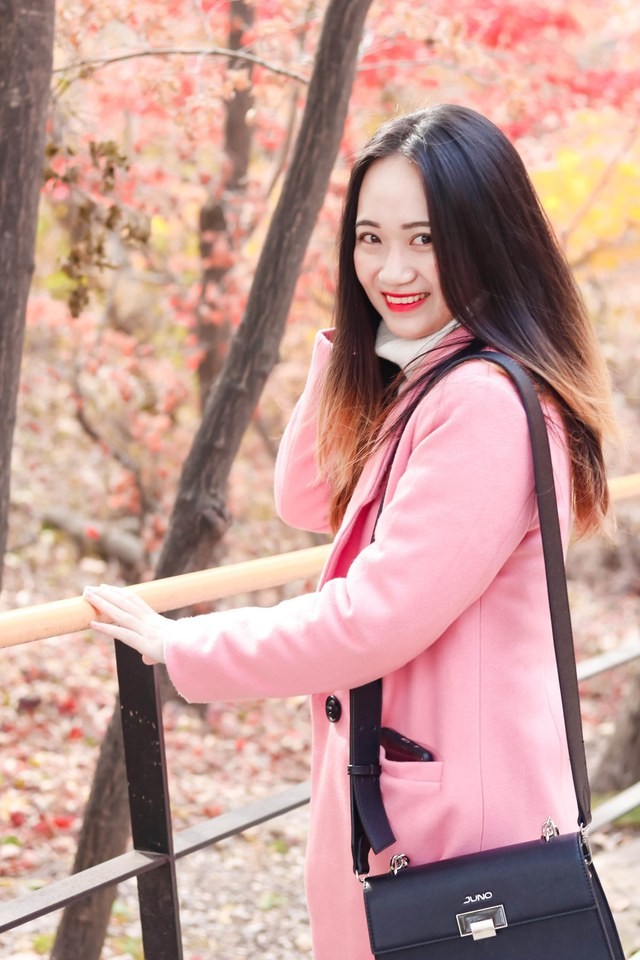 Uyen Sa is currently teaching Vietnamese language and culture in Jeju island of Korea. (Photo: To Quoc)
"I was lucky to be accepted after passing the application and interview. When I was a student, I received a short-term scholarship to study at Kyunghee University in Seoul. Therefore, I am also a bit familiar with the country. The most prepared is probably the spirit to face winter here because it's quite hot in Ho Chi Minh City, where I lived the past few years", said Uyen Sa.
Because she works for the Department, not for any specific school, Uyen Sa has the opportunity to teach at many schools on the island. Last semester, the young teacher taught at 13 secondary schools. There are schools that will organize Vietnamese language and culture classes during the semester, while some schools only have 1 or 2 extra-curricular cultural classes.
Therefore, her schedule is flexible and almost changes from week to week. Uyen Sa focuses on the content of cultural teaching, accompanied by a number of experiential activities such as decorating Vietnamese Ao dai, conical hats, and playing folk games… which are suitable for secondary students.
She said: "One thing that I realized when doing this job is that most students only know about Vietnam through some very basic images such as Pho, Ao dai, and motorbike. So I broadened their knowledge through my classes. For example, when it comes to cuisine, I will teach them that each region across the country will have its own unique and diverse cuisine, not just the famous Pho. Or one of the differences between Vietnam and Korea is that while Korea is a single ethnic group, Vietnam has 54 ethnic groups, from which to refer the diversity of culture and customs of the ethnic groups in Vietnam..."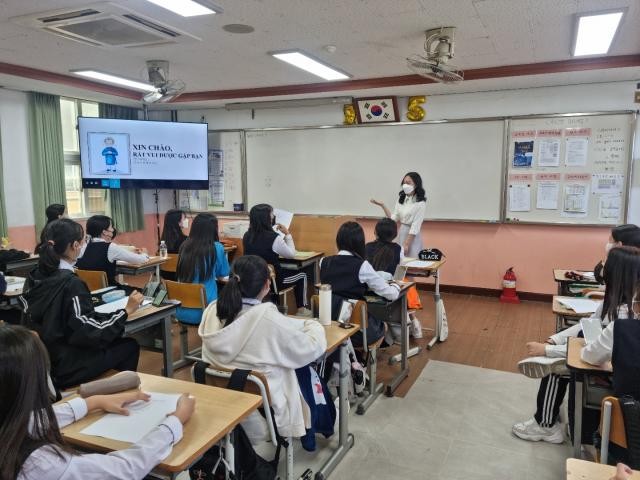 Her class. (Photo: To Quoc)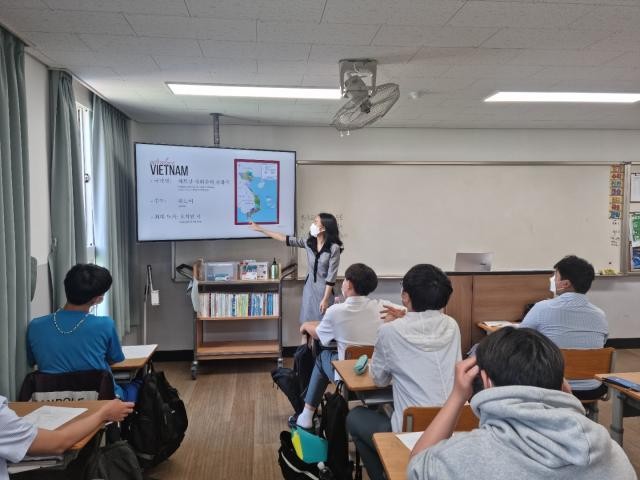 Her class. (Photo: To Quoc)
Currently, Uyen Sa is living in a house provided by the Jeju Provincial Department of Education for foreign teachers. Here, she knows many teachers who come to Jeju to teach the cultures and languages ​​of other countries and receive a lot of support.
She travels mostly by bus. Because she teaches in many places, so she has to move a lot, but public transportation on the island is not really convenient. There are days when her travel time lasts up to 5 hours. When there is an early class at a school far from home, sometimes the young teacher has to get up at 5 am to get ready.
She plans to work as a teacher on Jeju Island for about 2 more years. She is on vacation for 2 weeks this New Year, so she will return to Vietnam to visit her family.
Happy stories on Jeju Island
Her joy comes from students using Vietnamese in daily communication. They often greet many other teachers in Vietnamese, or quiz each other on what each word means. When she saw the children express their surprise and admiration for the Vietnamese language and culture as well as their willingness of learning more, she is very motivated and happy.
On Teacher's Day in Korea, her students gave a certificate of merit engraved with Korean words, roughly translated: "Thanks to you, we love the Vietnamese language more".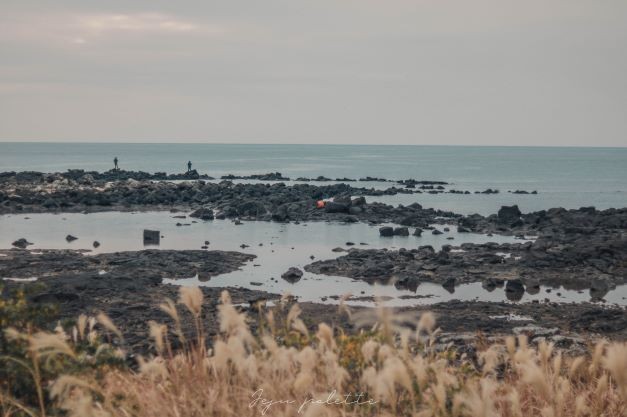 Some photos of the Jeju island that she took. (Photo: To Quoc)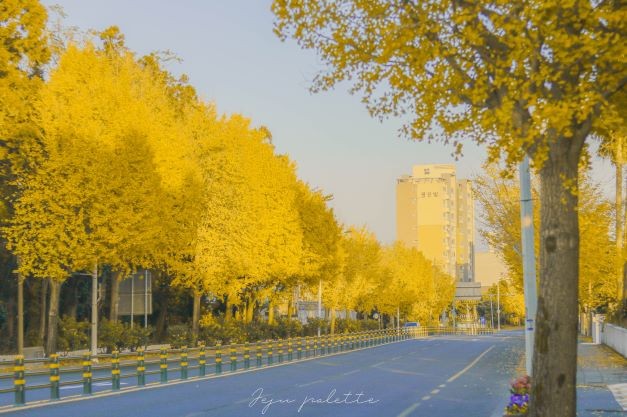 Some photos of the Jeju island that she took. (Photo: To Quoc)
Some photos of the Jeju island that she took. (Photo: To Quoc)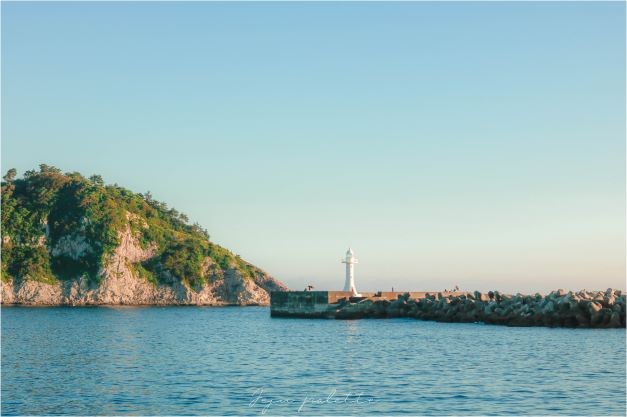 Some photos of the Jeju island that she took. (Photo: To Quoc)
As a language learner, Uyen Sa also loves the Jeju dialect. The local people really love and respect their dialect. For example, at the main entrance of the Jeju City Museum, there is a welcome sentence in the local language. Menus of some restaurants still use the local language to name some ingredients or dishes.
Uyen Sa is quite fond of taking pictures, and Jeju is very poetic. Whenever she has free time, she tries to capture beautiful moments on the island. The young teacher also has a small blog on Facebook to post pictures she took on the island, named "Jeju Palette."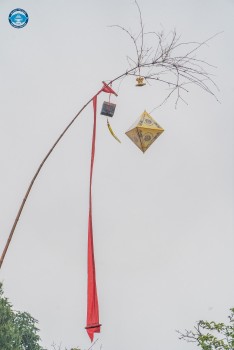 Viet's Home
In the past, the Neu pole (a tall bamboo pole with red garment strips used to ward off evil spirits during the lunar New Year) lowering ceremony at the royal palace of the Nguyen Dynasty was performed to mark the end of the New Year holiday and prepare to enter a new working year.