Young Vietnamese's Journey to Spread National Cultural Values in Africa
Pham Quang Linh and his friends have been building houses, repairing schools, giving rice and Vietnamese traditional Ao dai, therby helping struggling communities in Africa. His actions bring Vietnamese values to new African friends.
Vietnamese Ao Dai for African Teachers
In the vlogs shared by Pham Quang Linh, many people are touched by the image of charming and radiant African teachers in traditional Vietnamese Ao dai. In the video, African teachers were very surprised by this meaningful gift. They constantly thanked Linh and donators, and at the same time praised the beauty of Ao dai bearing the Vietnamese national identity.
"The dresses fit perfectly, are graceful and very beautiful. This is the first time we put on such beautiful clothes. Thank you very much, Vietnamese friends", many teachers said.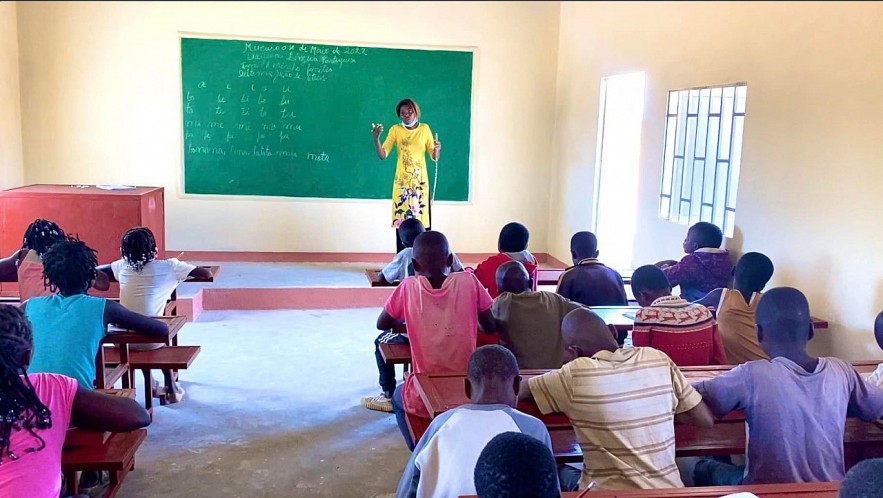 A charming Angolan teacher in Vietnamese ao dai (Photo: Cong Giap).
During his stay in Angola, Linh and his friends have done many volunteering activities to help the people of Angola. They made efforts to promote Vietnamese culture through daily activities such as cooking Vietnamese food, teaching African children to practice speaking Vietnamese simple sentences, practicing singing Vietnamese songs, or organizing traditional Vietnamese holidays such as the Mid-Autumn Festival or Tet.
YouTube channel "Quang Linh Vlogs – Life in Africa" is created by the "African team" of 9 friends, including 4 Vietnamese and 5 Angolan. Despite being filmed in poor facilities, without editing or adding effects, the videos made a strong impression on the audience thanks to their simplicity and authenticity.
The videos capture the daily life of the "African team" and the indigenous people from working, playing, exploring, and experiencing to community projects with humanistic meanings... Viewers understand more about the life, unique traditional culture, friendliness, and hospitality of the African people.
As a result, in a country located tens of thousands of kilometers away from Vietnam, Vietnamese songs can be heard through the voices of Angolan children, the beauty of Ao dai can be shown by graceful African teachers. Most importantly, African people are now impressed by Vietnam, a country that is rich in cultural identity, peace-loving, and always ready to share and support.
African Wedding with Vietnamese Customs
In 2020, Linh and his friends helped Manuel Arlindo (commonly known as Lindo), an Angolan who accompanied the group during their volunteering journey, to organize a wedding imprinted with Vietnamese identity.
The wedding has the betrothal ceremony, the wedding gate tied from coconut leaves, and the Vietnamese-style wedding ceremony. Talking about the idea of ​​holding a Vietnamese wedding in Angola, Linh said: "In Angolan custom, there is no betrothal ceremony. Therefore, I came up with the idea of ​​organizing in Vietnam style to make the wedding more special. Lindo was also interested and excited about that idea and loves Vietnamese culture, so he immediately agreed. This idea was also supported by the families of both sides.
We spent about 2 months for concluding the concept and carrying out our ideas. We looked for coconut leaves to tie the wedding gate, prepared the bride and groom's costumes and the wedding gifts because in Africa, everything is not available to rent or buy Vietnamese varieties."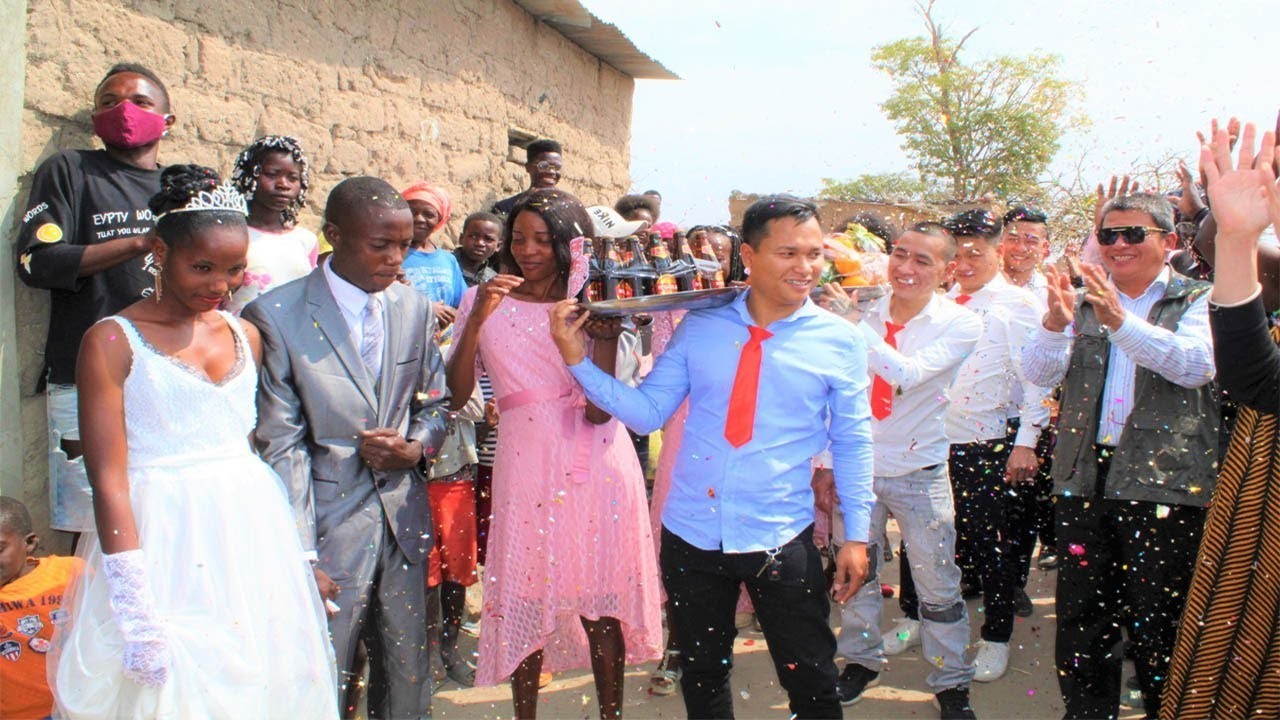 Lindo's wedding was held in Vietnamese customs (Photo: Quang Linh).
Linh said that bringing Vietnamese cultural identity to African people has always been his and the group's aspiration. "I am very happy that the people of Angola know about Vietnamese culture. I also want to spread the national culture to the African community more".
Pham Quang Linh was born in 1997 in Nghe An. After graduating from high school in 2016, Linh worked in Luanda, the capital of Angola. Upon arriving in Luanda, Linh worked in construction for a while. Then he opened a small stone workshop. In early 2019, he started filming videos that capture true images of everyday life in Angola and posted them on Youtube. After that, Linh recorded volunteer activities by his associates and himself, when they were distributing rice and necessities to the people of Angola, building new houses, installing electricity systems, bringing clean water to indigenous people, guiding people to grow vegetables.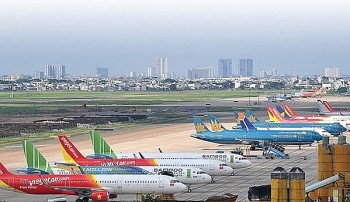 National
Vietnam News Today (Feb. 9): Vietnamese Prime Minister starts official visit to Singapore; Vietnam among destinations for best slow travel holidays in 2023; Vietnamese aviation market predicted to fully recover by year-end; Vietnam weathers crisis to record robust growth thanks to digital boom.