Vietnamese Player Scores Best Goal at Futsal World Cup 2021
The goal scored by Nguyen Van Hieu in Vietnam's game against Panama was voted as the best goal at the FIFA Futsal World Cup 2021.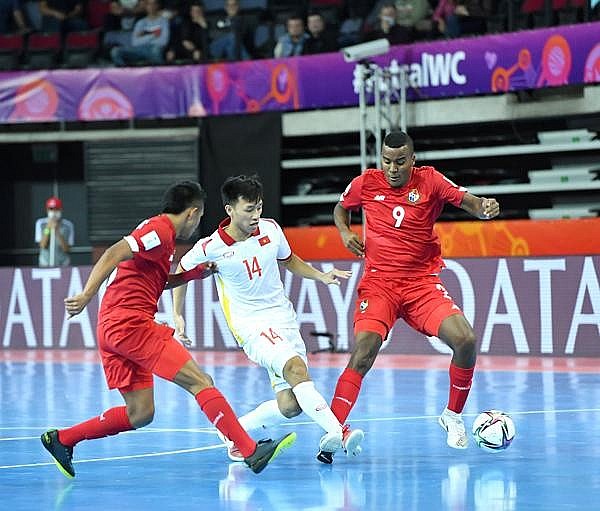 The organizing board of FIFA Futsal World Cup 2021 has announced the top 7 goals of the tournament. Player Nguyen Van Hieu of Vietnam futsal team is named in this list. Photo: Thanh nien (Young people) newspaper
Following the final match on October 4, in which Portugal defeated Argentina to claim championship, FIFA announced nominees for the tournament's best goal on its official Facebook page.
Hieu's goal gained most votes from fans, followed by Ali Hassanzadeh (Iran), Jovan Lazaveric (Serbia) and Leonardo (Brazil), according to VnExpress.
His goal helped Vietnam win their second game of the group stage 3-2 on September 16. He started from the midfield and dribbled past two Panama players and the keeper to finish in the open net. The win was also crucial in helping Vietnam advance to the round of 16, where they were defeated 2-3 by world number four Russia.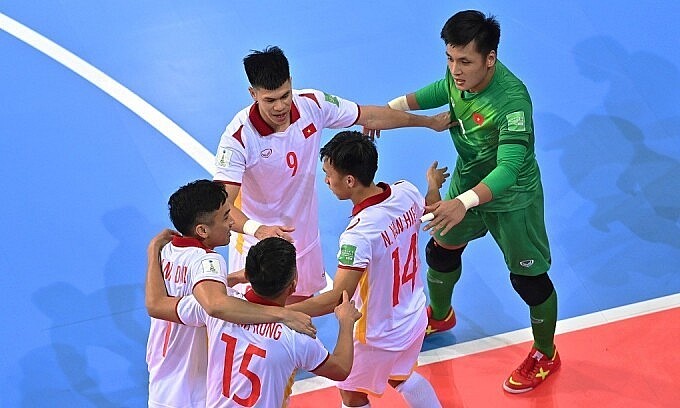 Nguyen Van Hieu (number 14) celebrates with his teammates after scoring against Panama at the Futsal World Cup 2021 on September 16, 2021. Photo by FIFA
The FIFA page called Hieu's goal "a sublime solo effort."
A total of 301 goals were scored at Futsal World Cup 2021. Vietnam scored seven in their four games.
The FIFA Futsal World Cup 2021 took place from September 12 to October 4 in Lithuania with the participation of 24 teams divided into six groups.
"A very promising player"
Born in 1998, Hieu is notable for his rapid rise in the sport, having previously purchased an online business instead of going to study in a college. Earning enough from his work, he had spare time to visit football fields and took part in various street football matches, according to VOV.
Despite his self-trained skills, Hieu became renowned among amateur players in Da Nang before signing a contract with futsal team Hoang Thu Da Nang FC in 2018.
He later went on to play a key role in pushing his club to the second position in the National Cup before receiving the title of top scorer of the national championship after netting 14 goals in 2018.
One year later, the 1.65-metre-tall player was called up to the national team.

Van Hieu (first from left) is among top 5 best players at FIFA Futsal World Cup 2021 after a series of group matches. Photo: FIFA
FIFA has also named Nguyen Van Hieu among five youngsters illuminating Futsal World Cup Lithuania 2021.
"Ready for an astonishing fact? When the last FIFA Futsal World Cup took place, Van Hieu had never even played the sport. He took it up in 2018, was a Vietnam international just 12 months later and is now dazzling at Lithuania 2021," FIFA wrote.
In the game with Panama on September 16, Hieu scored the decisive goal from a great solo effort to help Vietnam win 3-2.
"The winger who looks like a schoolboy had old pros feeling their age on Matchday 5. Van Hieu thwarted a Panama attack with an excellent tackle inside his own half, whizzed the length of the court, shrugged off two challenges, rounded the goalkeeper and cut the ball from an acute angle," FIFA described Hieu's goal.
"Van Hieu is the talent of Vietnamese futsal," coach Pham Minh Giang told FIFA.com. "His playing philosophy is very up-to-date. He is a very promising player."
Apart from Van Hieu, FIFA also named 4 players included Zicky (Portugal), Khusniddin Nishonov (Uzbekistan), Leozinho (Brazil) and Youssef Jouad (Morocco)./.