Vietnamese researcher of Japanese encephalitis vaccine awarded Labor Hero title
On January 19, in Hanoi, Vice President Dang Thi Ngoc Thinh, on behalf of the Party and the State, presented the "Labor Hero in the Doi Moi (Renewal) Period" title to the People's Physician Prof. Dr. Huynh Thi Phuong Lien who researched Japanese encephalitis vaccine – the first Vietnam-made vaccine to be exported abroad.
The first Vietnam-made vaccine to be exported abroad
Mrs. Huynh Thi Phuong Lien is one of the very prestigious leading professors in the field of vaccine research and production in Vietnam, Lao Dong (Labor) newspaper reported.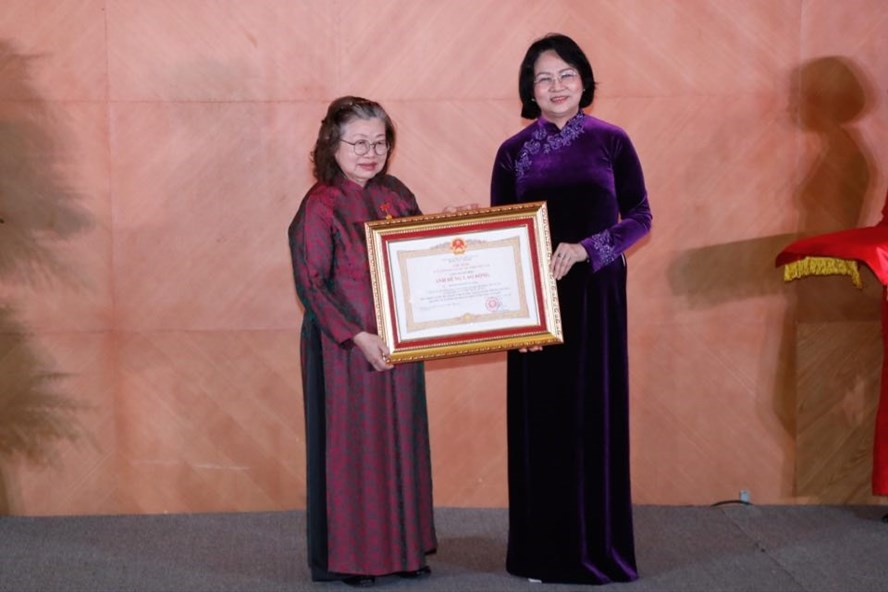 Prof. Dr. Huynh Thi Phuong Lien (L) is presented with "Labor Hero in the Doi Moi (Renewal)" title by Vice President Dang Thi Ngoc Thinh Photo: Laodong
Lien has participated in 12 state-level scientific research projects, in which she successfully manufactures the first-generation Japanese encephalitis vaccine and put it into use in the National Expanded Program on Immunization since 1997, contributing to reducing the incidence of the disease, decrease the mortality and neurological sequelae. This is also the first Vietnam-made vaccine to be exported overseas (5,430,000 doses have been exported to India).
Speaking at the ceremony, Minister of Health Nguyen Thanh Long said that since its establishment, the company for Vaccine and Biological Production No.1 (VABIOTECH) has produced many types of vaccines, simultaneously cooperated with many manufacturers in the world to research and manufacture the vaccines of mumps, rubella, meningococcal meningitis, and chickenpox.
Photo: Laodong
VABIOTECH is also currently among four Covid-19 vaccine producers in Vietnam. Its vaccine is expected to be tested on humans by the late first quarter of this year.
The Health Minister affirmed the "Labor Hero" title is a recognition of Prof.Lien's relentless dedication as well as her daring and creative spirit in scientific research and vaccine production. She has made great contributions to preventing diseases and protecting the community's health.
Long also expressed his hope that in the time ahead, VABIOTECH will continue successfully produce more vaccines especially the Covid-19 vaccine.
An 80-year-old scientist dedicated time for vaccine research and production
Prof. Lien was born on December 25, 1940, in the Central Quang Nam province's Hoi An. She then followed her family to move to the North.
Amidst the fierce war, Lien excellently accomplished the task of producing three types of vaccines against cholera, typhoid (TAB), and smallpox.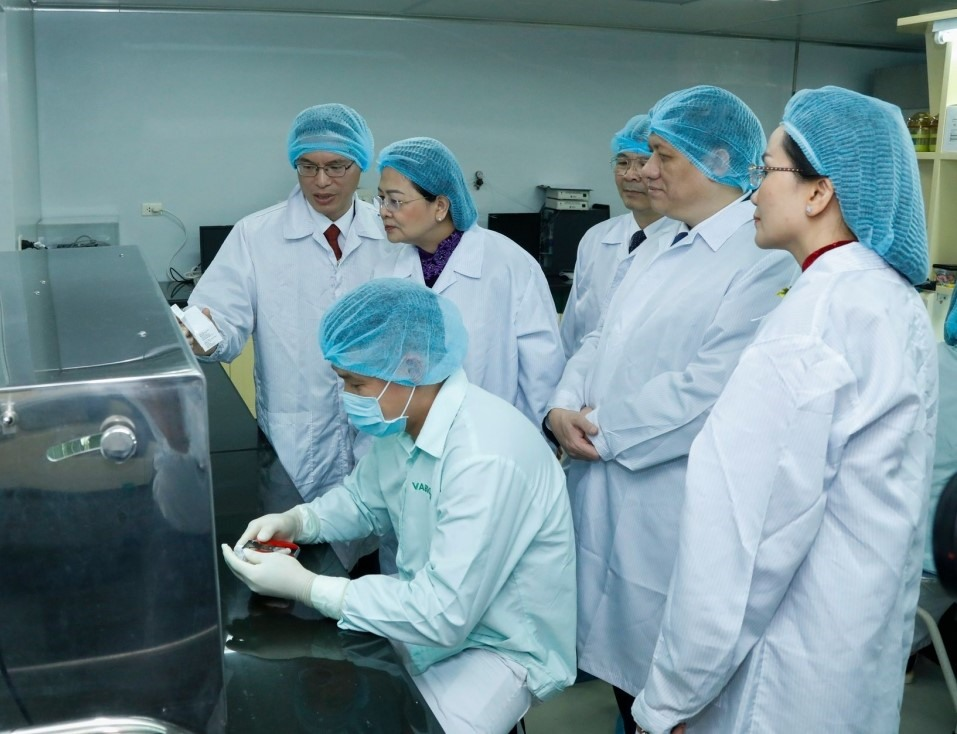 Vice President Dang Thi Ngoc Thinh and Minister of Health Nguyen Thanh Long visit a vaccine laboratory at VABIOTECH Photo: Laodong
After returning from the battlefield, she worked at the National Institute of Hygiene and Epidemiology. She actively did research and had 112 scientific works published in domestic and foreign journals.
Lien then switched to work at VABIOTECH. Despite the old age, she along with her colleagues researched and developed the second generation Japanese encephalitis vaccine which is expected to be licensed for circulation this June.
Prof. Lien has received many awards such as Kovalevskaya Award, the VIFOTECH first prize in biotechnology, the Third Class Labor Medal, and the Third Class Resistance Medal.