Vietnamese Stage Shines At ASEAN- China Intangible Cultural Heritage Week
Le Ngoc Theatre and Vietnam Cheo (traditional opera) Theatre represented Vietnam to introduce special performances to international friends at the ASEAN- China Intangible Cultural Heritage (ICH) Week held in Nanning, the capital of China's Guangxi Zhuang Autonomous Region, from April 22-28.
Attending this year's event were 30 art troupes from China and 10 ASEAN member countries. The Vietnamese delegation had the presence of Le Ngoc Stage and Vietnam Cheo Theatre, in which Le Ngoc Stage brought many memorable performances.
Incredible performing arts
Visitors experience "mua sap" dance (Cheraw dance) at the ASEAN- China Intangible Cultural Heritage Week. (Photo: VNA)
The maiden event aimed to increase exchanges and cooperation between ASEAN member states and China in the protection, inheritance, utilization, and development of intangible cultural heritage in the region and the world.
In addition to special art performance acts, including "Crickets" and "Five variables", which won the applause of audiences, Vietnamese artists also introduced the diversity in types of performance such as "mua sap" dance (Cheraw dance), Xoan singing and trumpet dancing, among others.
Vietnam Cheo Theatre participates in this China-ASEAN Intangible Cultural Heritage Week with a Bac Ninh Mandarin Folk Song performance for audiences in Nanning. Hai Phong puppet troupe joins the shallow puppet performance "H'Mong ethnic dance".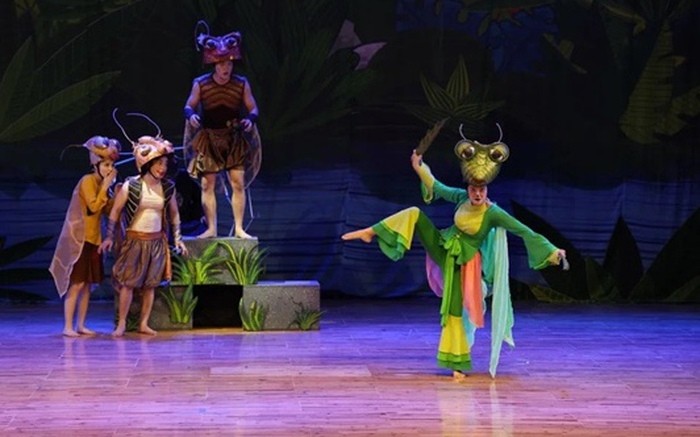 Photo: Phunuvietnam
Intangible cultural performances of Vietnam were first performed at the China - ASEAN Intangible Cultural Heritage Week, demonstrating the unique and characteristic features of Vietnamese folk performing arts.
Besides art performance shows, the delegations also took part in the ASEAN-China Intangible Culture Fair where traditional handicrafts, brocade products, and folk sculpture products of nations were showcased.
Exhibition of cultural heritage achievements
Photo: Phunuvietnam
Vietnamese artisans display rattan handicrafts, lacquerware, and Ha Dong silk products and introduce famous Vietnamese specialties. At the exhibition, young artists of Le Ngoc Stage also performed Xoe Thai dance and organized folk games "Nhay Sap" (Cheraw dance) attracting a lot of tourists coming to see the performances.
The conference attracted scholars from China-ASEAN countries to participate. During the conference, they presented the current situation and solutions for the preservation and promotion of intangible cultural heritage. The Vietnamese delegation participated in the conference with the presentation "Preserving and promoting intangible cultural heritage in contemporary society." Aside from highlighting the reality of the folk performances, the article also offers some solutions for conservation.