Vietnamese "Street Food" Aesthetic Becomes A Hit in US
Viet-owned business owners in Houston, USA are taking inspiration from the Southeast Asian country's urban areas, bringing iconic Saigon's street style to American eateries.
Here are three popular Vietnamese cuisine spots in Houston (US) that will make you feel like you are actually in Vietnam. They are inspired by Vietnamese street food decoration and dining styles to give diners authentic and exciting experiences.
Bụi Quán
"Bụi Quán" owned by Nguyen Minh Huyen is a food stool at a department store, selling Vietnamese snacks like spring rolls, summer rolls, and jelly. While located inside the mall, "Bụi Quán" is styled to look like a trolley - a common street food vendors in Vietnam, especially cities with many small alleys and lanes like Hanoi and Ho Chi Minh City (HCMC). Huyen also make her stool more eye-catchy by adding light and signs, just like in Vietnam.
"Vendors in Vietnam will push these trolleys to the sidewalk or street corner and then set up tables and chairs for customers," said the owner Nguyen Minh Huyen. She said that when still living in HCMC, Huyen and her family also run a tea shop that look like this. Recalling the old days, Huyen still carries many memories with her even after leaving her hometown. Those precious memories are now recreated in the US.

"Bụi Quán" owned by Nguyen Minh Huyen is a food stool at a department store, selling Vietnamese snacks like spring rolls, summer rolls, and jelly (Photo: Chron.com)
Huyen's customers love her sticky rice with jasmine tea and jasmine white jelly. "Bụi Quán" has become a popular food spot at the mall but Huyen hopes to move out of the mall so that she can open at night time, like an authentic Vietnamese street-style store would.
Hẻm Kitchen and Bar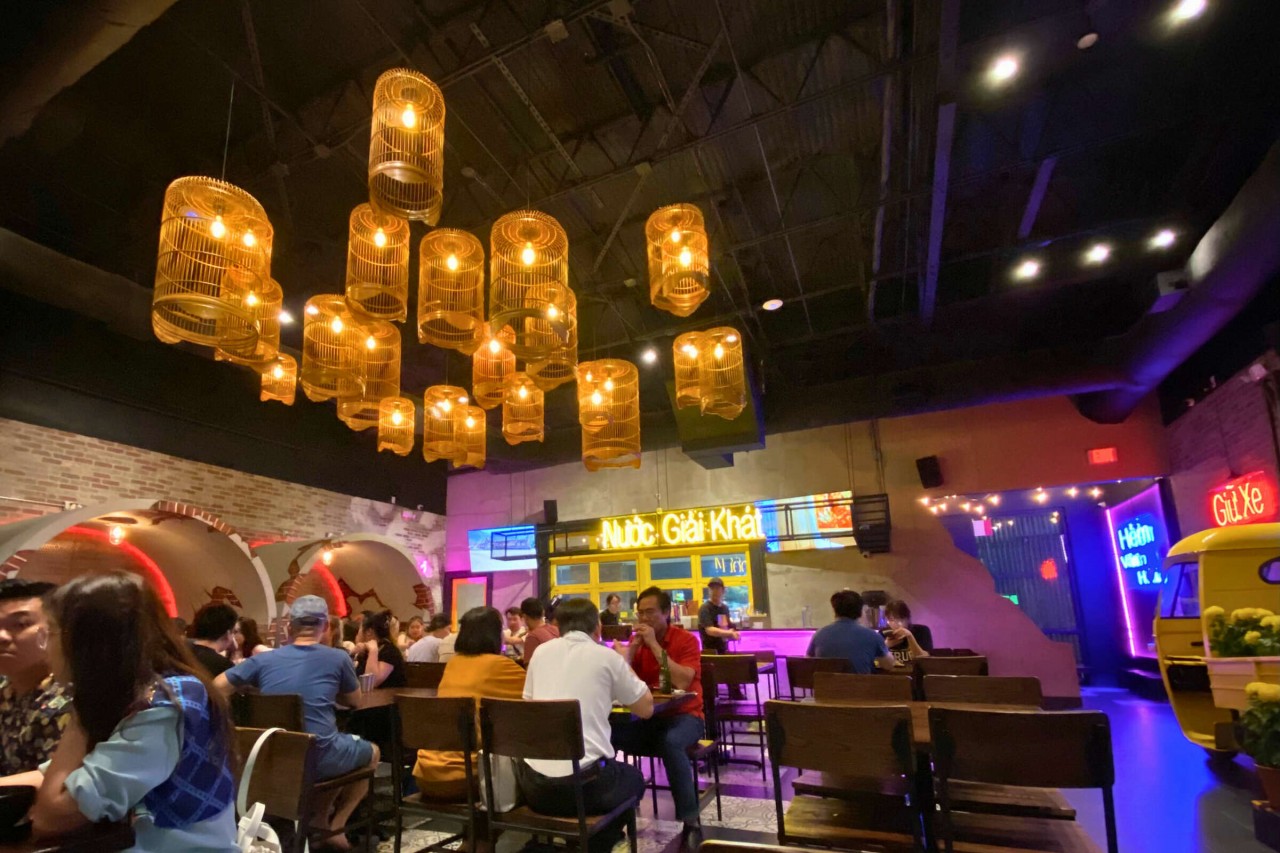 To bring out the night life aesthetic, the bar is decorated with lively neon signs so people can party after work like they would in Bui Vien Street of Saigon. (Photo: Chron.com)
Along Bellaire Avenue in Houston, more and more eateries adopt this street-style aesthetic, using more props that Huyen's place.
Plastic chairs, low tables, graffiti, wooden shutters and metal sliding gates are part of the experience at "Hẻm Kitchen & Bar".
Its onwers, Steven Diep and Kanny Le, took many trips to HCMC in order to truly transform their restaurant with a breath of urban Vietnam.
For the menu, Hẻm carries a wide range of popular snacks and appetizers such as beef shakes, egg coffee... For the decoration, there are images of scooters and "Khoan Cat Be Tong" graffitied on the walls to represent the lively big cities like HCMC. The front yard has low plastic furniture and string lights that simulate overhead power lines also leaves big impression on diners.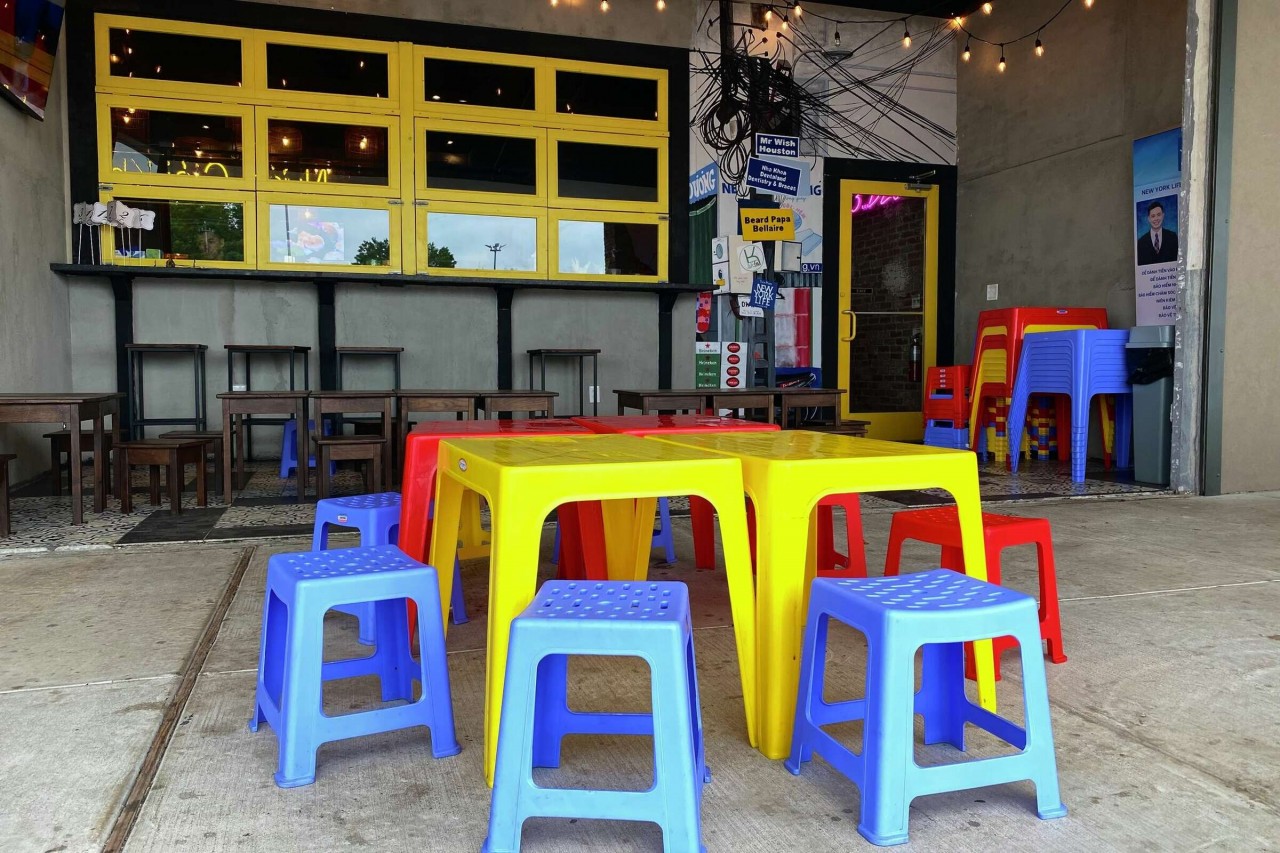 There are seating areas at the Alley that reflect the Viet street food aesthetic (Photo: Chron.com)
Migo Noodle Shop
Also using a word-playing name for his shop like Huyen and Steven Diep and Kanny Le, Jas Phan of Migo, serve Vietnamese vendor noodle to Houston with the goal to bring it back to its glory days.
"Migo" is a stylization of "mì gõ," a late-night bite served by waiters who roam an area making sounds with instruments, like concussion sticks, to notify residents," said Jas Phan.
For achieving the home-slash-business aesthetic, Migo has wooden decor like low tables, seatings, windowpanes, and warm yellow lighting to add the experience of eating under the street lights. Jas Phan also had bikes drawn on the walls, as diners pack their bikes next to the vendor while enjoying their bowls of noodles. He said that when remodeling Migo in the future, a new neon light system would be added so that customers can enjoy the lively nightlife venue of Bui Vien pedestrian street.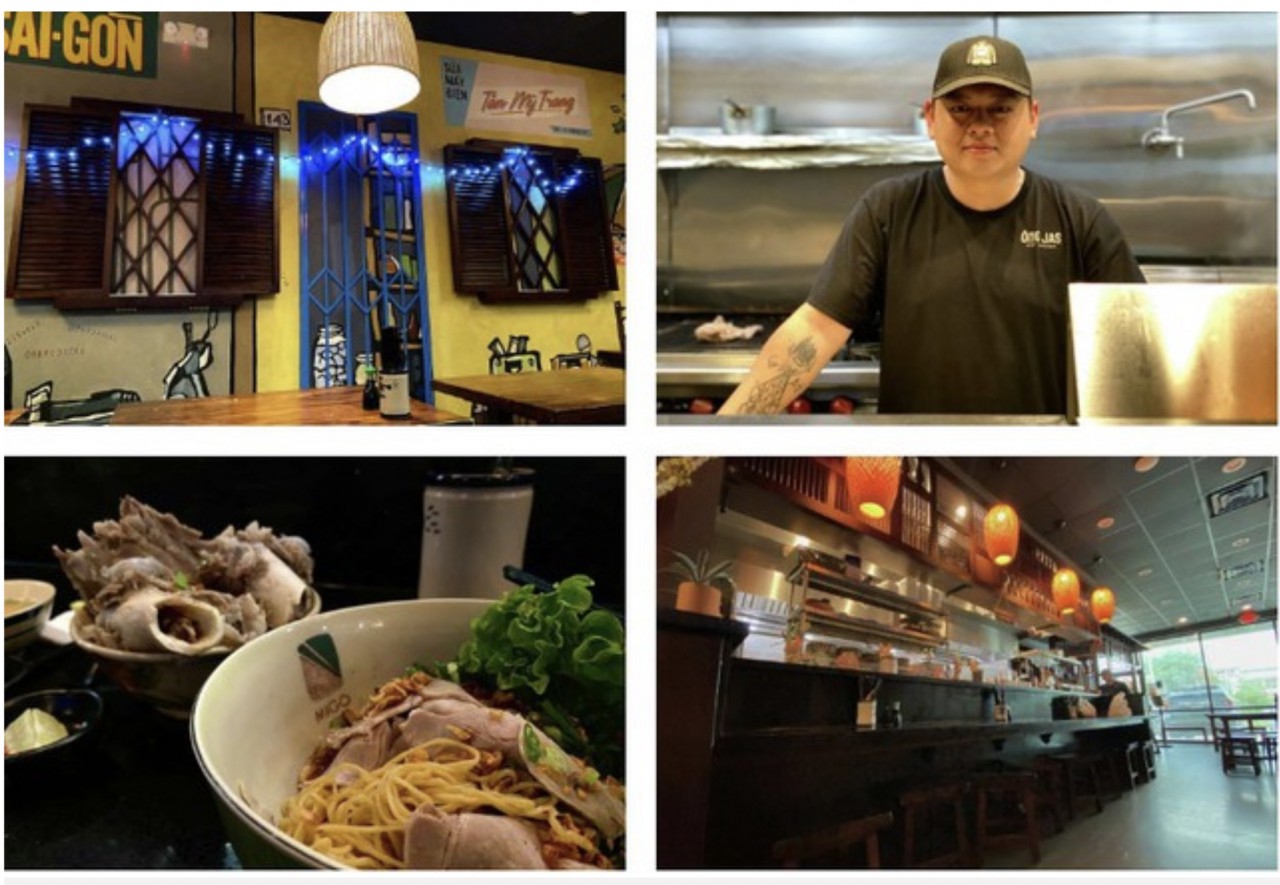 Jas Phan has brought a nostalgic alley of Saigon into his noodle shop in the heart of Bellaire food street (Houston) (Photo: Chron.com)