Vietnamese taekwondo in the hunt for 2020 Tokyo Olympic berths
Vietnam's national taekwondo team will depart for Kazakhstan on April 8, marking the start of 80 days of overseas training and competition in a bid to secure places at the 2020 Tokyo Olympics and prepare for other major goals in the future.
On March 30, taekwondo trainers and athletes were among the first Vietnamese sportspeople to receive COVID-19 vaccinations. According to the head coach of the national team Vu Anh Tuan, all the vaccinated are now in good health without any adverse reactions and have returned to normal practice.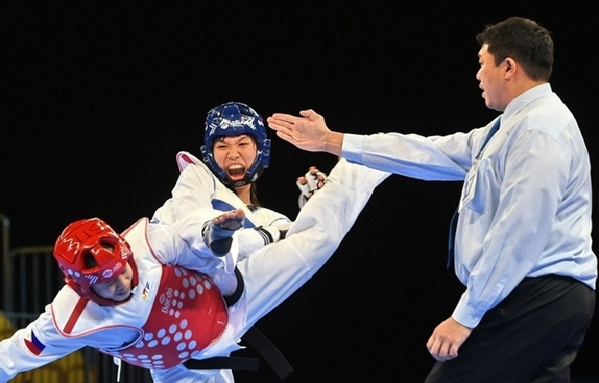 Vietnamese taekwondo aims to win at least one Olympic ticket through the upcoming Asian qualification tournament. Photo: Nhan Dan
As scheduled, the team will leave for overseas training in Kazakhstan and then Uzbekistan before arriving in Amman, Jordan to participate in the 2020 Tokyo Olympic Asian qualification tournament on May 14-15, Nhan Dan Newspaper reported.
After the campaign, they will return to Kazakhstan for further training in preparation for the 2021 Asian Taekwondo Championships, to be hosted in Lebanon on June 16-18.
In total, the national taekwondo squad will have 80 days of training and competition abroad.
Touching on concerns regarding COVID-19 during the trip, Tuan said the taekwondo department and federation have proactively liaised with countries where the team will practice in order to ensure optimal conditions regarding accommodation and travel. Furthermore, these are also nations with good control of the pandemic.
According to the head coach, Vietnam aims to win at least one Olympic ticket through the Asian qualification tournament. Most recently, a national tournament was held by the Vietnam Taekwondo Federation to select the most outstanding athletes for the Olympic qualifying campaign.
Vietnam's hopes of competing for Olympic places will rest on the categories of women's 49kg and 57kg, and men's 57kg and 58kg, Tuan said.
Vietnamese shooters hunting Olympic slots
Vietnam's shooting team previously left for India to compete in the 2021 International Shooting Sport Federation (ISSF) World Cup.
The team, comprising three marksmen of Tran Quoc Cuong, Nguyen Dinh Thanh and Phan Xuan Chuyen, competed at the men's 10m air pistol.
The tournament was the final chance for Vietnamese marksmen to earn a berth at the Tokyo Olympic Games slated this July in Japan, the VNA reported.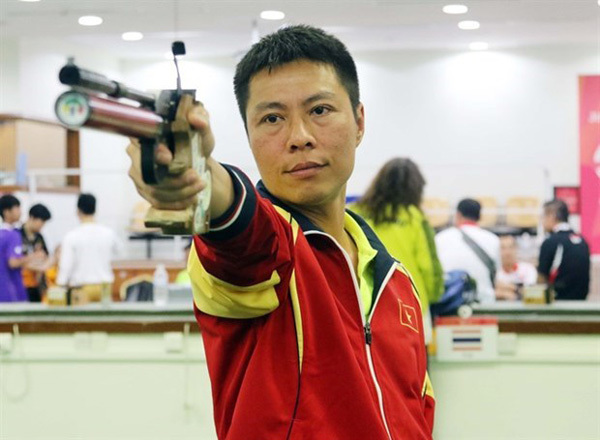 Marksman Tran Quoc Cuong. Photo: tapchithethao.vn
Tran Quoc Cuong, 47, is the star of the team. He is ranked 17th in the world by ISSF, and will win Olympic berths if he moves up one place and enters the top 16.
Coach Nguyen Thi Nhung said: "Cuong's performance has been very steady. The preparations were planned carefully.
The Tokyo Olympics are set to start on July 23 and last until Aug. 8.
Vietnam is aiming for 20 slots at the Olympics. But at the moment, only five athletes have managed to qualify for the event: Nguyen Huy Hoang (swimming), Le Thanh Tung (gymnastics), Do Thi Anh Nguyet and Nguyen Hoang Phi Vu (archery) and Nguyen Van Duong (boxing).
In 2019, four Vietnamese successfully booked their participation at the Tokyo Olympic Games, including swimmer Nguyen Huy Hoang, gymnast Le Thanh Tung and archers Do Thi Anh Nguyet and Nguyen Hoang Phi Vu.
As many as 23 Vietnamese athletes competed at the previous Olympic Games in Brazil, in which marksman Hoang Xuan Vinh brought home one gold and one silver.