Tokyo Olympic postponement: Vietnamese athletes prepare for 2021's double task
The unprecedented postponement does not affect the plans of most athletes, but give them more time to prepare for the double task in 2021, Tran Đuc Phan, deputy head of Vietnam Sports Administration said.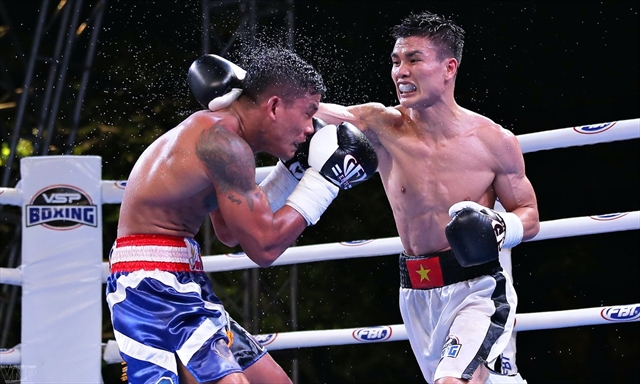 Vietnamese boxer Nguyen Van Đuong (right) believes Olympics postponement will give him more time to train. (Photo: VNA)
"The postponement is a reasonable decision. Vietnam totally agrees with Japan and the International Olympic Committee," said Phan. "It is to protect people's health, although Japan will suffer big losses".
In Vietnam, some athletes who are trying to qualify for the Olympics may be disheartened. However, basically, sport will not suffer much from this decision because only five athletes have qualified.
"We will wait for the IOC's decision to adjust plans for our athletes. In 2021, apart from Olympics, we also have to prepare for the 31st Southeast Asian Games here", Phan added.
Responding to the postponement, Olympic qualifier boxer Nguyen Van Duong said it was good news.
"The Olympics have been moved to next year. It is not a surprise. I think that it is good for me because I will have more time to prepare," Đương told Việt Nam News yesterday.
Đương's slot at the Tokyo Games was unexpected and his coaches had built a strict training plan for him as he had only four months to go to fight at the biggest sporting event in the world.
Now, they have to make other plans.
Gymnastic coach Trương Minh Sang also agreed with Đương. "My gymnast Le Thanh Tung really needs more time to sharpen his technique. Previously, we had a plan to train in Japan but it was cancelled due to the outbreak. Now we have one more year, and we can do a lot," said Sang.
Hoàng Thị Duyên is one of three Vietnamese weightlifters to win places in Tokyo. Duyên, who competes in the women's 59kg category, said she was confused after the postponement.
"We are training hard while we wait for the pandemic to be over. Now it is delayed, we will have to cut our training and then push on for 2021," she said.
The delay also offers cyclist Nguyen Thi That a better shot to enjoy her first Olympics.
The former Asian champion is a member of the Belgian Lotto Soudal Ladies crew. She was ranked No 33 in the world but due to the coronavirus many tournaments have been cancelled and she has dropped to No 134.
The 30th Southeast Asian Games winner needs to collect points to make the top 100 to secure her slot.
"I'm still training hard. When COVID-19 is over, I will go back to my team and try to collect points in European tournaments. The chance is still open for me," she said.
Vietnam has five athletes who have qualified for the Olympics. They are swimmer Nguyen Huy Hoang, gymnast Tùng, archers Đo Thi Anh Nguyet and Nguyễn Hoang Phi Vu, and boxer Đuong.
While Vietnam wants to reach a world level in Olympic sports, the SEA Games are still the most important event for the country every two years.
"After the Olympics, Vietnamese athletes will take part in the biennial Games. We will set up training programmes to make sure athletes perform well at both events," said Phấn.
Travel
The story of the young man's journey through Vietnam below has received a lot of admiration and admiration from everyone. This is really a valuable one-in-a-lifetime experience for this young man.