Vietnamese truck deaths: Two men found guilty of manslaughter of 39 people in UK
Relating to the Essex lorry deaths in October 2019, two men have been found guilty of manslaughter for the death of 39 Vietnamese people in the refrigerated container.
Being guilty of manslaughter after unconvinced explanation
According to CNN, a UK court has found two men guilty of manslaughter following the deaths of 39 Vietnamese migrants, who were found dead in the refrigerated container of a truck in Essex, England in October 2019.
A further two men were found guilty of conspiracy to assist unlawful immigration; they join four others who pled guilty before the trial, the Crown Prosecution Service (CPS) said Monday in a statement.
Two drivers were also found guilty at the Old Bailey of conspiring to transport Vietnamese migrants from northern France to Britain. The verdicts came at the end of a trial that exposed for the first time a complex and lucrative operation that has for years illegally brought Vietnamese people into the UK.
Eamonn Harrison, 23, a lorry driver from Northern Ireland, and Gheorghe Nica, 43, the coordinator of the operation, from Romania, were found guilty of manslaughter. Another Northern Irish lorry driver, Christopher Kennedy, 24, and Valentin Calota, 38, a pickup driver from Romania, were both convicted of conspiring to smuggle people into the country unlawfully, The Guardian reported.
Police said the two ringleaders, Nica and Ronan Hughes, 41, who pleaded guilty before the trial began, were motivated by "pure and utter greed" when they decided to ignore obvious risks and packed the container with double the normal number of people to increase their profit on an operation that netted them hundreds of thousands of pounds for every "consignment" of migrants. Each passenger paid smugglers between £10,000 and £13,000 to be brought from northern France to the UK.
The court heard how young lorry drivers from a rural area of Northern Ireland were recruited to work for Hughes, an Irish haulier, who alternated between legitimate shipments of waffles, soft drinks and wine from warehouses across Europe and illegal smuggling of alcohol, cigarettes and people. He often undercut other haulage firms to secure legitimate work so he was able to appear to be running a reputable business. The drivers claimed in court that although they were knowingly involved in smuggling illegal items, they had no idea there were people in the containers, but the jury was unconvinced.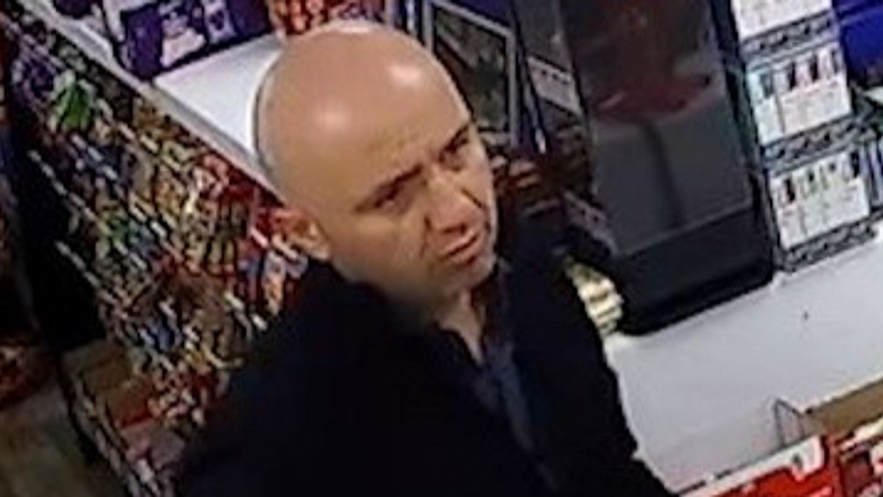 Gheorghe Nica was also found guilty of the manslaughter of the migrants. Photo: SkyNews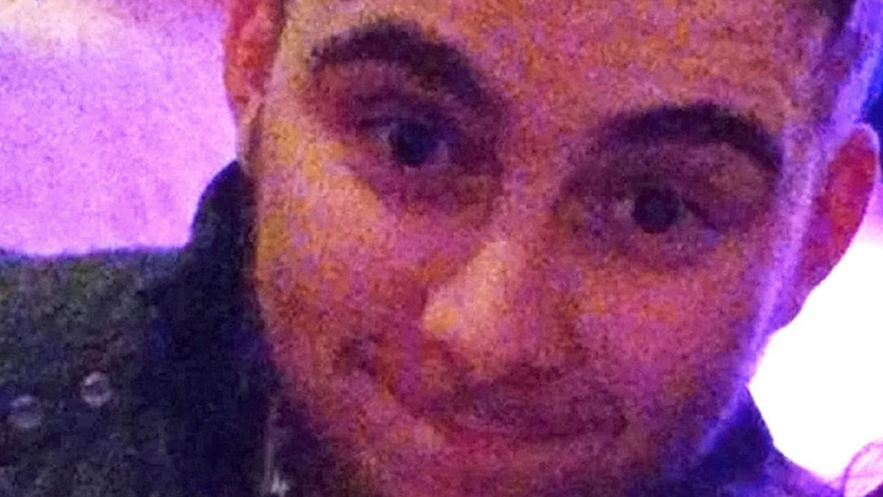 Eamonn Harrison was convicted of 39 counts of manslaughter. Photo: Skynews
The tragedy of oxygen starvation
A total of 39 Vietnamese migrants — including men, women and children, aged between 15 and 44 -- were found dead on 22 October 2019, having suffered from oxygen starvation after being sealed in an air-tight truck container for more than 11 hours.
"They died through lack of oxygen, desperately trying to escape from the container. Some were able to express their last words to their families on their mobile phones when they knew their situation was hopeless," said Russell Tyner of the CPS Organised Crime Division.
"Nothing can bring back the lives lost on that day and the loss caused by the unlawful and dangerous actions taken by these defendants. But we hope that these convictions bring some measure of solace to their families that the perpetrators of these actions have faced justice," he added.
The court heard Robinson - who discovered the bodies after collecting the trailer when it arrived in Purfleet, Essex - had received a message from Hughes which read: "Give them air quickly, don't let them out."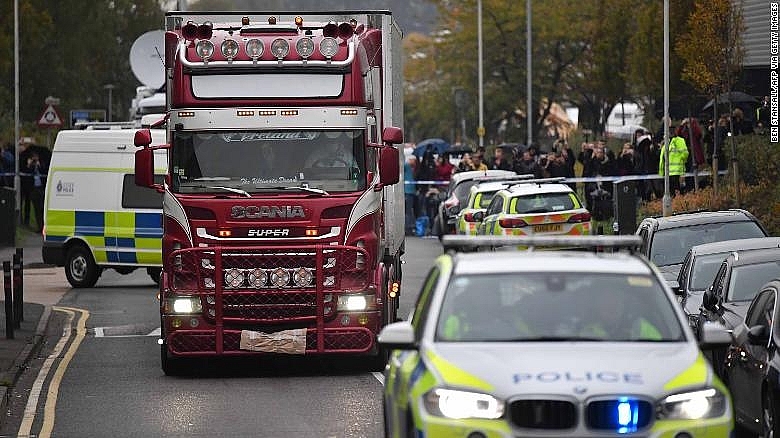 Police officers drive away the lorry in which 39 dead bodies were discovered. Photo: CNN
Most of the migrants are believed to have boarded the lorry container in northern France before it was driven to Zeebrugge in Belgium and loaded on to a cargo ship bound for Purfleet on 22 October last year.
They included university graduates, restaurant and nail bar workers, a bricklayer and a hairdresser, with some of the victims' families borrowing thousands of pounds to pay for the fatal journey, Sky News reported.
"Life must go on"
According to Reuters, most of those who died were from Nghe An and Ha Tinh provinces in north-central Vietnam, where poor job prospects, environmental disasters and the promise of financial reward abroad fuel migration.
"I've never stopped thinking about my son since the tragedy happened and I still wish for a miracle to bring him home with us," Nguyen Dinh Gia, father of Nguyen Dinh Luong, one of the victims.
"Now I don't really care if the smugglers will face a long sentence or not," Gia told Reuters by phone from Ha Tinh.
"Life must go on and I hope there won't be any such accidents happening to people seeking a better life," Gia said.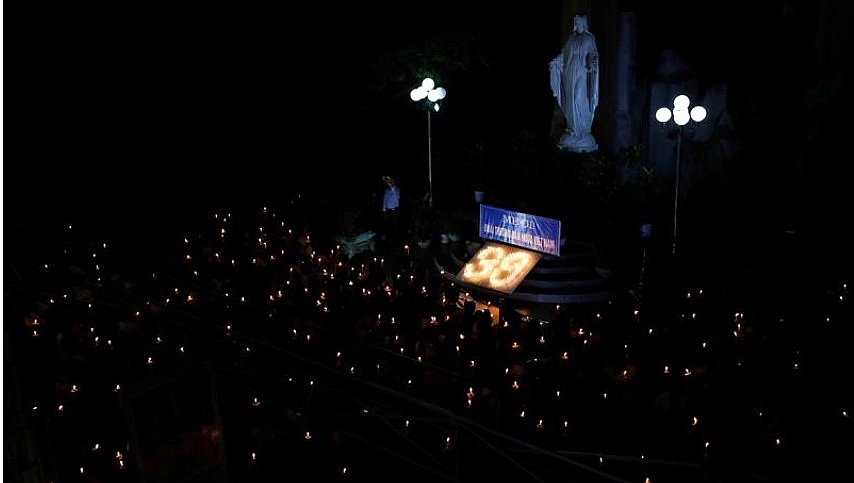 Catholic believers hold lit candles during a mass prayer for 39 Vietnamese people found dead in a truck near London last month, at a church in Nghe An province, Vietnam November 30, 2019. REUTERS/Kham
In neighboring Nghe An, Diep, the brother of victim Bui Thi Nhung said he no longer wanted to talk about the incident.
"It's like opening the wound over and over again," he said.
British police released tributes from the relatives of those who had died, including the parents of soccer fan Nguyen Huy Hung, 15, and from the young son of victim Phan Thi Thanh, 41.
His poem "Beloved Mommy" included the line: "For the people who still have a mommy, Please don't make her cry. Please love her, and be kind. It's our mommy, my friend."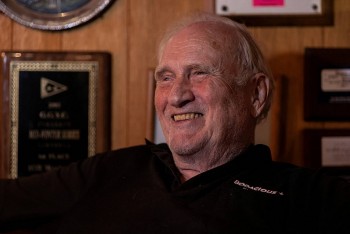 World
Alain Aspect, John F. Clauser, and Anton Zeilinger have won this year's Nobel Prize in physics for their work in quantum mechanics, Sweden's Karolinska Institute announced on Tuesday.