Vietnamese Water Puppetry Debuts in Paris
In a special event entitled "Village Stories," a troupe of puppeteers represented the pastoral beauty of Vietnam for Parisian audiences.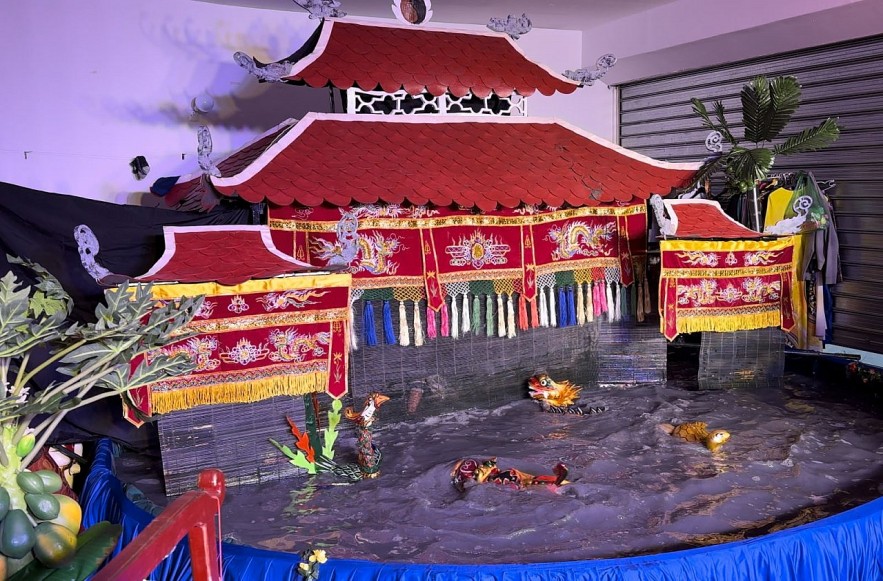 A water puppet show called "Four Spirits Dance". Photo: Vietnamtimes
The event is organized by the ALEDI Association (Les Enfants de l'Indochine) in collaboration with Hanoi - Vietnam Water Puppet Performance Co., Ltd. to promote national culture. Funds raised from this performance went to a charity for disadvantaged children in remote areas of Vietnam.
Stories range from the simple countryside tales to epic legends. No matter their scope, all are recreated on a small flooded stage under a curved roof and bamboo blinds. Humorous owls, young children playing flutes while herding buffaloes, fishing, farming, dragons spitting water or phoenixes, and unicorns appear in the Vietnamese artform. The artists make the charming puppets dance on the water, following the beat of drums and Northern folk songs. These performances have attracted the interest of many overseas Vietnamese and French locals.
In addition, folk and heritage music performances recognized by the United Nations Educational, Scientific and Cultural Organization (UNESCO) such as Tuong singing, Chau van, or ethnic music made the audience experience many different emotions.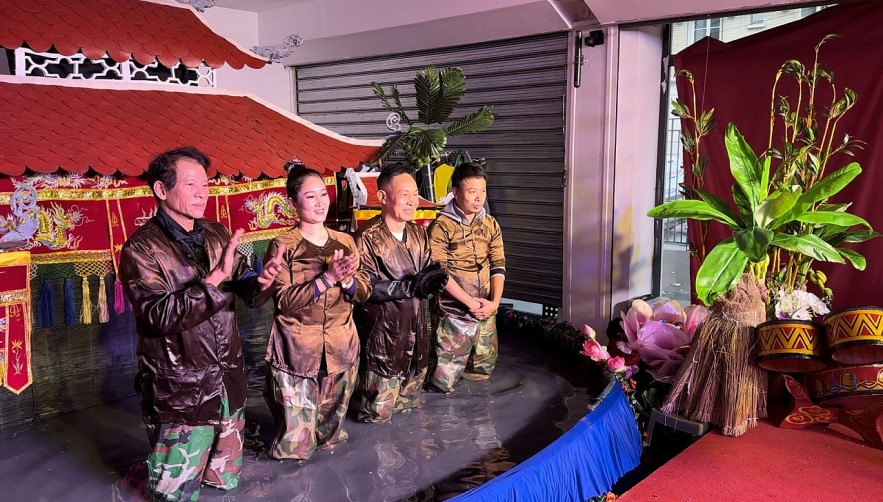 Vietnamese water puppet artists greet the audience after the show. Photo: Vietnamtimes
Trieu Vinh Van, Chairman of the ALEDI Association, said that water puppetry is a unique art form in Vietnam. It is not like other puppetry arts, enticing Western audiences.
Dang Thi Diep, Director of Hanoi - Vietnam Water Puppet Performance Co., Ltd shared that she has always wanted to bring Vietnamese traditional folk art to the world. It was this desire that prompted her to coordinate with the ALEDI Association to organize this tour. "It is not an easy task to introduce ethnic art in foreign lands," she said. "But with love and belief in art, I am determined to promote water puppetry and the traditional folk music of our country. I want international friends to see that Vietnam's national culture is still being preserved and is being developed, especially water puppetry, a unique art form that our forefathers have passed on."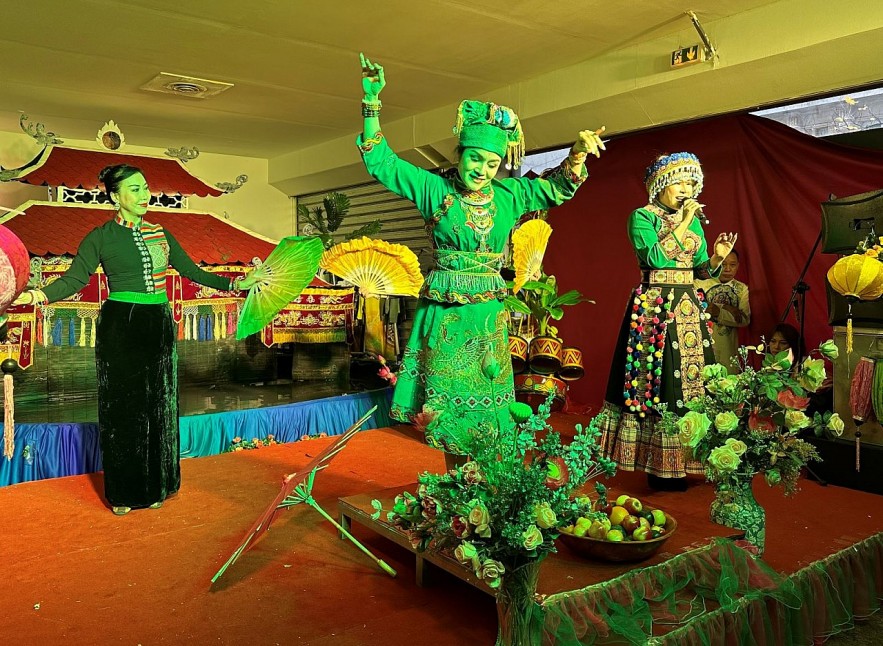 The performance of the maid of honor. Photo: Vietnamtimes
Antonella Tran, a French spectator, enjoyed the family-friendly performance. "My grandchildren and I really enjoyed the puppet performance. My niece even danced to the music. The program is very good and unique!"
Distinguished artist Do The Ban, group leader, art director, and actor also shared the thrill of performing in front of overseas Vietnamese and French people. He said, "I feel very honored and happy to receive applause and smiles from the audience after each performance."
After each performance, the audience had the opportunity to interact with artists and take pictures with funny puppet characters, leaving deep impressions in the hearts of the French public.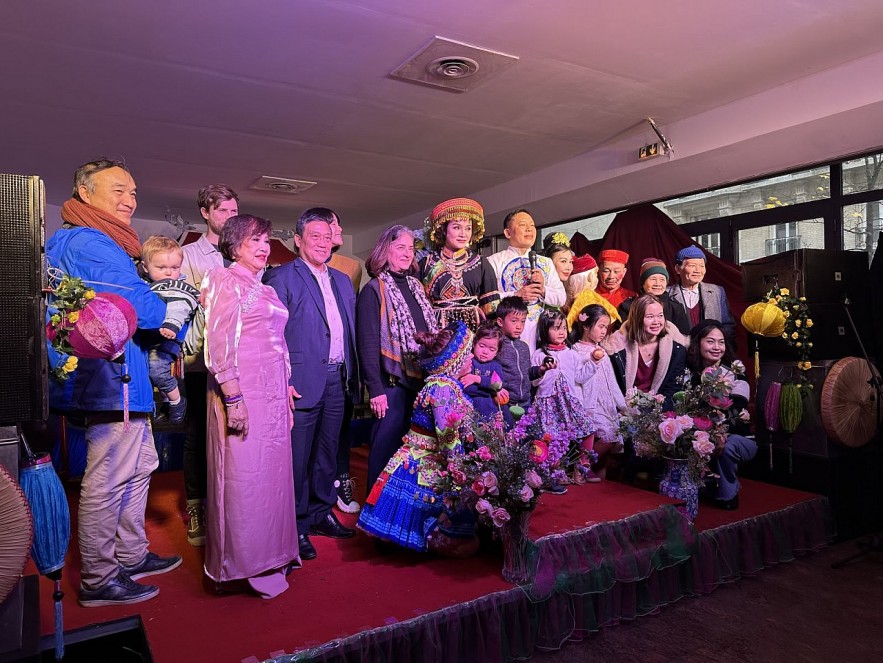 Photo: Vietnamtimes
Water puppet shows and ethnic performances not only introduce to international friends the traditional beauty of Vietnam but also contribute to the richness and diversity of the world's cultural treasures. These special Vietnamese puppets continue to enchant children of all ages.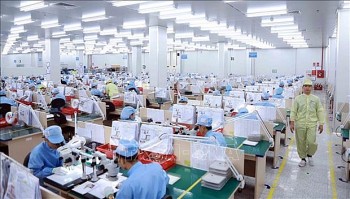 National
Vietnam News Today (Jan. 26): Vietnam - important partner of RoK; HCM City maintains growth momentum, reaps successes in 2022; Vietnam's tourism forecast to strongly rebound in five years; Many localities attract a large number of visitors during Tet.