Vietnam's 17 identified goals for sustainable development to 2030
Vietnam's 17 sustainable development goals to 2030 include these three goals among its seventeen: eliminating all forms of poverty in any localities; ensuring quality, equitable, and inclusive education and promoting lifelong learning opportunities for all; achieving gender equality; empowering and creating opportunities for women and girls.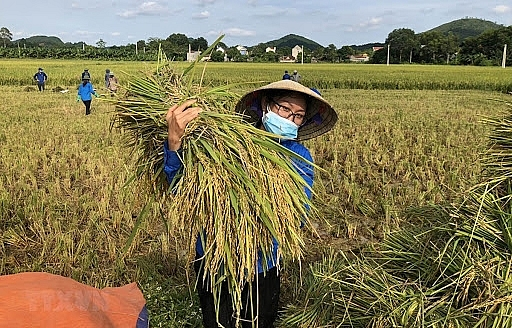 Illustration photo
The government has just issued Resolution 136 / NQ-CP on sustainable development, which clearly states 17 goals for sustainable development to 2030 of Vietnam, including:
Goal 1. Eliminate all forms of poverty in any localities
Goal 2. Eliminate hunger, ensure food security, improve nutrition and promote sustainably agricultural development
Goal 3. Ensure healthy life and enhance well-being for people of all ages
Goal 4. Ensure quality, equitable, and inclusive education and promote lifelong learning opportunities for all
Goal 5. Achieve gender equality; empower and create opportunities for women and girls
Goal 6. Ensure adequate and sustainable management of water resources and sanitation systems for all
Goal 7. Ensure the access to sustainable, reliable and affordable energy for all
Goal 8. Ensure sustainable, comprehensive and continuous economic growth; Create decent, productive and good employment for everyone
Goal 9. Build resilient infrastructure, promote inclusive and sustainable industrialization, and foster innovation
Goal 10. Reduce inequality in society
Goal 11. Develop a sustainable and resilient urban and rural area; ensure a safe working and living environment, reasonably allocate population and labor by region
Goal 12. Ensure sustainable production and consumption
Goal 13. Respond promptly and effectively to climate change and natural disasters
Goal 14. Conserve and sustainably use oceans, seas and marine resources for sustainable development
Goal 15. Protect and develop forests sustainably, conserve biodiversity, develop ecosystem services, combat desertification, prevent degradation and restore land resources
Goal 16. Promote a peaceful, democratic, fair, equal, and civilized society for sustainable development, create access to justice for all; build effective, accountable and participatory institutions at all levels
Goal 17. Strengthen practices and foster global partnerships for sustainable development
In order to accomplish the above goals, the Resolution requires ministries, sectors and localities to continue seriously implementing the National Action Plan to 2030 Agenda for Development in an effective and synchronous manner.
The Government requires Ministers, Heads of ministerial-level agencies, Heads of Governmental agencies, Chairmen of People's Committees of provinces and cities are responsible for the effective implementation of items, targets, tasks and solutions set out in the Resolution to the Prime Minister to promote the achievement of the sustainable development goals identified in the National Action Plan's 2020 Agenda.
According to Decision No. 681 / QD-TTg of Prime Minister Nguyen Xuan Phuc, on the goal of hunger eradication, ensuring food security, improving nutrition and promoting sustainable development, the roadmap will have basically solved hunger problem by 2020 and ended hunger status by 2025.
For the goal of ensuring all learners are equipped with the necessary knowledge and skills to promote sustainable development, the implementation roadmap is clear that: By 2020, 100% of teachers will have met training qualifications and 80% of schools with basic education programs on gender, violence and abuse prevention and knowledge provision on HIV, increased by 90% by 2025 and 100% by 2030.
For the goal of achieving gender equality, empowering and creating opportunities for women and girls, significantly reducing all forms of violence against women and girls in public or private places, including trafficking, sexual exploitation and other forms of exploitation, the roadmap for implementation by 2020 to achieve 70% of timely supporting and protecting women experiencing violence, gradually increase by 80% in 2025 and 90% by 2030; 100% of detecting, promply supporting and protecting girls suffering from violence and abuse by 2020.
A roadmap to achieve the goal of ensuring economy's sustainable, comprehensive and continuous growth; create decent jobs, productivity and good employment for everyone. From 2020 to 2030, GDP growth will maintain an increase of 5-6% annually, GDP per capita growth maintains growth. from 4-4.45% annually; The labor productivity growth rate maintaines an annual increase of 5%.
VNT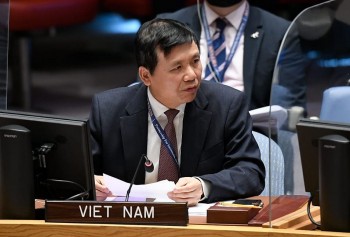 National
Vietnam welcomed the declaration of a unilateral ceasefire by the Central African Republic government at the United Nations Security Council (UNSC) meeting on October 18 on the situation in the Central African Republic.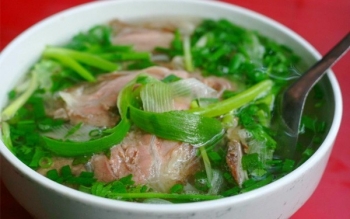 Handbook
A winter chill settles over Hanoi. Sitting in a small corner in the chilling weather, there is nothing better than enjoying a bowl of hot dish to beat the cold and warm up your body.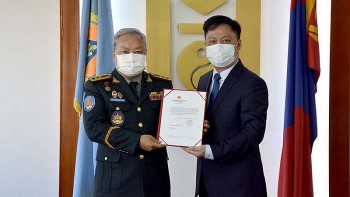 Friendship
The Vietnamese Government has donated 50,000 USD to Mongolia to assist the country in responding to the Covid-19 pandemic.