Vietnam's COVID-19 protective helmet won golden prize at int'l contest
With great viability and usefulness in anti-nCoV protection, the "mobile protective helmet", known as Vihlem, made by two Vietnamese students has been shortlisted into the top 10 most creative items and crowned the golden prize in the 5th International Innovation Contest (iCAN 2020).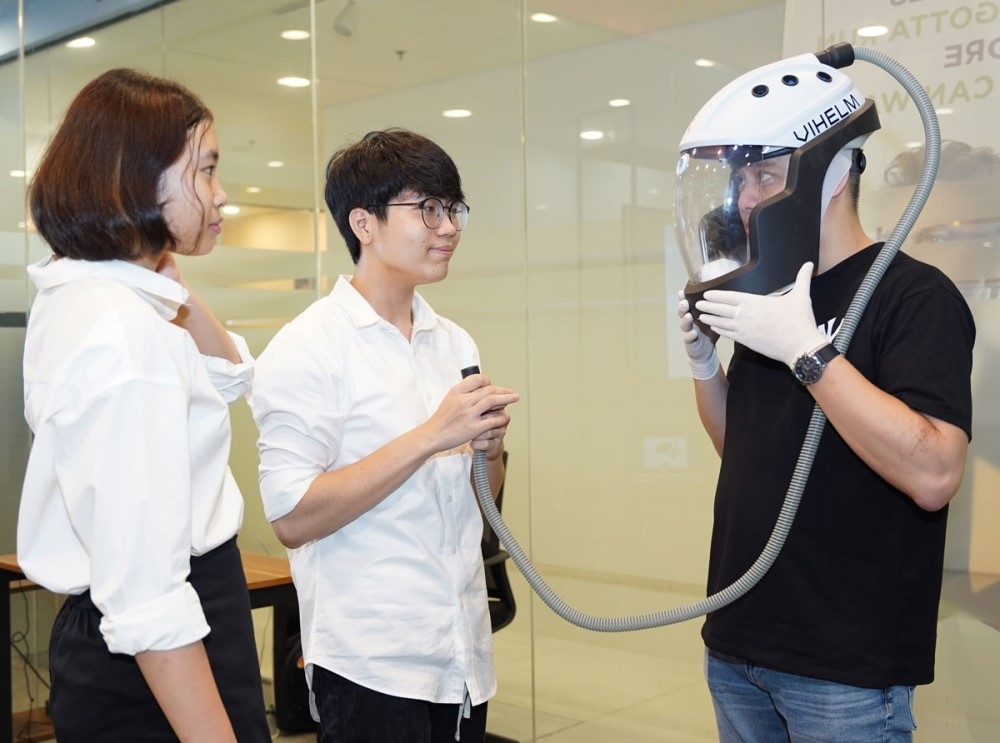 Vihelm has won the highest prize in iCAN (Photo: TTO)
Vihelm is the shortened form for Vietnam Helmet. It's the brainchild of Do Trong Minh Duc, an 11 grader oversea student in Montverde Academy, the US, and Tran Nguyen Khanh An, a student at Chu Van An high school, Hanoi. The shield helmet is created based on the assignment Duc got in late May upon his return to Vietnam over coronavirus fear.
The Vihelm has been introduced to a number of domestic agencies, including Thong Nhat Hospital in Ho Chi Minh city, Vinmec Hospital. Many Korean companies even offered to invest in large scale production of the cap after Vihelm was on display at the workshop of the United Nations Development Program (UNDP).
Pro. Le Dinh Thanh, director of Thong Nhat Hospital in Ho Chi Minh City, told TTO "We'll have to find a way to live and work with the pandemic in the new normal period. If Vihelm can go into production with medical safety, it will become a great support for the frontline doctors".
Thanh also speaks highly of the youngsters' innovation spirit, adding that the government should promptly research, develop, and produce the anti-pandemic personal gear. However, he recommended the students to dig a little deeper to find alternative materials to make the helmet more compact, especially when used during operations.
Khanh An and Duc are planning to make Vihelm an intelligent helmet, with the capacity to connect data, further facilitate users' demands.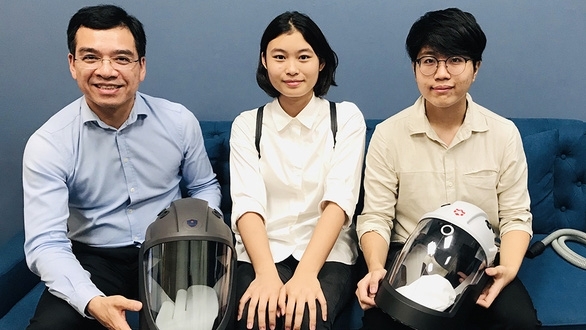 Khanh An (M) and Duc (R) (Photo: TTO)
iCAN is a prestigious innovation competition held annually starting in 2016 by the Canada-based TISIAS. The competition aims to assist students, inventors, innovators, entrepreneurs and researchers around the globe to promote innovative ideas, innovative projects, and provide business opportunities.
It possesses a very high competitive level. The fact that two Vietnamese students have surpassed many famous researchers to enter the top 10 is a remarkable event. According to inventor Nguyen Dinh Nam, among the participating authors, there are many professors and doctors from big universities, presidents, CEOs of famous enterprises from developed countries.