People entering Vietnam required quarantine fee of a minimum of US$ 5.2 per day
Costs set at VND80,000 (US$3.46) for food and VND40,000 (US$ 1.7) for daily necessities at concentrated quarantine facilities.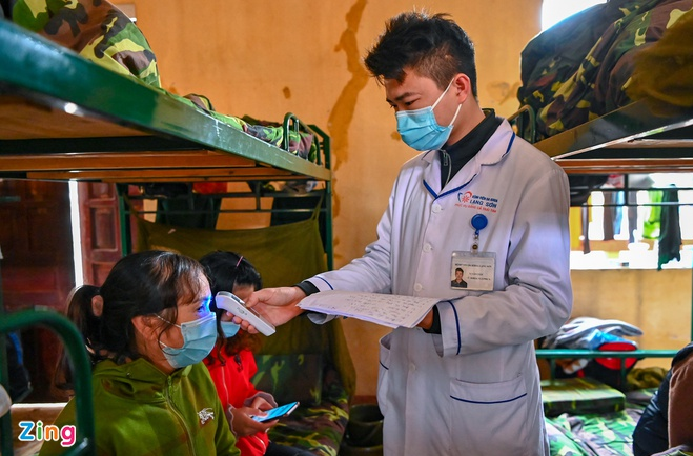 All arrivals will have to pay for their quarantine and tests. Photo: Zing
Those entering Vietnam will have to pay the costs of their quarantine at concentrated camps, after Prime Minister Nguyen Xuan Phuc agreed with the Finance Ministry's proposal in this regard.
According, the quarantine stay will cost VND120,000 (US$ 5.2) per day, including VND80,000 (US$ 3.5) for food and VND40,000 (US$ 1.7) for daily necessities, at military bases or other facilities designated by authorised State agencies.
The returnees who want to stay in hotels and resorts will pay the fees decided by the lodging facilities.
All of them have to take tests for the coronavirus and pay testing fees themselves, the PM ordered.
Vietnamese COVID-19 patients will continue to receive free check-ups and treatment. For foreigners, the PM has assigned the Ministry of Health to make a report to the Government, that will be submitted to the National Assembly's Standing Committee for consideration.
Bills for other diseases during the quarantine period will be borne by health insurance. Those without health insurance will cover the bills themselves.
The rules are applied for those who have come to Vietnam and undergone concentrated quarantine as from September 1.
27 hotels in HCM City serve as paid quarantine facilities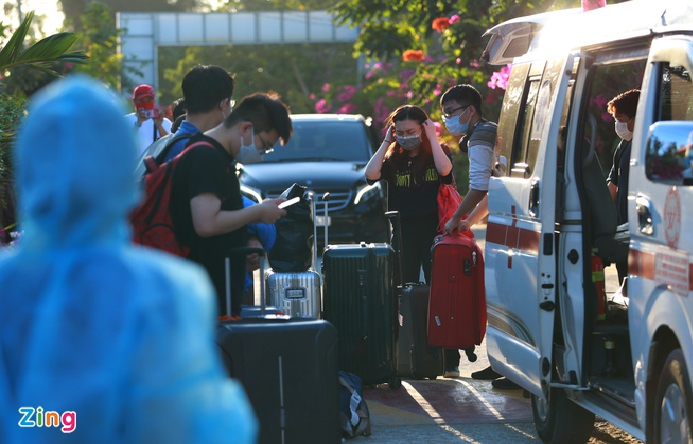 Returnees arrive in a resort in Can Gio district, HCM City, for paid quarantine. Photo: Zing
Twenty-seven hotels will be used as paid quarantine facilities for people required to be quarantined after arriving in Ho Chi Minh City, along with other existing quarantine facilities, according to the municipal Department of Health.
Nguyen Tan Binh, head of the department, said that Vietnam would resume flights to China, Japan, the Republic of Korea, Taiwan, Cambodia and Laos, among others.
Nearly 20,000 people will be expected to enter Vietnam this month, he said.
The department is cooperating with the Department of Tourism to use the 27 hotels for these people. The hotels expect to admit quarantined people and will be assessed to ensure safe criteria in COVID-19 prevention and control by the city's Centre for Diseases Control (CDC) and district health centres.
Binh said that the city's quarantine areas and 27 hotels could accommodate about 3,000 people.
The city currently has 875 people in its quarantine areas and 246 quarantined at home, according to VNA.
Vietnam resumes six international flights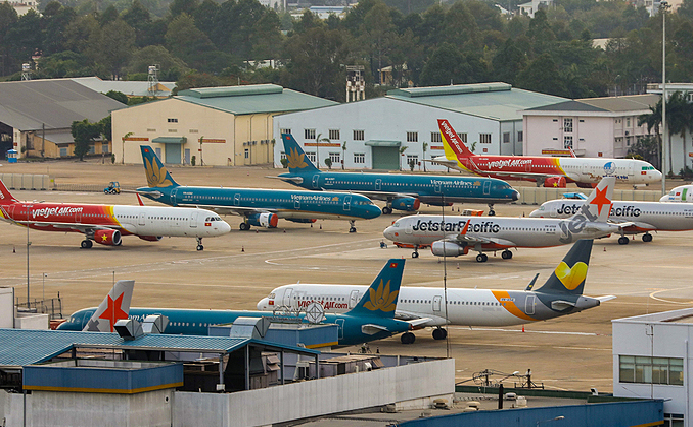 Aircraft park at Ho Chi Minh City's Tan Son Nhat International Airport in March 2020. Photo: VnExpress
The government has allowed the Transport Ministry to reopen flights to mainland China, Japan, the RoK and Taiwan from September 15, followed by Laos, Cambodia from September 22, the Government Office has announced.
There would be two weekly round trips at maximum on each route and the number of flights will be adjusted further depending on the latest situation, VnExpress reported.
People eligible to enter Vietnam include foreigners carrying diplomatic and official passports and their families, experts, investors, business managers, high-skilled workers, and their families, international students, foreign family members of Vietnamese citizens, and Vietnamese citizen returning from abroad.
Passengers must furnish the certificate demonstrating that they tested negative for SARS-CoV-2 within three days prior to boarding the flights. Upon arriving, passengers will continue to go through PCR (polymerase chain reaction) test at the quarantine camps.
Passengers tested negative twice can be considered to shorten their quarantine period to five days instead of 14 days. After that, they will be self-isolated at their houses or working places.
Those entering Vietnam after transiting in a third country must stay in centralized quarantine camps for 14 days and will be tested as required./.
National
The trip demonstrates Vietnam's proactivity in making responsible contributions to ASEAN and the international community in the context of the region and the world facing complicated developments and unforeseeable challenges.