Vietnam's Covid-19 update: Four new imported cases after 36 hours of no new infection
After 36 hours of no new infection, Vietnam on August 31 evening reported four new cases, bringing the total number of coronavirus cases in the country to 1,044.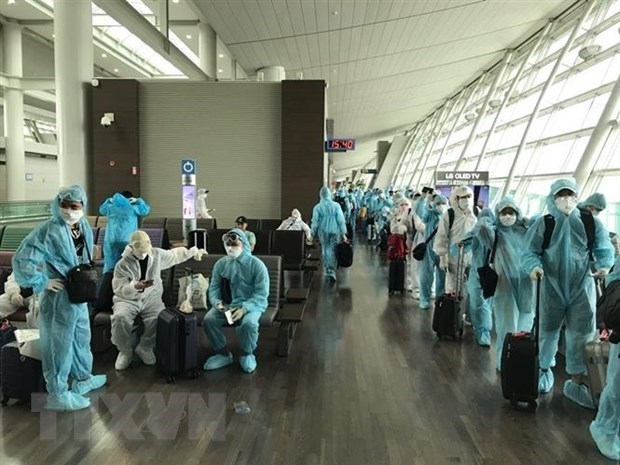 Nearly 350 Vietnamese citizens have returned home safely from the US on a flight arranged on August 29 and 30 that departed from Houston. Photo: VNA
According to the National Steering Committee for COVID-19 Prevention and Control, three of the new cases are Indian experts arrived in Vietnam on August 28 and 29; and the fourth case is a 29-year-old woman returned from India.
All the four patients were placed in quarantine as soon as they landed in Vietnam, therefore posing no virus threats to the community, the Ministry of Health (MoH) said.
Among the confirmed patients, 690 have been infected locally, including 550 cases linked to the Da Nang outbreak which started on July 25.
As many as 12 patients were given the all-clear on the same day, lifting the total of recovered cases to 707.
The MoH also confirmed two coronavirus deaths on August 31, taking the country's death toll caused by the SARS-CoV-2 virus and related illnesses to 34.
The two were the 33rd and 34th coronavirus fatalities Vietnam has recorded since the virus resurged in the country in late July. During the previous months Vietnam had registered no deaths at all.
Most of the fatalities were elderly people who suffered from serious diseases such as end-stage chronic kidney failure, end-stage blood cancer, coronary syndrome, acute respiratory failure, polyarthritis, hypertension, diabetes (Types 2), sepsis, pneumonia, and multi-organ failure.
According to MoH, six out of 11 severe cases are currently in critical condition and they are at a high risk of death. They were all locally transmitted and closely linked to the Da Nang outbreak.
Currently, 57,097 people who had close contact with COVID-19 patients or came from pandemic-hit areas are under quarantine nationwide, including 1,111 people quarantined at hospitals, 16,006 people at concentrated quarantine establishments and 39,980 at home.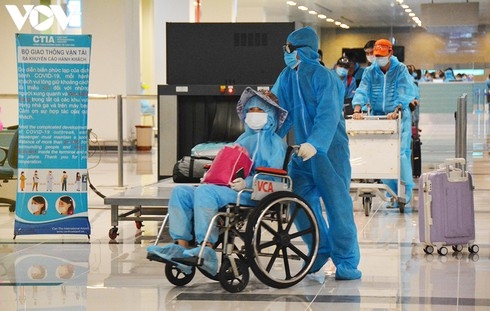 Vietnam have made efforts to contain the importation of the disease by implementing a range of regulations regarding COVID-19 prevention and control as authorities and overseas missions plan to arrange more flights to bring Vietnamese citizens home. Photo: VOV
More coronavirus cases are expected in Vietnam as the country is receiving foreign specialists and Vietnamese citizens stranded overseas due to COVID-19.
On August 30, about 830 citizens were brought home from the US, Macau (China), South Africa, Mozambique, Tanzania, Kenya and Qatar on several flights.
The flight was arranged by Vietnamese authorities, the Vietnamese representative agencies in the these regions and relevant agencies of the host nations involved.
The majority of passengers onboard the flight were children under 18, students who finished learning courses, the elderly, pregnant women, stranded tourists, and workers with expired visas or labour contracts.
Security, safety and hygiene measures were carried out throughout these flights to protect their health and prevent the spread of COVID-19.
Upon landing at airports, those on board received health check-ups and were sent to concentrated quarantine facilities.
People, regardless of their nationality, who enter Vietnam at isolation facilities from September 1 are set to pay quarantine fees, with medical examinations and treatment costs being covered by the State, annouced Prime Minister Nguyen Xuan Phuc's conclusions during a recent meeting on COVID-19 prevention and control.
He also agreed to collect fees at existing accommodation establishments which have been transformed into quarantine camps.
The Ministry of Transport was assigned to coordinate with relevant ministries to consider reopening commercial flights to Japan, the RoK, and other safe countries./.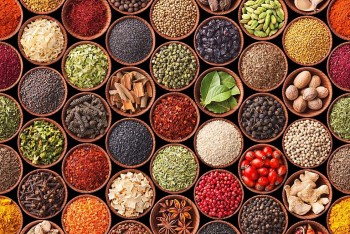 Vietnamese Herbal Tea
Antioxidants have been known since the 1990s and have been useful in fighting cancer, atherosclerosis, and many other chronic diseases.