Vietnam's Deputy PM Active at WEF Davos 2022
Deputy Prime Minister Le Minh Khai on May 23-24 joined various activities within the framework of the 52nd World Economic Forum (WEF) annual meeting in Davos, Switzerland.
Deputy Prime Minister Le Minh Khai on May 23 led a Vietnamese delegation to attend the 52nd World Economic Forum (WEF) annual meeting, reported local news.
Deputy Prime Minister Le Minh Khai (second from left) attends "Averting a Global Food Crisis" session. Photo: VNA
Forming a food hub for Southeast Asia
He proposed the establishment of a food innovation hub for Southeast Asia in Vietnam when addressing the "Averting a Global Food Crisis" session, a panel discussion with World Food Programme Executive Director David Beasley, UAE Climate and Environment Minister Mariam Mohammed Saeed Al Mheiri, Tanzania's Vice President Philip Isdor Mpango, and CEO of the Swiss agriculture company Syngenta, J Erik Fyrwald.
Delivering the opening remarks, the Vietnamese Deputy PM addressed current food shortages and their severity in a number of countries.
Speaking from Vietnam's past experience as a country that had to import food but now is one of the important contributors to global food security, Khai proposed five recommendations to help alleviate food shortages around the world and sustain the global food system.
He said: "First, since food security concerns all people, it needs a holistic, multidimensional, multi-objective, long-term approach towards a self-reliant, inclusive and sustainable food system.
"At the moment it's necessary to provide humanitarian support to a number of countries facing food shortages. And it's also necessary to restore the global food supply system and curb the trade barriers in providing long-term food supply.
"Second, since food shortage is a global issue, international cooperation needs to be increased to promote the role of multidimensional organisations in food security. Countries need to work together in a tripartite mechanism to restore the global food supply system.
"Third, solutions related to food security must ensure social inclusion and involve people's responsibility. People should be put at the centre and considered the ultimate goal of all food security policies.
"We need to ensure the transition of food production towards an equitable and fair system that takes into consideration the interest of the disadvantaged and the vulnerable."
Deputy Prime Minister Le Minh Khai deliveres the opening remarks at "Averting a Global Food Crisis" session. Photo: VGP
He added, fourth, it's necessary to build an agro-ecological system with the participation of all stakeholders in the global food system.
Fifth, countries need to change mindsets and create all conditions to develop and promote a modern and sustainable agricultural sector.
"We need to take advantage of the fourth industrial revolution, apply digital technology, high technology to create a smart, sustainable agricultural value chain," he said.
He concluded his remarks by proposing the formation of a food hub for Southeast Asia.
"As a country that has certain advantages in terms of agriculture and is moving towards digital transformation in agricultural production, we expect that countries, international organisations, and WEF members, will support the establishment of a food innovation hub for Southeast Asia, based in Vietnam," he said.
He also called on countries and international organisations to collaborate with Vietnam to come up with measures to respond to climate change, and build an agricultural sector that meets domestic and international demands.
Promoting digital economic development
Deputy Prime Minister Le Minh Khai (second from left) addresses the 'A Digital ASEAN for All' sessions. Photo: VNA
At the 'A Digital ASEAN for All' sessions and dialogue between leaders regarding the building of self-reliant economies for sustainable development under the chair of WEF President Borge Brende, Khai shared Vietnam's viewpoints and development orientations, including sustainable development on the foundation of science-technology, innovation and digital transformation.
Vietnam welcomes and stands ready to create optimal conditions for foreign organisations and firms to join hands with the Vietnamese Government and businesses to promote digital economic development through human resources training, technology transfer, research-development and innovation.
Deputy PM Khai affirmed Vietnam is determined to pursue a green growth roadmap, and attract green financial resources towards the country's sustainable development. Photo: VGP
On the sidelines of the annual meeting, Deputy PM Khai met president pro tempore of the United States Senate Patrick Leahy, leaders of several groups such as Wonderloop, Horasis, Menzies Aviation, dHealth Foundation, NAS, Citibank, HSBC and ToGo.
Businesses affirmed their desire to accompany and cooperate with Vietnam in the field of green finance, energy transition, green growth, high technology, innovation, human resources development.
Deputy PM Khai had a meeting with Lithuanian President Gitanas Nauseda, during which Khai suggested that the two sides make best use of bilateral cooperative mechanisms and coordinate to hold trade promotion events to bolster their economic ties.
For his part, President Nauseda asked Vietnam to facilitate Lithuanian enterprises' access to the Vietnamese market, and through it to the Southeast Asian region.
Meeting with Federal Councillor Guy Parmelin, the head of the Federal Department of Economic Affairs, Education and Research (EAER) of Switzerland, Deputy PM Khai suggested that the two countries intensify measures to restore their economic ties, especially in fields where Switzerland has strength and Vietnam has demand, such as finance-banking, insurance, manufacturing, pharmaceuticals, farm produce processing and tourism.
Parmelin said he hopes the two countries will continue to push ahead with negotiations on a free trade agreement between the EFTA and Vietnam.
He affirmed that Switzerland will soon hold discussion with Vietnam for the early conclusion of the FTA , thus promoting sustainable development of bilateral trade ties.
Deputy PM Le Minh Khai is active at WEF Davos 2022. Photo: VGP
In another meeting, Deputy PM Khai and Peruvian Foreign Minister César Rogrigo Landa agreed to promote the exchange of delegations at all levels, and work to perfect the legal framework to facilitate stable and sustainable development of bilateral ties.
WEF 2022 has convened 2,500 state leaders, economists, and leaders of non-governmental organizations, businesses, and other organizations under the theme "History at a Turning Point: Government Policies and Business Strategies".
The forum seeks solutions to the world's most urgent challenges, including the Covid-19 pandemic, the conflict in Ukraine, geoeconomic shocks, and climate change.
While receiving OECD Secretary-General Mathias Cormann, the Vietnamese Deputy PM proposed that OECD continue assisting Vietnam in implementing its programme for socio-economic recovery, especially in areas where OECD has strength such as economic restructuring, growth model renewal, innovation, stock market management, State-owned enterprise governance and anti-corruption.
Cormann said Vietnam is among a few countries with good recovery after the pandemic, and affirmed that the country is among the most important partners of the OECD in Southeast Asia.
He pledged that the organization will work closely with Vietnam to help the country realise its development goals.
At another meeting with Minister-President of Flanders Jan Jambon, Deputy PM Khai expressed his hope that the two sides will continue to join hands for the early approval of the EVIPA by Belgian agencies.
He urged Belgium and the EU to promote investment in the Mekong River region and the Mekong Delta in such fields as smart agriculture, climate change adaptive irrigation, green infrastructure and human resources training.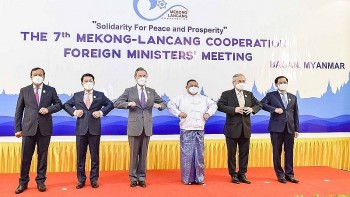 National
Foreign Minister Bui Thanh Son led a Vietnamese delegation to the seventh Mekong-Lancang Cooperation (MLC) Foreign Ministers' Meeting that was held in Bagan, Myanmar on July 4.