Vietnam's Lingerie Queen Loses US$433,000 Luxury Watch Collection To Burglary
Model Ngoc Trinh, widely reputed as Vietnam's Lingerie queen, said a burglar broke into her villa early Tuesday morning and fled away with 15 branded watches worth over US $433,470.
(Video: iOne)
Following the incident, Ngoc Trinh on March 30 reported the burglary to Thu Duc City Police. Local authorities are working on paperwork to submit the case to Ho Chi Minh City Police for further investigation. The model also announced her loss on her Facebook account subscribed by 2 million followers.
"The theft could have 'snatched' 20 watches instead of 15, but luckily for me, I've just bought a new safe and didn't put all watches into one box", Trinh captioned her post.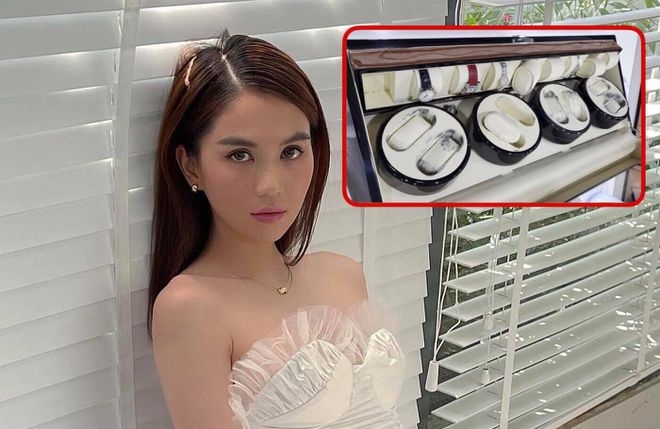 The lost watches worth hundreds of dollar (Photo: Thanh Nien)
In the interview with Thanh Nien, the lingerie queen said a strange rustling noise from the living room woke her up early Tuesday morning. Sensing there might be a stranger broke into her house, Trinh didn't dare to scream or move an inch and only rushed downstairs to ask for help from her two assistants when the theft rummaging in the next room.
"The burglar waved the phone flash around the room. For the first time in my life, I was scared to death, practically tongue-tied. I never want this to ever happen to me again", Trinh recalled. "One of my assistants called for security guards and around 15 minutes later, they showed up but the burglar had fled away with 15 watches".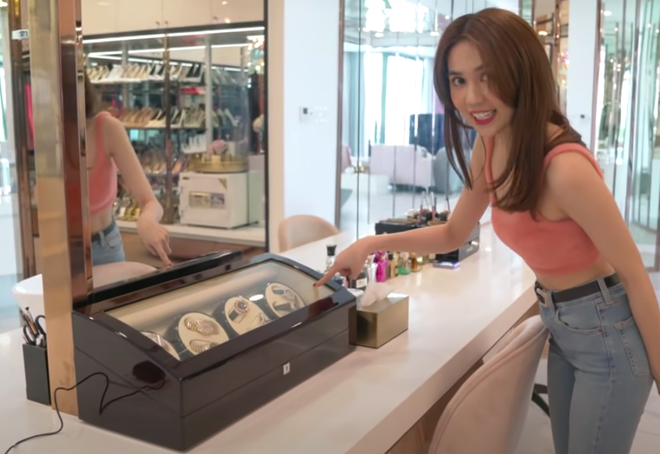 (Photo: Thanh Nien)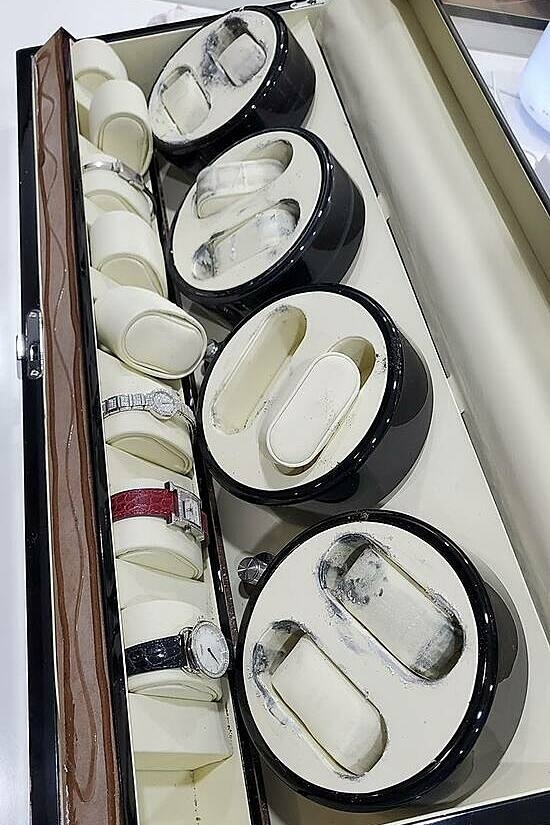 The luxury watches before being stolen (Photo: iOne)
Trinh said she hoped the authorities would quickly find the identity of the theft and return her the watches.
Trinh has been living in her villa in Thu Duc city, Ho Chi Minh city with two female assistants since early 2020. She allocates a generous space of the second floor to showcase her pricey branded jewelry and accessories collection, including the luxury watches that worth hundreds of dollars.
Ngoc Trinh has been reputed in the Vietnamese fashion industry as the 'Lingerie Queen' and is often booked for bikini photoshoots. Trinh shared that prior to becoming a model she experienced a difficult time to earn living. She resorted to working in a billiards club in Ho Chi Minh City. During the working time here, she had a chance to meet with Vu Khac Tiep, Director of Venus Fashion, and eventually found fame in the fashion industry, Dan Tri reported.
Born in 1989 from Tra Vinh, besides a pretty face like doll, Ngoc Trinh possess white skin, attracting many looks. Step into the modeling Vietnam at the age of 16 so far Ngoc Trinh has achieved many titles on his career path as photogenic Supermodel Supermodel contest in Vietnam in 2005, U.S. recovery in fashion Miss Jewelry 2007 ... and most recently the highest throne of Miss Vietnam world
Ngoc Trinh lingerie queen over 35 outstanding students of Vietnamese origin from around the world to win the Miss Continents of Miss Vietnam 2011 contest was first held.
In addition Miss, Ngoc Trinh won two prizes Beauty Bath and Beauty Austria Asia, Ngoc Trinh crowned Miss to answer emotional behavior. For questions about content, "Since the character has the biggest impact to your life," the answer to bring victory for integrity Ngoc Trinh was particularly touched when it comes to the father as motorbike taxi drivers hard raised her four brothers to school so people. Answers soaked tears and sincerity helped won the Miss Ngoc Trinh, according to Box Picture.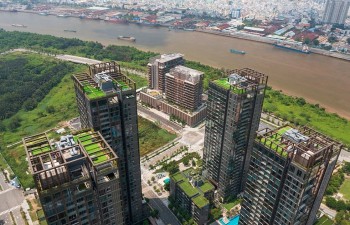 Economy
Vietnam Business & Weather Briefing (August 11): Vietnam to increase coal imports in 2025-2035 period, ten tonnes of Vietnamese longan exported to Australia.