Vietnam's localities supports Cambodia and Lao amid COVID-19
COVID-19 developments remain complicated in regional countries. Provinces and cities across Vietnam, are stepping up their assistance for Laos and Cambodia in the COVID-19 combat.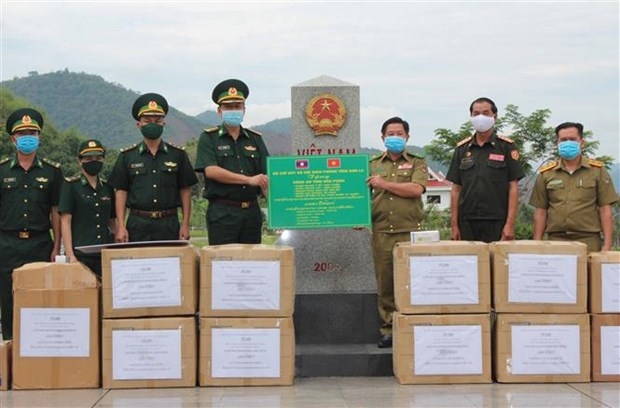 At the handover ceremony. Source: VNA
According to VNA, the Border Guard High Command of the northern border province of Son La on May 6 presented medical equipment to the Military High Command and Police of Houaphanh province of Laos amid the complex developments of COVID-19.
The handover ceremony was held at Chieng Khuong border gate in Song Ma district of Son La.
The aid to each Lao unit comprises 1,000 cloth face masks, 1,000 medical masks, 50 bottles of disinfectant, and 200 sets of personnel protective clothing, among others.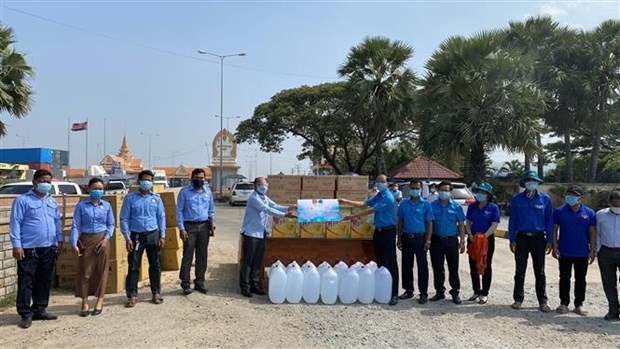 The Ho Chi Minh Communist Youth Union and the Youth Federation of Long An hand over medical supplies to the Youth Unions of Cambodia's Svay Rieng and Prey Veng provinces. Photo: VNA
Ho Chi Minh City will spend VND 2.5 billion (over USD 108,000) from its COVID-19 prevention and control fund to support Vietnamese expatriates and people in difficult circumstances in Cambodia and Laos who are affected by COVID-19, a representative from the Vietnam Fatherland Front Committee of HCM City announced on May 5.
A total of VND 1.5 billion (USD 64.900) will be offered to Vietnamese Cambodians and disadvantaged people in Cambodia and 1 billion VND (USD 43.300) to Vietnamese expats and Lao people.
HCM City previously presented VND 1.6 billion (USD 69.200) to Cambodia to support the country in its fight against the pandemic.
The Executive Councils of the Vietnam Buddhist Sangha (VBS) and the HCM City Buddhist Sangha recently presented VND 250 million (USD 10,800) to Great Supreme Patriarch of Cambodia Samdech Tep Vong and Buddhist followers in Cambodia to help them cope with difficulties caused by the latest COVID-19 resurgence.
Meanwhile, the Vietnam Fatherland Front Committee of HCM City said it will provide aid of VND 1.5 billion to the city's Border Guard High Command to carry out COVID-19 prevention work.
On the same day, the committee organised two missions to visit and present gifts to frontline forces in the fight against COVID-19 in the border provinces of Long An and Binh Phuoc. Each province received VND 1 billion for prevention efforts and VND 200 million (USD 8.600) for solar-powered lighting projects.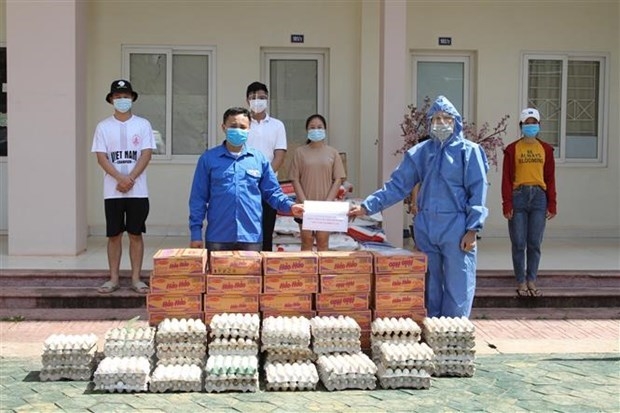 The Vietnamese Embassy in Laos on May 4 handed over gifts to Vietnamese students at the National University of Laos (NUOL) who are facing difficulties from the COVID-19 pandemic. Photo: VNA
The Mekong Delta province of Long An on May 5 presented medical supplies worth VND 150 million (USD 6,500) to Cambodia's Svay Rieng and Prey Veng provinces to support their fight against the COVID-19 pandemic.
Meanwhile, the Ho Chi Minh Communist Youth Union and the Youth Federation of Long An also handed over 30,000 face masks, 2,500 litres of sanitizer gel, and 4 anti-bacterial chemical sprayers to the Youth Unions of the two provinces of Cambodia.
The gifts aim to support the two provinces to overcome hard times due to the COVID-19 pandemic, while showing the mutual support and assistance between Vietnam and Cambodia.
On the occasion, Long An also presented 400 gifts to Vietnamese Cambodians in Svay Rieng and Prey Veng.
The Lao Ministry of Health confirmed 46 new COVID-19 cases on May 5, mostly in Vientiane and Bokeo province with 19 and 15 cases, respectively.
According to the ministry, the decreased number of newly-confirmed cases showed the efficiency of drastic measures applied by the Lao Government.
From May 4, the Lao government decided to apply lockdown for additional 15 days until May 20.
So far, Laos has discovered 1,072 COVID-19 cases, including 99 recoveries and no death.
In Cambodia, Prime Minister Hun Sen on May 5 ordered to vaccinate more than 52,000 people in all areas in the red zones of Phnom Penh with COVID-19 vaccines, with the administration of the first dose to be completed soon and the second dose to commence once the stipulated time frame has been reached.
To date, more than 1.5 million people have been vaccinated with either Sinopharm, Sinovac or Covishield (AstraZenacca vaccines) since February 10.
The same day, the Cambodian Ministry of Health confirmed 672 new cases, raising the total cases to 16,971, including 110 deaths./.