Empty streets of Hoi An after COVID-19 new cases detected
Hoi An Town, a major tourist attraction in Quang Nam Province, once again fell silent after new cases of the novel coronavirus disease were detected in the area.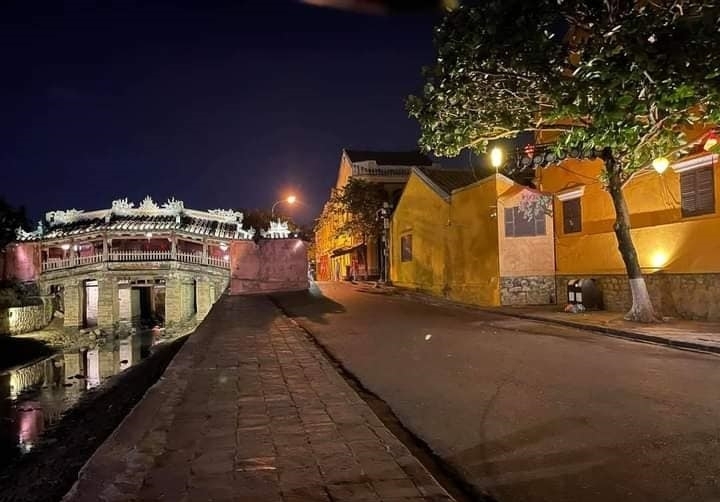 No one can be spotted on the pedestrian zone in Hoi An Town.
The town that had been bustling with tourists during freshly-concluded break for public holidays fell silent following the municipal government's temporary closure order on the Old Quarter, pedestrian zone and non-motor vehicles. Additonally, authorities are allowing students stay at home, starting from May 4 until further notice.
The Ministry of Health confirmed four more COVID-19 cases, including two local infections, in the past 12 hours to 6:00 on May 4.
One of the two local cases resides in Hoi An ancient city, the central province of Quang Nam and works in neighbouring Da Nang city from April 29. He was tested positive with the novel coronavirus SARS-CoV-2 on May 3, and has received treatment at Da Nang Lung Hospital.
The national count increased to 2,996, including 38 locally-transmitted cases since April 27.
A total 40,505 people who had made contact with COVID-19 patients or arrived from pandemic-affected areas are being quarantined across the country.
New COVID-19 community transmissions in the country shattering short-lived hopes for a recovery of Hoi An's tourism.
Hoi An during the pandemic is not bustling with its usual laughter, crowds, and colorful boats. The city still possesses its inherent gentle and ancient beauty, but the beauty is more peaceful now. These days, Hoi An returns to the tranquility, beauty, calmness and serenity of 20 years ago.
People have the opportunity to enjoy the town from a more peaceful perspective, despite the linging Covid-19 anxiety among the workers here.
For the time being, Hoi An this season is still beautiful, still poetic and peaceful in every house and street.