Authorities close many tourist, religious sites amid new Covid-19 outbreak
Famous travel destinations across Vietnam are closing doors to visitors as new coronavirus cases are rising.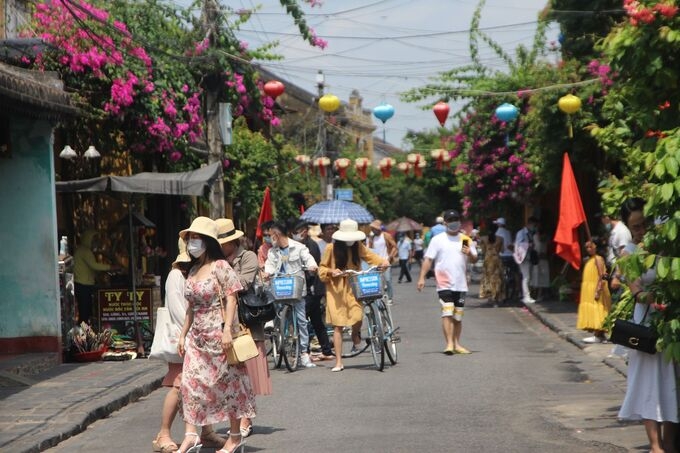 Hoi An is a famous tourist site in Central Vietnam (Photo: VNE)
Hoi An city stops selling entrance tickets at all attractions, sports facilities starting May 4 until further notice. The latest move was made by the municipal authorities in a bid to prevent possible spread, especially when one patient declared a complicated travel history around the central city.
Unnecessary activities are also suspended, including the operation of walking streets, night markets and beach activities.
Da Lat People's Committee has earlier issued official dispatch regarding the stoppage of non-essentials celebrations and recreational activities since May 3 evening.
Tourist sites allowed to welcome visitors must strictly follow anti-pandemic regulations, especially the mask mandate and social distancing at public places. Violators will face hefty fines.
Meanwhile in Nha Trang city, southern Vietnam, the Ponagar Tower has temporarily halted all traveling activities from May 3. The well-known attraction welcomed 10,000 tourists during the four-day holiday break (from April 29 to May 2). Covid-19 preventive measures are reportedly fully adopted.
To date, Nha Trang authorities have established 10 specialized groups in charge of communicating, checking, and handling large gatherings at public places like parks, coastal areas.
Saftey measures are also being implemented in the nation's capital. In Hanoi, the municipal People's Committee also called for the suspension of sightseeing places, relics, religious establishments, streetside eateries, and café as of May 3 afternoon.
To curb mass concentration, Quang Ninh province is also closing down all activities and services at beaches. Bars, discos, karaoke, massage parlors, internet café are also put to a halt.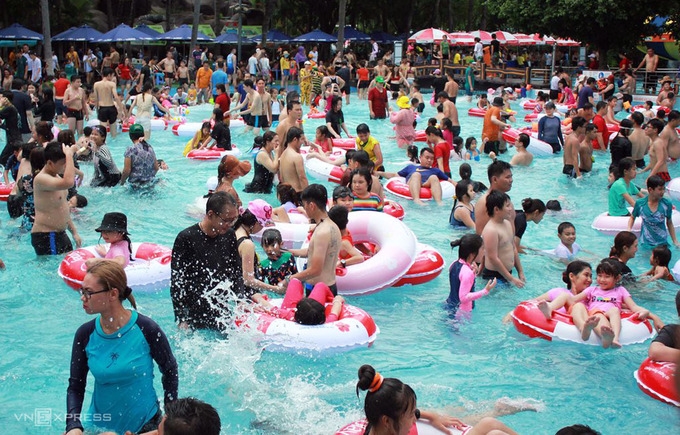 Dam Sen water park in Ho Chi Minh city close its door starting May 3 (Photo: VNE)
Recent statistics show the number of passengers passing through airports rose significantly during the recent four-day national holiday.
During the holiday (April 30-May 3), 21 airports managed by the Airports Corporation of Vietnam (ACV) accommodated 11,000 flights, an increase of 45 percent against 2019's same period.
The country's largest airport Tan Son Nhat in Ho Chi Minh City reported the highest number of passengers on a single day in history on April 29, a day before the holiday, according to VnExpress.
Vietnamese celebrated the Reunification Day (April 30) and Labor Day (May 1) and many left one day earlier for popular tourist destinations or returned home for family reunions.
Earlier, domestic air carriers Vietnam Airlines, Vietjet Air and Bamboo Airways had opened new air routes to cater to growing travel demand after the country went over one month without community transmissions.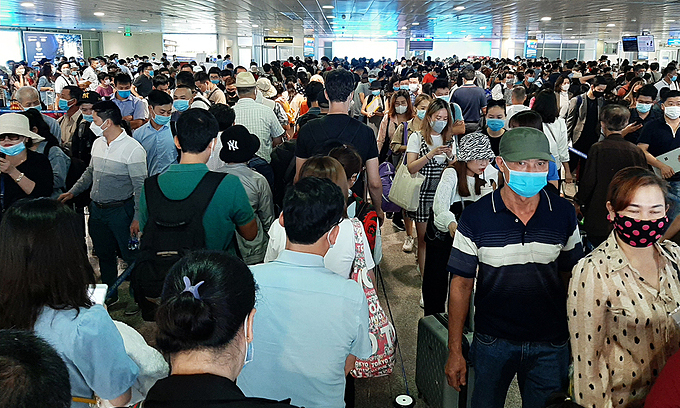 Air passengers at Noi Bai Airport in Hanoi, April 2021. (Photo: VNE)
Vietnam has been dealing with a surge in community transmissions since April 29, with 38 cases confirmed.
Huge crowds flocked to local tourist hotspots during the holiday despite the resurgence of Covid-19.
The government closed national borders and canceled all international flights on March 25, 2020. It has since allowed in only Vietnamese repatriates and foreign experts and highly-skilled workers.
Airlines and travel companies are heavily reliant on the boom in domestic tourism to mitigate the impacts of the Covid-19 pandemic, which broke out in Vietnam in January last year.
During the ongoing community outbreak, Vietnam has recorded 52 cases scattered across the country, all since April 29.
They are all linked to a "super spreader" known as Patient 2,899.
Until April 29, Vietnam had gone for more than one month without recording any new locally-transmitted of Covid-19.
Eleven cases of COVID-19 were reported from 6 am to 6 pm May 4, including one domestically transmitted case, according to the Health Ministry. Among the imported cases, three were Indian citizens and the remainder were Vietnamese. The locally transmitted case is a 25-year-old woman who had made contact with patient 2982.
No cases found this morning, May 5, said the Ministry of Health.