Vietnam's Pangasius exports increase by 0.6% in first quarter of 2021
Vietnam's Tra fish (pangasius) exports during the first quarter of the year recorded an increase of 0.6% to $336 million compared to the same period from last year, according to the Vietnam Association of Seafood Exporters and Producers (VASEP).
March alone witnessed local pangasius exports surge by 11% to $137 million against last year's corresponding period following a decline experienced in February.
The demand for Vietnamese pangasius bounced back recently, causing the price of raw pangasius in the Mekong Delta region to rise considerably, according to VOV.
According to the Agro Processing and Market Development Authority (Agrotrade), the current price of raw pangasius fish ranges between VND21,000 - 22,000 ($0.91- $ 0.96) per kilo, an increase of about VND2,000 ($0.087) per kilo compared to the previous month.
Despite this rise, the demand for the product remains lower than in previous years due to the low purchasing power of China, the largest consumer of Vietnamese pangasius.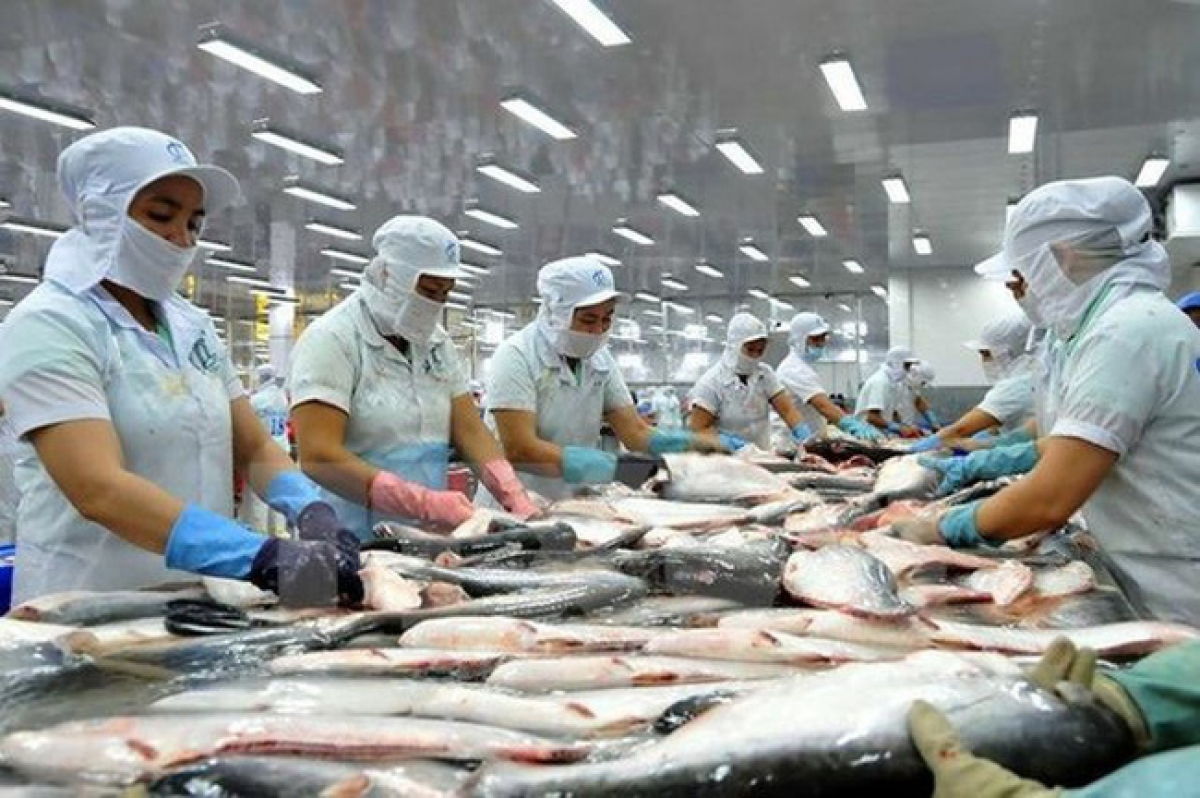 Vietnam's Pangasius exports increase by 0.6% in the first quarter of 2021. Photo: VOV
China has recently moved to tighten control over imported frozen seafood shipments, including pangasius fillets, which require a certificate of food testing, a certificate of quarantine, a certificate of disinfection, a certificate of origin traceability, along with a negative novel coronavirus (COVID-19) test, before entering the market.
Most notably, the demand for pangasius in the United States has been increasing as both retailers and foodservice operators are busily purchasing these products for the spring and the coming summer.
Vietnamese businesses are currently completing the signing of contracts, with the price of imported pangasius in the US market increasing by between 6% - 7% since the end of February.
The price of pangasius fillets in the US has increased from between $1.6 - $1.65 per pound to $1.7 - $1.75 per pound in late February, while the selling price of pangasius within the EU market remains stable.
Experts say there are bright prospects ahead for pangasius exports in the future following the imminent recovery of a number of major markets in the aftermath of the novel coronavirus (COVID-19) pandemic.
Vietnam's seafood exports expected to hit $9.4 billion in 2021
In January 2021, seafood exports were valued at $600 million, a year-on-year increase of nearly 20%, reported the Ministry of Agriculture and Rural Development.
The US, Japan, China, and the Republic of Korea are the four leading import markets of Vietnam's seafood.
Statistics of the General Department of Customs showed that during the Lunar New Year (Tet holiday), Vietnam's commodities were exported to 80 markets, an increase of 7% compared to last Tet.
Specifically, the Chinese market held the largest share with 26% of the total export value, at $189 million. It was followed by the US with $152 million (21%), the Republic of Korea with $67 million (19%), and Hong Kong (China) with $57 million (8%).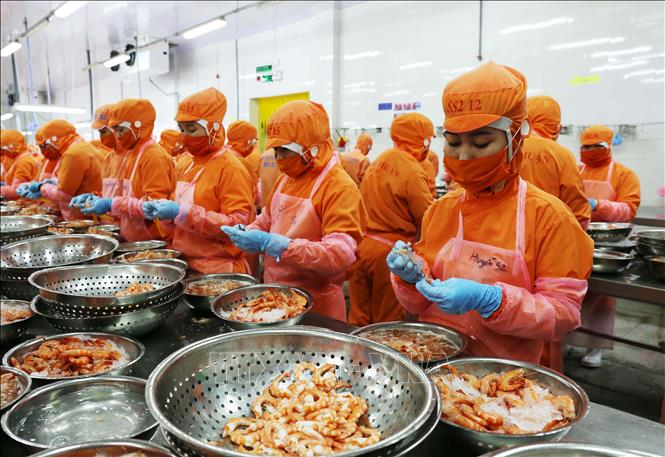 Vietnam's seafood exports expected to hit $9.4 billion in 2021. Photo: VNA
According to the Vietnam Association of Seafood Producers and Exporters (VASEP), Vietnam's aquatic product exports are expected to rake in $9.4 billion this year, a year-on-year increase of 10%, the Communist Party of Vietnam Online Newspaper reported.
This is driven by a strong rebound in demand of export markets and the support of free trade agreements
Analysts of FPT Securities JSC (FPTS) predicted Vietnam would continue increasing shrimp output in 2021, reaching 730,000 tonnes, up 4% year-on-year.
Stable supply will be an advantage for Vietnamese shrimp exporters to expand their market shares in export markets.
The prices of exported shrimps are also forecast to rise slightly by 5 percent to an average of $9.6 per kg, according to an FPTS report.