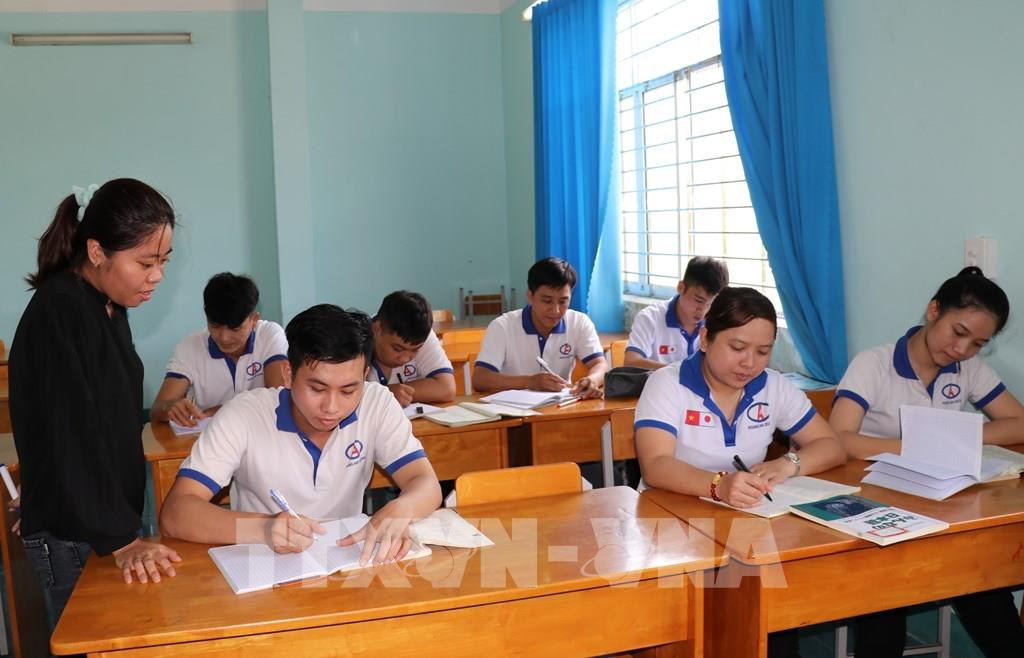 A Japanese language class for Vietnamese workers, Photo: VNA
The Ministry of Labor, Invalids and Social Affairs (MOLISA) requested enterprises to continue adopting epidemic prevention measures while striving to bring 90,000 Vietnamese laborers to work abroad in 2021.
According to the Director-General of the Department of Overseas Labor under MOLISA Tong Hai Nam, there are over 26,000 Vietnamese workers abroad who cannot come back to homecountry despite their expired work contracts due to the Covid-19 pandemic.
The Department of Overseas Labor directed the relevant units to actively keep track of the epidemic situation as well as coordinate with Vietnamese diplomatic representative agencies abroad and partners and employers to ensure the safety and legal interests of Vietnamese workers while waiting to return home, Nam added.
It also required enterprises to review and do statistics on the number of workers who need to come back home to report to the competent authorities for consideration and organization of flights to repatriate them as soon as possible and in accordance with the country's conditions, said Nam.
The department re-signed the agreement on labor cooperation with Thailand; has been stepping up negotiations of another deal with Israel and carrying out the agreements signed with South Korea and Japan.
Besides, the department has researched the market and assessed the pilot phase of bringing labors to work in some European countries such as Romania, Poland, etc to promote the development, expansion, and stabilization of the labor market, and strengthen support for localities to continue piloting to send workers to do seasonal jobs in South Korea.
In 2020, the complicated development of the Covid-19 pandemic exerted adverse impacts on the economic and social activities globally, including bringing Vietnamese laborers to work abroad.
The regulations restricting entry for foreign citizens issued by many countries in the world along with the suspension of commercial flights resulted in a decline in the number of Vietnamese laborers going abroad to work, reaching only 78,641 people, equivalent to 60.5% of the plan assigned by the Government.
Malie Nguyen