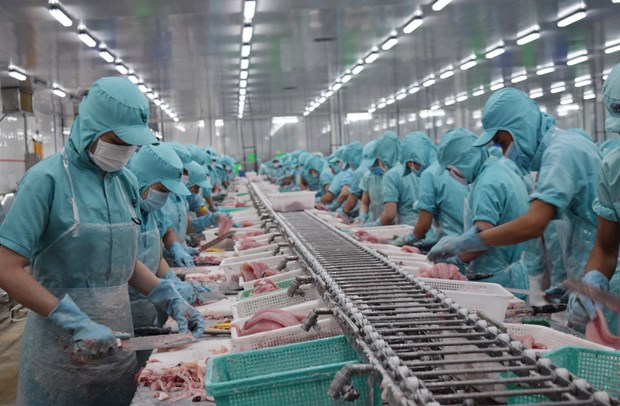 A fish processing factory in the Mekong Delta province of Dong Thap (Photo: VNA)
VNA said that the COVID-19 pandemic has already made it quite difficult for Vietnamese goods to enter the US and EU markets and the outlook for the second quarter is also gloomy, according to Cong Thuong (Industry & Trade) newspaper
In the first quarter of this year, Vietnamearned 59.08 billion USD from exports, up just 0.5 percent year-on-year, whileimports stood at 56.26 billion USD, down 1.9 percent, the General Statistics Office (GSO) has reported.
The country therefore posted a trade surplus of 2.8 billion USD compared to 1.5 billion USD in the same period last year. Manytrade experts said this in an acceptable figure given the coronavirus outbreak.
There are signs, however, that prospects in thesecond quarter will be even bleaker, especially regarding exports to the US andEU, both of which have been hit hard by COVID-19.
Bui Trong Tu, Deputy Director of the GSO's Tradeand Services Statistics Department, said almost all export contracts Vietnamesebusinesses have struck with partners in these two key markets have beensuspended.
Exports are certain to be greatly affected ifthe pandemic continues throughout Q2, he forecast, as in addition to China, theUS and the EU are among the largest importers of Vietnamese goods, particularlytextiles, garments, and footwear, and aquatic products.
The number of apparel and footwear orders fromthe two markets fulfilled in April and May are projected to fall sharply. Neworders to be delivered in June or later, meanwhile, haven't even beennegotiated.
Wood processing companies said if the situationsurrounding the pandemic does not improve by the end of April then some willhave to cut production by 70 percent.
If the outbreak remains during the secondquarter, most will have to cease production for export contracts. Only a few producingwooden items for sale on the domestic market will be able to sustain operations,but only at 10-15 percent of capacity.
In the electronics industry, Samsung ElectronicsVietnam has reported that the US and EU account for more than 50 percent of itsexport value. Global revenue for Samsung Electronics this year is likely todecline, and it may have to revise its export target to about 45.5 billion USD,compared to an actual 51.38 billion USD in 2019.
Meanwhile, switching the shipment of keyproducts to other markets such as India, the Republic of Korea, and Japan cannotbe done overnight, and it will be difficult to compensate for losses incurredas exports to the US and the EU tumble, the Cong Thuong newspaper noted.
Given this, businesses are pinning their hopeson the US and EU controlling the pandemic, especially given the EU-Vietnam FreeTrade Agreement (EVFTA) is set to take effect this year.
An increase of 20 percent in exports this year wasnot unrealistic under the agreement, according to GSO General Director NguyenBich Lam, with the greatest beneficiary being aquatic products
If Covid-19 is contained by Q2, exports will bounce back and the 7-8 percent export growth rate in 2020 will be within reach.
The General Department of Customs (GDC_ reported a trade surplus of $2.8 billion in Q1, though the epidemic has affected consumer demand in many countries. Key export items such as computers, electronics, phones, woodwork and footwear all brought higher turnover compared with the same period last year.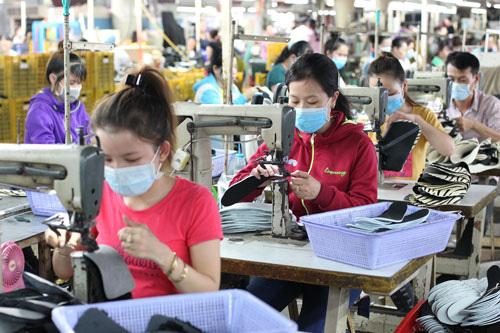 Photo: VNA
Agriculture
A $2.9 billion trade surplus has been reported for agriculture, higher than the average level, and 48.9 percent higher than the same period last year.
Despite the epidemic, Vietnam exported $9.06 billion, while imports decreased by 13.2 percent to $6.2 billion.
Regarding export markets, except the US and China, which cut imports from Vietnam, other important markets saw increases in imports.
The export turnover to Japan, for instance, reached $802 million, a 2.72 percent increase. The exports to ASEAN brought turnover of $970 million, up by 16.4 percent.
"Our factory is still running with 1-2 production shift a day to satisfy big demand from clients," Thong said, adding that the company can maintain export growth thanks to the policy on diversifying export markets.Phan Minh Thong, general director of Phuc Sinh JSC, said the company's exports in Q1 were 120-130 percent of the exports of the same period last year.
The footwear industry, which complained earlier this year that they lacked input material for production because of the Chinese supply interruption, maintained exports thanks to old orders.
According to Tran Quang Vinh, chair of Phuc Yen Shoes in Vinh Phuc province, many clients have asked to delay deliveries until June and July. However, the company can export the products under the contracts signed last year.
The company believes it can maintain production until the end of April.
Enterprises prepare for post-epidemic period
Pham Tat Thang, senior researcher at the Ministry of Industry and Trade, warned that exports would meet bigger difficulties in Q2, but in the long term, if the epidemic can be contained in Q2, exports may make a breakthrough in the second half of the year thanks to the demand recovery in many markets.
Thang believes that Vietnamese enterprises need to pay attention to the Chinese market as the country has initially succeeded in controlling the epidemic.
Nguyen Quoc Toan from the Ministry of Agriculture and Rural Development (MARD_ also said Vietnamese enterprises need to prepare well for the post-Covid-19 period, when demand recovers.
"The recovery time may be May for the Chinese market, and July or August for the US and European markets," Toan said.