Vietnam's top legislator receives ambassadors of Japan, Cambodia
Vietnamese National Assembly (NA) Chairwoman Nguyen Thi Kim Ngan received Japanese Ambassador Yamada Takio and Cambodian Ambassador Chay Navuth in Hanoi on June 30, reported VNA.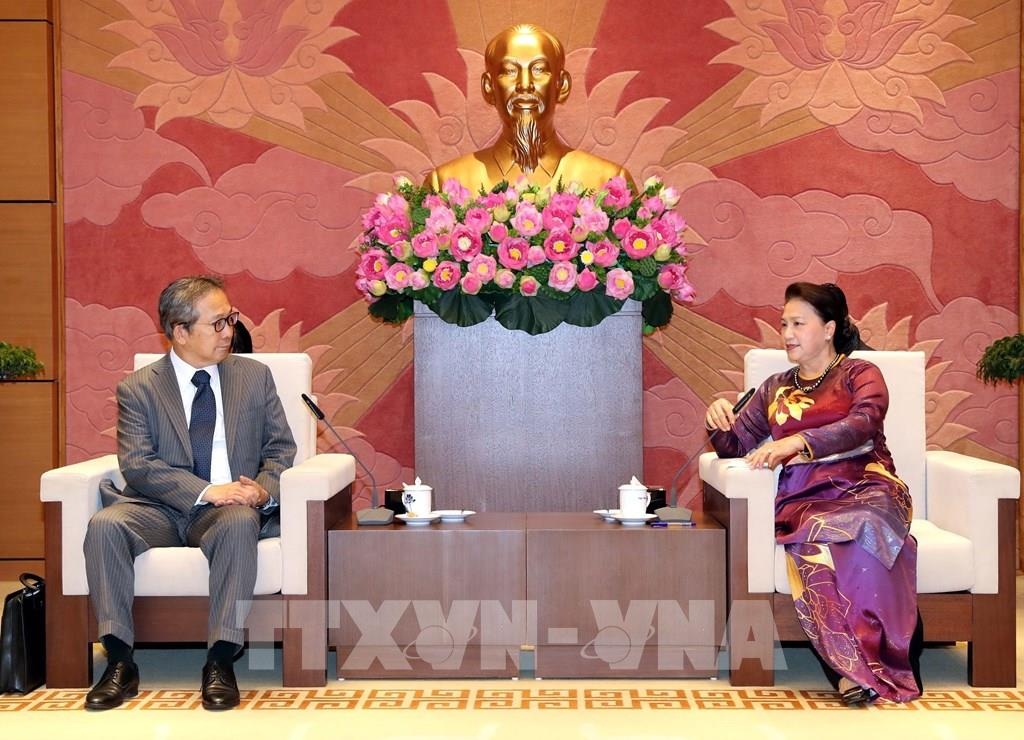 National Assembly Chairwoman Nguyen Thi Kim Ngan (R) meets with Japanese Ambassador Yamada Takio on June 30 (Photo: VNA)
During the reception with Japanese ambassador, Ngan reiterated that Vietnam always views Japan as a leading and long-term partner and wishes to join hands with Japan to intensify their Extensive Strategic Partnership for Peace and Prosperity in Asia.
She noted bilateral relations have been thriving with high political trust in the recent past. Their cooperation has become increasingly substantive in all spheres, from politics, security-defence, economy, trade, investment, tourism and labour to people-to-people exchange.
Problems in the implementation of big projects funded with Japan's ODA capital have been actively settled, she added.
Chairwoman Ngan appreciated the active role of the Vietnam-Japan Parliamentary Friendship Group and the Japan-Vietnam Parliamentary Friendship Alliance in enhancing ties between the countries' legislative bodies, thus greatly contributing to overall connections.
The top legislator noted during the law making process, the Vietnamese parliament always take into account opinions of the people, experts and embassies in order to issue laws that suits Vietnam and international practices.
For his part, Yamada voiced his delight at frequent exchanges between the two parliaments and highlighted the considerable role of each country's parliament in international activities.
He also congratulated the Vietnamese NA on ratifying the EU-Vietnam Free Trade Agreement (EVFTA), the EU-Vietnam Investment Protection Agreement (EVIPA), the law on investment under the public-private partnership format, along with Resolution 52 on changing the form of investment in some sections of the North-South Expressway project, which he said are very important since they are related to businesses' activities.
The Japanese diplomat also congratulated Vietnam on bringing the COVID-19 outbreak under control, saying that following this success, foreign investors will pay great attention to the country.
Vietnam is working hard to recover its economy after the pandemic, and Japan is ready to resume labour cooperation so that Vietnamese apprentices can continue going to work in Japan, he added.
Also on June 30 in Japan, the AEON 1% Club Foundation under Japan's AEON Co. presented JPY 5 million (USD 46,000 ) to Vietnamese Ambassador to Japan Vu Hong Nam in support of Vietnamese students and practitioners affected by the COVID-19 pandemic.
On the same day, Ngan received Cambodian Ambassador Chay Navuth, expressing her belief that will contribute more to ties between Vietnam and Cambodia, as well as between the two legislatures.
Ngan lauded the two countries for deploying important external activities, including two Vietnam visits by Cambodian Prime Minister Hun Sen, the signing and ratification of two legal documents on land border demarcation and marker planting, thus creating an important legal framework for the process of building a borderline of peace, friendship, stability, cooperation and development.
The Chairwoman added that the fight against COVID-19 also reflects solidary between the two nations.
Ngan informed the ambassador about Vietnam's online activities with leaders of regional governments and legislatures in its capacity as Chair of ASEAN and ASEAN Inter-Parliamentary Assembly (AIPA) to discuss common issues.
Vietnam is preparing for Party congresses at all levels, towards the 13th National Party Congress, the election of deputies to the 15th NA and the People's Councils at all levels during the 2021-2025 tenure, she said.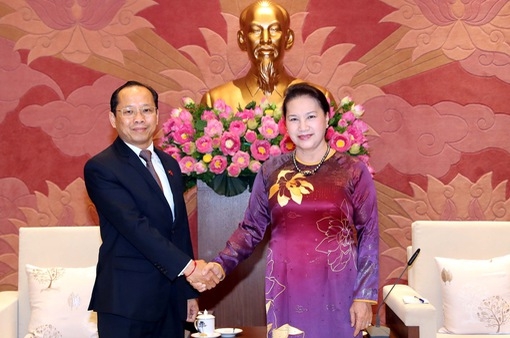 National Assembly Chairwoman Nguyen Thi Kim Ngan (R) and Cambodian Ambassador to Vietnam Chay Navuth (Photo: VNA)
Speaking highly of ties between the two legislatures, Ngan suggested that both sides should raise public awareness of the bilateral relationship, especially among young generations.
She voiced her wish that the ambassador would work closely with Vietnamese ministries and agencies to implement agreements reached by senior leaders, as well as introduce the potential of coordination between ministries, agencies, localities and business communities.
The top legislator asked the ambassador to continue stepping up the settlement of difficulties faced by the Vietnamese community in Cambodia.
Both nations should offer mutual support to hold multilateral external events hosted by each side, especially ASEAN and AIPA, contributing to sustainable development in the region, she said.
Navuth, for his part, thanked the Vietnamese Party, State and people for providing Cambodia with medical supplies to back its fight against COVID-19.
Recalling volunteer Vietnamese soldiers' support for Cambodia in the past, he said Cambodia has revived thanks to Vietnam's assistance.
He congratulated Vietnam on its recent socio-economic achievements, which he said, are partly attributable to the Vietnamese legislature. He also believed that that the Vietnamese NA will achieve more successes in its capacity as Chair of the 41st General Assembly of AIPA 41./.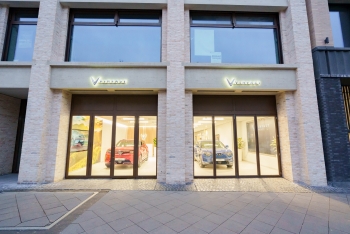 Economy
VinFast has officially opened its first two VinFast Stores in Cologne, Germany, and Paris, France.