First Japan-Vietnam flight takes off as travel partially resumes
A plane full of Japanese business travellers has landed in Vietnam for the first time since the coronavirus pandemic prompted each country to issue travel bans, reported Japan's public broadcaster NHK.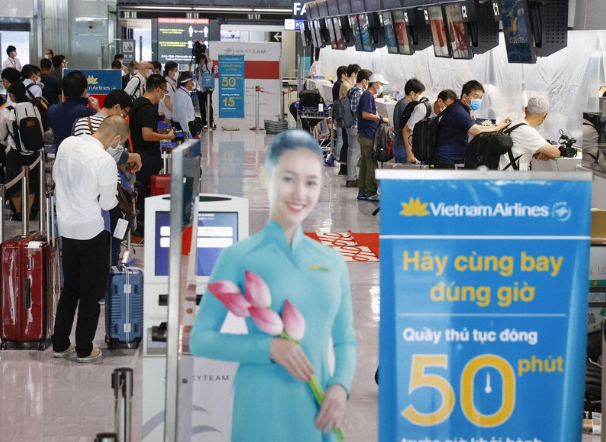 People check in at Narita airport near Tokyo on June 25, 2020, before boarding a chartered flight to Vietnam's Van Done. Source: Kyodo
The chartered flight carrying 150 passengers, mainly businesspeople, left Narita airport, east of Tokyo, for Van Don International Airport near Ha Long city.
Two countries agreed to ease restrictions since local infections appear to be under control.
Check-in counters at the Japanese airport were overflowing with passengers and family members seeing them off, Kyodo News reported.
Travelers wore protective clothing designed to prevent the spread of the virus that they were given as they boarded the plane, according to the national flag carrier Vietnam Airlines, which operated the flight.
"It seems that the spread of the virus has been stemmed (in Vietnam), but I'm worried about another wave," said a 33-year-old businessman, adding that his job transfer to the country had initially been postponed.
"There's a chance that travel conditions will improve, but I wanted to return as soon as possible," said Takako Omi, 50, who works at a Japanese sewing factory in Vietnam. "I'd like our expatriate employees there to take a break."
Omi said she had been unable to fly back after temporarily returning to Japan in March.
Their arrival is a relief for companies, which had to limit production after losing access to Japanese workers.
Electronics maker Sharp is set to receive about 130 Japanese workers at this Vietnamese factory.
Sharp Manufacturing Vietnam Chairman Wada Kazuhito said, "I am more relieved, than happy. We will now have the human resources we need to restart our operations."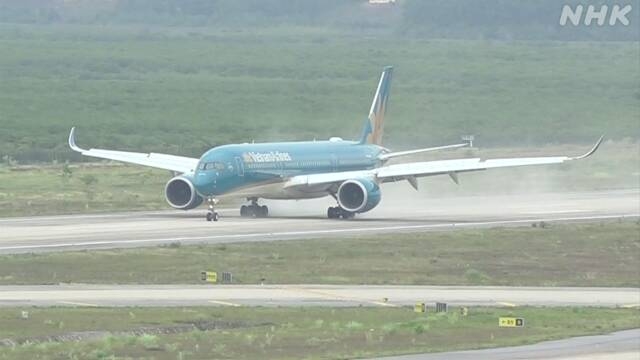 Travel from Japan to Vietnam resumed June 25 in a first step after the easing of travel restrictions imposed to fight the novel coronavirus. Source: NHK
Vietnam will continue receiving experts, high-skilled workers, investors to the country, but "not reopen en mass" and has not received international tourists yet, stressed Prime Minister Nguyen Xuan Phuc at the meeting of the Standing Committee of the Government on June 24.
No new COVID-19 infections were recorded in Vietnam on June 25 morning, marking the 70 straight day without community transmission, while the total number of infections rose to 352 after three more cases returning from Kuwait were confirmed one day earlier, according to the Ministry of Health.
However, PM Phuc required relevant agencies to absolutely prevent the second wave of COVID-19 attacking Vietnam. This is considered as overarching guidance spirit, with the purpose of protecting achievements in implementing dual objectives namely the epidemic prevention and socio-economic development.
As of earlier this week, Japan had an entry ban in place for 111 countries and regions, with foreign travelers that have been to any of the areas within 14 days of their arrival being turned away. Conversely, 177 countries and regions had imposed restrictions of some kind on entry from Japan, according to the ministry.
Japan is now in talks with Australia, New Zealand and Thailand to mutually ease travel restrictions on the condition that travelers test negative for COVID-19 before departure and upon arrival as well as submit an itinerary detailing where they will visit during their stay.
Japan's Foreign Ministry is likewise looking to lift the entry ban for workers from Vietnam. That includes those who qualify for short-term contracts under Japan's "technical trainee" program, added NHK./.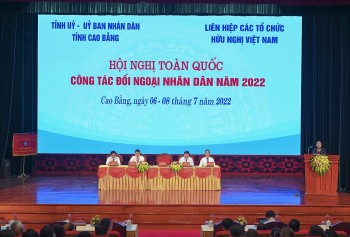 Friendship
During the event, many important issues will be discussed, and constructive suggestions and solutions will be provided to promote more effective people-to-people diplomacy operations.