Vietnam's Top Legislator Wraps Up Official Visit to RoK, India
Vietnamese National Assembly Chairman and a high-ranking delegation concluded 6-day official visit to the Republic of Korea and India.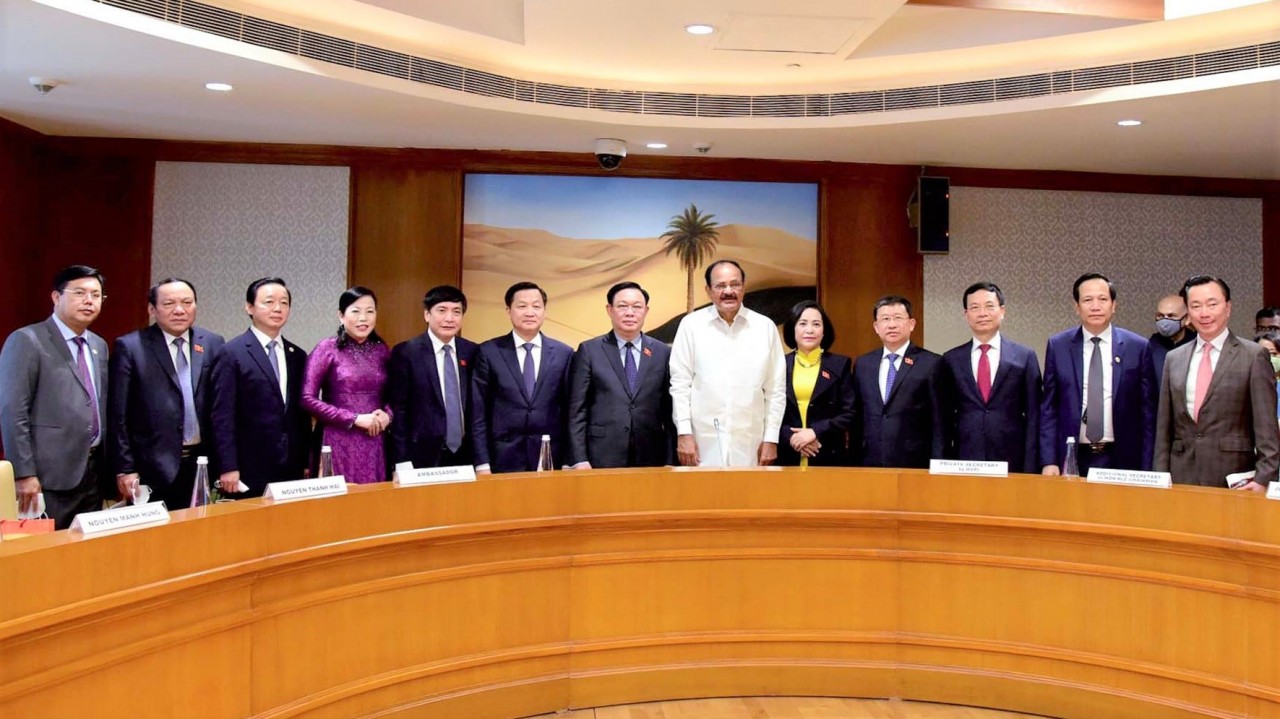 The parliamentary delegation from Vietnam led by Vuong Dinh Hue, Chairman of the National Assembly calls on the Vice President of India and Chairman of Rajya Sabha, Shri M. Venkaiah Naidu at Parliament House on on December 17.
National Assembly (NA) Chairman Vuong Dinh Hue and a high-ranking delegation of the Vietnamese NA arrived at Noi Bai international airport in Hanoi on Dec. 19 night, successfully concluding the 6-day official visit to the Republic of Korea (RoK) and India – Vietnam's important partners in Asia, reported VNA Monday.
During his stay in the RoK, the top legislator held talks with Speaker of the Korean National Assembly Park Byeong-seug and met with RoK Prime Minister Kim Boo-kyum, while in India, Hue held talks with Speaker of the Lok Sabha (House of Representatives) of India Om Birla and had meetings with Vice President and Chairman of the Rajya Sabha (Upper House) of India Venkaiah Naidu.
NA Chairman Hue also attended events to promote cooperation between localities and businesses of the two sides, which have contributed to further promoting the Vietnam – RoK strategic cooperative partnership, and the friendship and comprehensive strategic cooperation partnership between Vietnam and India.
NA Chairman Vuong Dinh Hue (left) meets with RoK Prime Minister Kim Boo-kyum in Seoul on December 14. Photo: VNA
The trip continued to affirm Vietnam's open foreign policy of diversification and multilateralisation, proactiveness, and activeness and responsibility of the Vietnamese Party and State, thus improving the country's position in the region and the world.
It also continued promoting the strength of parliamentary diplomacy in bilateral relations with the two important strategic partners of Vietnam in Asia, strengthened political trust with senior leaders of the RoK and Indian parliaments, and experience sharing on parliamentary activities as well as measures for economic recovery and development amid the Covid-19 pandemic.
The trip has achieved comprehensive results in politics, foreign affairs, vaccine diplomacy, people-to-people diplomacy and overseas Vietnamese work.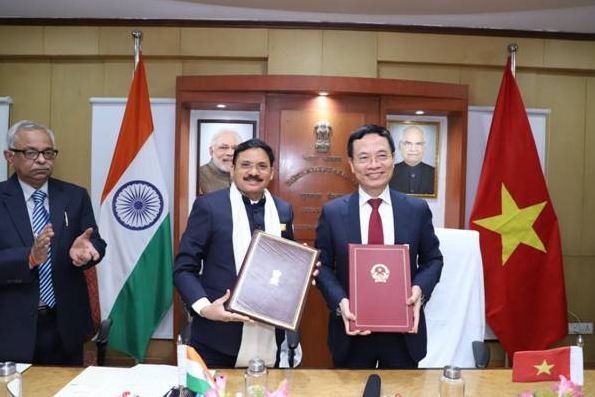 Vietnam - India sign "Letter of Intent" for enhanced cooperation in the postal sector. Signing of Letter of Intent will provide new opportunities to both the countries in field of communications and posts.
Nine cooperation agreements were inked between Vietnam's ministries, sectors and agencies and those of the RoK and India, while 39 investment certificates and cooperation agreements worth USD 15 billion were handed over during the trip.
One the highlights of the trip visit was the specific results of the "vaccine diplomacy" work and cooperation in fighting Covid-19.
Through high-level meetings with businesses, NA Chairman Hue received Covid-19 vaccines, supplies and materials for producing Covid-19 treatment drugs, and financial support from RoK and Indian enterprises.
A ceremony to hand over vaccines, supplies and materials for producing Covid-19 treatment drugs to Vietnamese agencies and enterprises was organised immediately after the plan carrying the Vietnamese delegation landed at Noi Bai airport.
After nearly 30 years since the establishment of diplomatic relations in 1992, the Vietnam - RoK ties have witnessed remarkable developments.
The Vietnam - RoK Free Trade Agreement (VKFTA) which took effect from December 2015 has laid foundation for promoting stronger and more effective economic, trade and investment cooperation. The RoK is currently the largest FDI investor in Vietnam with over 9,100 projects and total registered capital of USD 72.3 billion, and the second largest trade partner with two-way trade turnover in 2020 reaching USD 65 billion. The RoK is also Vietnam's second largest ODA donor, with USD 1.5 billion grant committed in the 2016-2020 period alone.
Vietnam is an attractive destination for Korean tourists, with more than 4.3 million visits in 2019. More than 500,000 Vietnamese tourists also visited the RoK in the same year. Every month, there are about 2,000 flights connecting various localities between the two countries.
More than 65,000 Vietnamese – Korean multicultural families, also are a bridge of friendship that bring our two peoples closer to each other.
Vietnam and India established their diplomatic relation in 1972 and upgraded the ties to comprehensive strategic partnership in September 2016. They are working to implement an action programme materialising the partnership for 2021-2023. They always support each other and regularly exchange delegation across all levels, particularly high-level ones.
The bilateral trade grew 16% on an annual basis between 2008 and 2013. India is one of the 10 biggest partners of Vietnam, with two-way trade reaching USD 9.67 billion last year, and nearly USD 11 billion as of October 2021.
By October, India ranked 26th out of 140 countries and territories investing in Vietnam with 310 projects worth some USD 910 million. Vietnam also invested in nine projects in India with total capital of nearly USD 6.03 million .
Over the past years, the nations' parliamentary ties have been consolidated, significantly contributing to enhancing the traditional friendship and comprehensive strategic partnership. The Vietnamese legislature and India's Lok Sabha (House of Representatives) signed a cooperation agreement in 2016.