Vietnam, India Celebrate 5 Years of Comprehensive Strategic Partnership in New Delhi
Fifth anniversary of Vietnam-India comprehensive strategic partnership marked in New Delhi
The comprehensive strategic partnership between Vietnam and India is developing strongly in all areas, from politics, diplomacy, security to economy, trade, investment, education-training, science-technology and culture, said officials of the two countries at a ceremony in India's capital.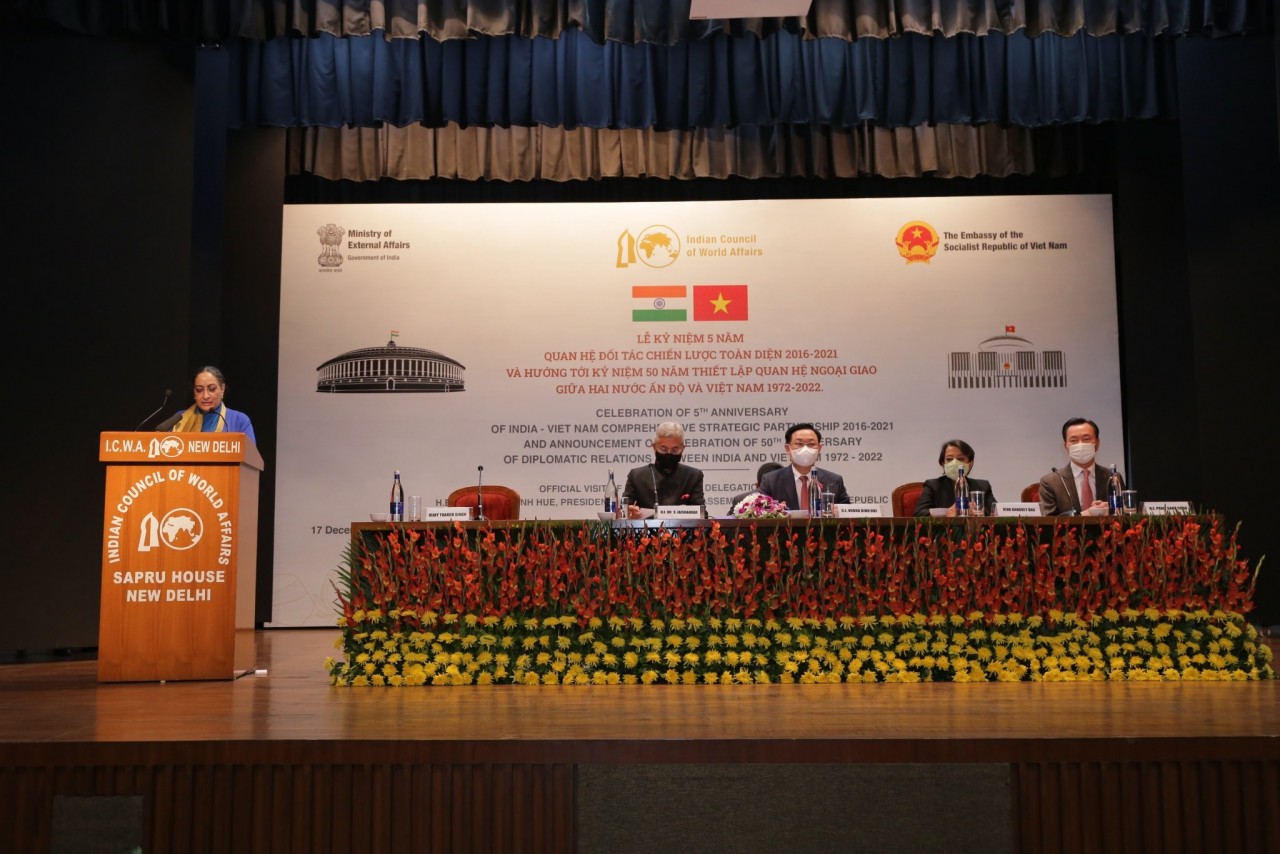 The 5th Anniversary of India-Vietnam Comprehensive Strategic Partnership 2016-2021 and the Announcement of Celebration of 50th Anniversary of Diplomatic Relations between Vietnam and India 1972-2022 at Sapru House on December 17, 2021.
National Assembly Chairman Vuong Dinh Hue attended a ceremony marking the fifth anniversary of Vietnam-India comprehensive strategic partnership in New Delhi on Dec. 17, reported VOV.
In his speech, Indian Minister of External Affairs Subrahmanyam Jaishankar said India always considers Vietnam an important partner and wished that bilateral ties would become increasingly closer, contributing to peace, stability and development in the region.
He also hoped that the two nations would tap their potential to support economic development in each country.
Chairman Hue who was in India for an official visit affirmed said the Vietnam – India relationship is still 'faithful and pure" despite global changes.
"Bilateral relations have recorded encouraging development achievements, based on five main pillars: politics & diplomacy; national defence & security; economy, trade and investment; science and technology; education-training, and people-to-people and cultural exchanges," he said.
"Over the past five years, the two countries have conducted seven high-level reciprocal visits, laying the foundation for implementing signed cooperation agreements, and tightening political trust between the two countries," he added.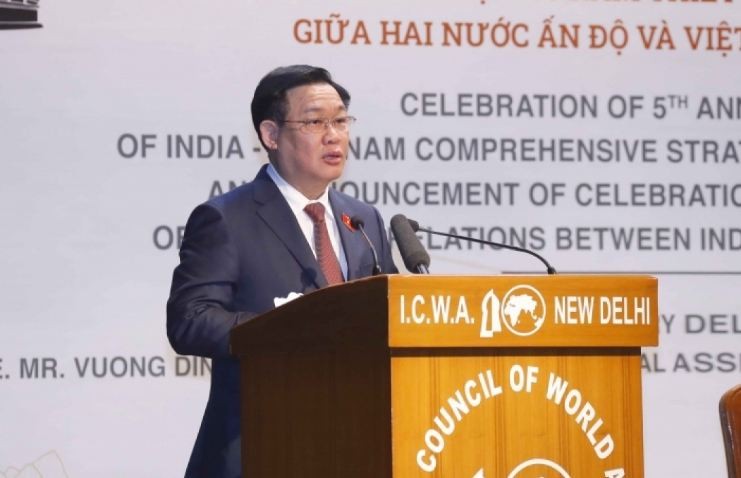 Vietnam National Assembly Chairman Vuong Dinh Hue addresses the ceremony. Source: VOV
The Vietnamese leader particularly hailed trade cooperation as a bright spot in bilateral relations, saying the two-way trade has grown at an average of 20% per annum since the two countries lifted their relationship to a level of the comprehensive strategic partnership in 2016 and is expected to reach over US$12 billion in 2021. India is currently one of the 10 Vietnam's leading trading partners.
He said the two countries still have great potential for cooperation in the fields of science and technology, especially digital technology, information technology, space technology and civil nuclear technology. The post pandemic resumption of direct flights will be the key to promoting tourism cooperation and people-to-people exchanges between the two countries.
He said the two countries share similar viewpoints on strategic issues and highlighted the need to maintain peace, maritime and aviation freedom in line with international law and the 1982 United Nations Convention on the Law of the Sea.
The top legislator affirmed Vietnam's policy of treasuring ties with India and supporting India's Act East policy. Vietnam backs India's bid to become a non-permanent member of the UN Security Council when the organ is expanded, he said.
He also proposed the two nations work closely together to carry out the 2021-2023 Action Programme for bilateral comprehensive strategic partnership as well as the Joint Vision Statement for Peace, Prosperity and People.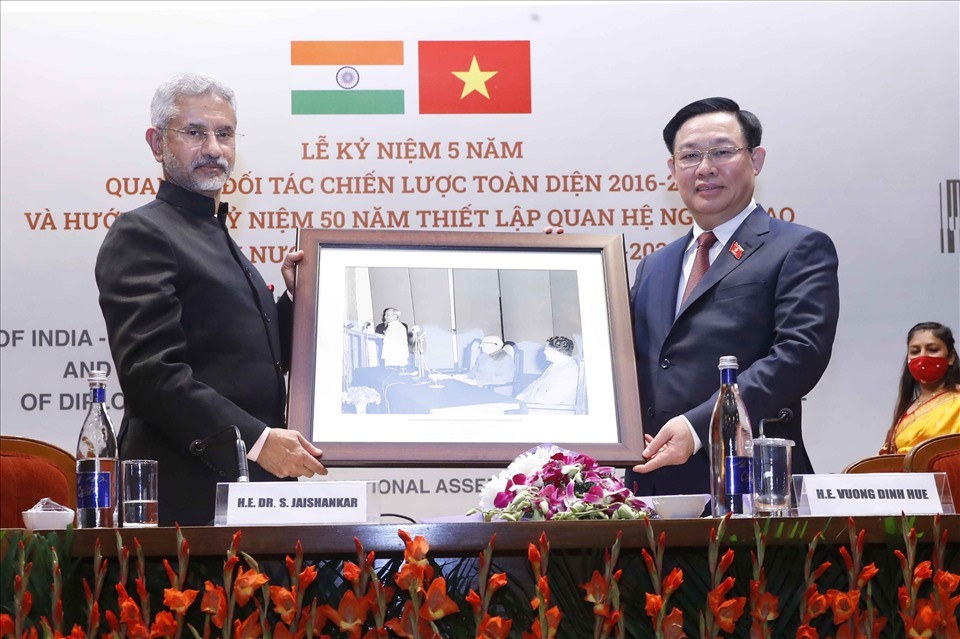 National Assembly Chairman Vuong Dinh Hue and Indian Minister of External Affairs Subrahmanyam Jaishankar. Photo: Thanh Chung
The same day, NA Chairman Vuong Dinh Hue, Indian Foreign Minister S. Jaishankar and many other officials attended the opening ceremony of a photo exhibition featuring 50 years of diplomatic relations between Vietnam and India.
The event, lasts until Dec. 19, is co-organsed by VNA, the Indian Council of World Affairs, and the Vietnamese Embassy in India.
On display are 21 documentary photos by the VNA capturing milestones in the nations' ties over the past five decades, which include Indian Prime Minister Narendra Modi's official visit to Vietnam in September 2016. During Modi's visit, Vietnam and India decided to upgrade their bilateral relations to comprehensive strategic partnership.
Hue also attended the Vietnam – India Business Forum in New Delhi on Dec. 17 where he witnessed the exchange of 12 bilateral cooperation agreements in workforce training in information technology, oil and gas processing, and energy.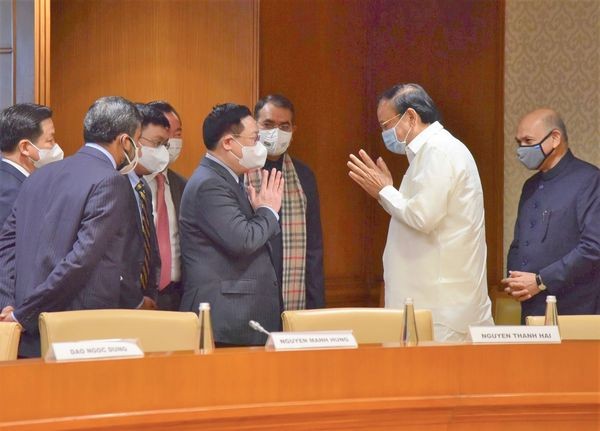 A parliamentary delegation from the Socialist Republic of Vietnam led by Vuong Dinh Hue, Chairman of the National Assembly of Vietnam called on the Vice President of India and Chairman of Rajya Sabha, Shri M. Venkaiah Naidu at Parliament House on December 17, 2021.
In an interview granted to the Indian press, Hue said his visit aims for three goals, including further deepening bilateral comprehensive strategic partnership and ties between the two legislatures in particular, affording both sides a chance to learn more about respective socio-economic development and foreign policies, and exchanging viewpoints on global issues of shared concern and seeking solutions to them, thus contributing to peace, security, stability and development in the region and the world.
The article said the trip marks a new milestone in bilateral ties, not only in national defence but also in economy and maritime security.
It added that Vietnam's economic growth during the pandemic is a miracle and the country is emerging as an important production hub. Vietnam – India strategic ties hold great potential in ensuring peace, security and stability in the Indo-Pacific.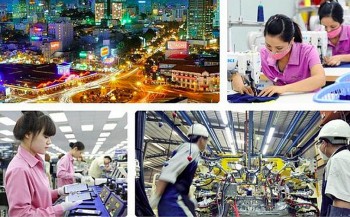 National
Vietnam News Today (Jan. 17): Vietnam records 15,643 new Covid cases; Northern region to turn severely cold from January 17; 'New normal' adaptation leads to positive forecast for Vietnamese economy in 2022; Vietnam-China clash tickets open for sale in two days.