Vietnam's unique symphony orchestra, with video
A unique symphony orchestra in Vietnam has given disabled artists. Once, they could only perform on the street. Now, they have an opportunity on the big stage.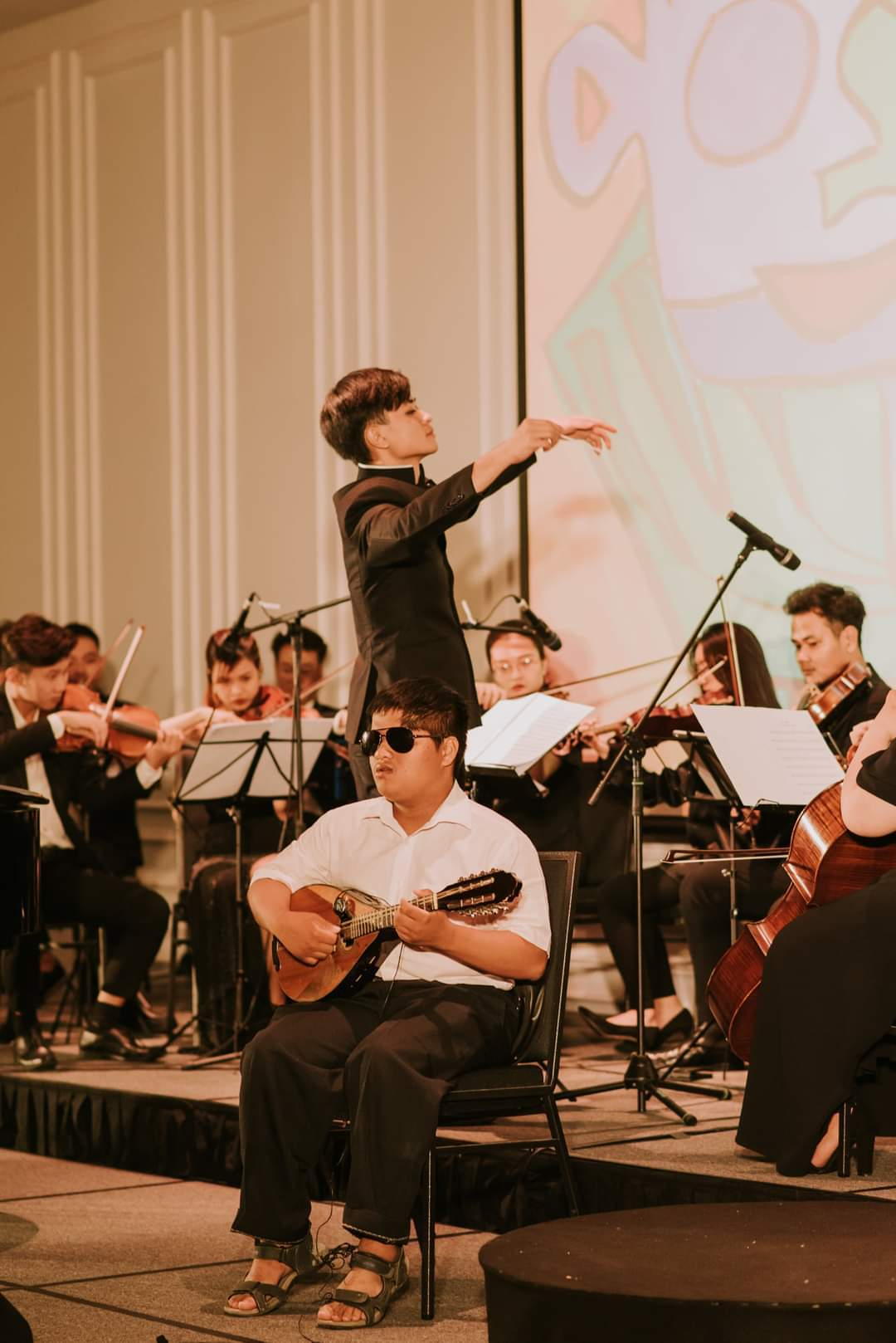 Conductor Tieu Nguyen Duc Anh - co-founder of Imagine Philharmonic, is conducting the orchestra. Photo: Vietnamnet
Originally the idea of a symphony orchestra dedicated to performing for the community, Imagine Philharmonic later had the participation of freelance artists, artists with disabilities. The performances are directed to purely artistic purposes, with ticket sales, instead of based on the spirit of support and charity as in programs with the participation of people with disabilities.
Nguyen Thanh Danh (born in 1990), the co-founder of Imagine Philharmonic could not forget the first performance with the participation of disabled artists in November 2020 on the stage of a 5-star hotel in Ho Chi Minh city. To have this full concert night, the organizers and artists had to go through many difficulties and hardships.
"Professional artists have to double or triple their efforts, their remuneration is reduced by several times, and fame is not as beneficial as performing with other famous singers," Danh said.
"But everyone happily accepted and it was also a change of perception that I wanted to spread to professional artists as well as the audience of this music. If we remove all prejudices, all barriers, create opportunities for them, people with disabilities can also do as well as we do."
What Danh has repeatedly said about Imagine Philharmonic is that he doesn't want to use the disabled artists as a charity act, but instead as a professional performance.That is also the direction that helps the orchestra to take a long and sustainable step forward.
Artists with disabilities share their passion for music. Video: Vietnamnet
"When I brought up disabled artists as main artists to introduce the show, the tickets didn't sell. Because they have no name, no reputation and most importantly, the audience has no faith in disabled artists." Danh said.
After that, Danh's team had to do some activities for the program to make people understand. Tickets were sold out, the show was successful and the disabled performers finally found their audience.
To work together, professional and disabled artists both have to work many times more than usual. Photo: Vietnamnet
One difficulty is that the musical language is different between well-educated people and self-taught artists. "Professional people who speak the language of music can immediately understand each other, but it is unlikely that artists with disabilities will understand those concepts."
"The second and more important difficulty is that the symphony orchestra needs a very high teamwork spirit. All must look at the conductor and at each other to play, but the visually impaired cannot see. So it happened that if normally the musicians had to follow the conductor, here the whole orchestra had to follow the disabled artist. It is also a huge barrier to convincing professional orchestras to play with artists with disabilities."
However, Danh said, these difficulties are being overcome over time so that the gap in expertise is gradually narrowed.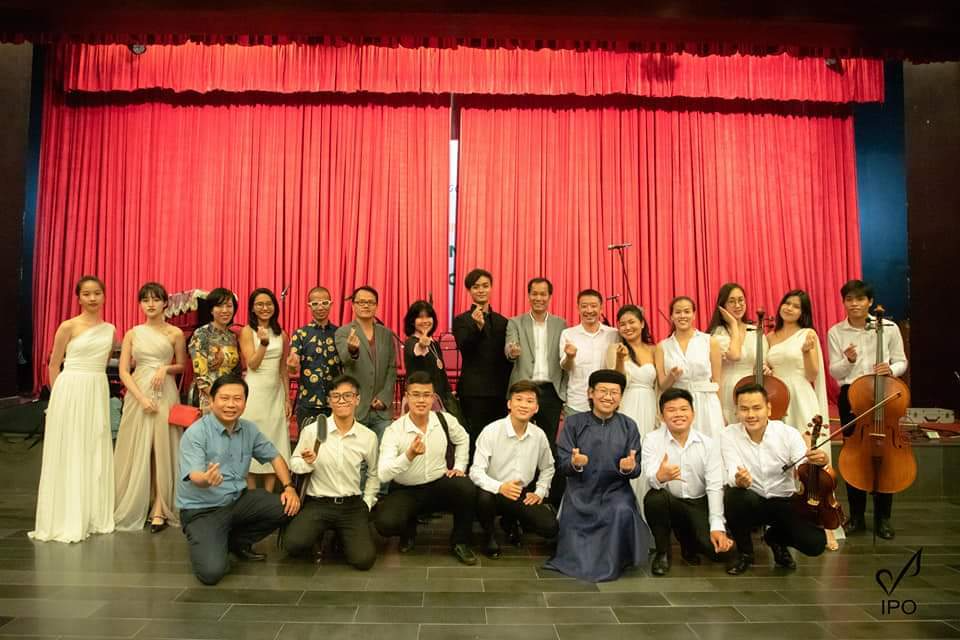 Nguyen Thanh Danh, co-founder of Imagine Philharmonic (bottom row, 3rd from right) and the orchestra. Photo: Vietnamnet
Imagine Philharmonic was born with the goal of breaking down all barriers so that people with disabilities can optimize their abilities. Photo: Vietnamnet
Up to now, Imagine Philharmonic Orchestra has organized three symphony nights in Ho Chi Minh city and Quy Nhon city with the participation of artists with disabilities. The shows have left a great impression on the audience.
The song "Voluntary" performed by disabled artists and the orchestra at Lang Song Church, Quy Nhon city. Video: Imagine Philharmonic Orchestra