Vietnam's Vaccination for Effective Reopening in Hopes for Faster Recovery When 'Living With Covid', Foreign Experts
Foreign observers' latest comments saying that while Vietnam began to take measures for effective control of Covid-19 and recovering socio-economic, prioritized vaccination, sufficient workers, a streamlined "green pass" policy and the lifting of transport restrictions are key to an effective economic reopening in Vietnam.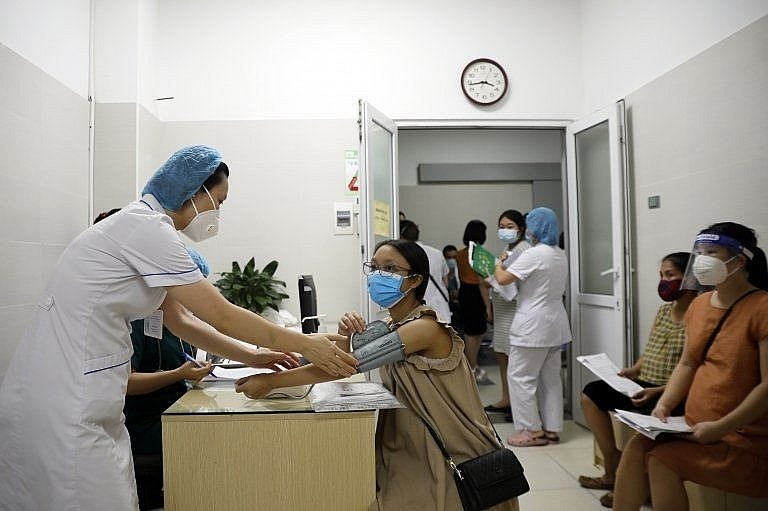 As of September 29, the total number of vaccine doses administered in Vietnam is 42,165,168 doses. Photo: EPA
The Financial Times, a well-known financial newspaper in the UK, published an article on October 1 titled 'Vietnam abandons zero-Covid strategy after record drop in GDP'. The article said that the loosening of restrictions on movement, working in factories and other activities in Ho Chi Minh City came after a decision by the leadership to "scrap a "zero-Covid" strategy in favour of a more flexible approach".
"Vietnam, like many countries, is recognising that there's no way that it can exist in a zero-Covid environment, and that is positive," Mary Tarnowka, executive director of the American Chamber of Commerce in Vietnam, told the Financial Times. "This move toward living safely with the virus is very important."
Vaccines the 'game-changer' for effective reopening: foreign firms
Prioritized vaccination, sufficient workers, a streamlined "green pass" policy and the lifting of transport restrictions are key to an effective economic reopening in Vietnam, foreign firms say.
As German businesses prepare to resume 50 percent of their activities, what they need most is an adequate source of labor, said Marko Walde, chief representative of the Delegation of German Industry and Commerce in Vietnam (AHK Vietnam).
It is likely that a subset of workers may delay returning to work until they are fully vaccinated, so it is essential to make them feel safe to return, he said.
"Vaccine availability is a game-changer in this scenario," he told VnExpress International.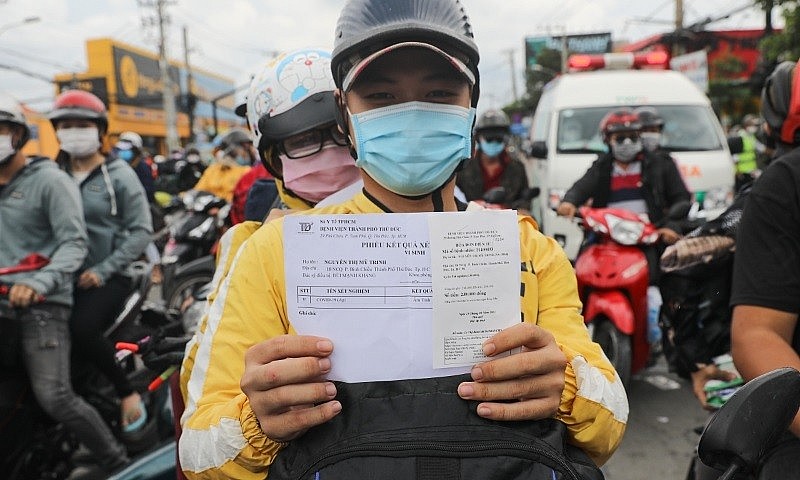 A motorbike driver holds up his Covid-19 test result in Ho Chi Minh City, Oct. 1, 2021. Photo by VnExpress
Meanwhile, the Economist Intelligence Unit (EIU), a research team of The Economist magazine, published an article on September 30 describing Vietnam's negative economic growth in Q3 that is beyond the EIU's initial projections, but did not change our forecast for a strong recovery in 2022, after restrictions on public activiities were eased considerably in the coming months.
The article emphasizes that although the rate of fully vaccinated population was only 8.6% on September 26, Vietnam has chosen to give as many first injections as possible to priority groups, focusing on normalization efforts of activity in key sectors of the economy. "This means the first Covid vaccine for many commuting workers and foreign-invested factory workers. On September 26, 32% of the population received at least one vaccine."
The article also said, "Our 2022 forecast [for Vietnam] remains bright as we expect GDP growth to accelerate, despite lingering social distancing restrictions next year. "We anticipate intermittent tightening and easing measures until mid-2022.
"We expect the economy to grow 6.6% next year (our previous forecast was 5.9%), with significantly faster growth in private consumption and fixed investment, the driving forces for this forecast result. "It is important that the unprecedented lockdowns that Vietnam is now beginning to ease will not make much influence in the medium to long term causing change the course of Vietnam's economy. "Growth will continue to be driven by foreign investment in the export-oriented manufacturing sector during 2022-26," the EIU said.
'Open the door step by step'
After months of imposing social distancing restrictions in many localities, Vietnam has begun to restart its economy, switching its pandemic containment policy to safely living with the novel coronavirus. The gradual reopening aims for jumpstart growth in the last quarter.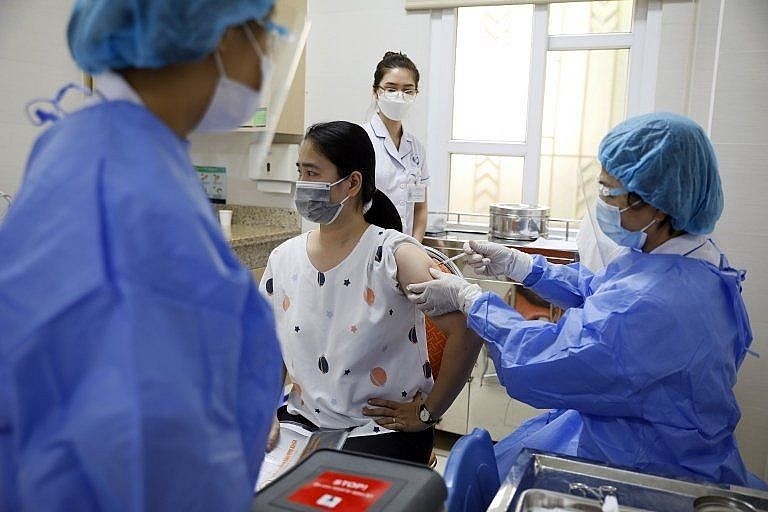 Vietnam hopes that by the end of this year, about 70-80% of people over 18 years old have been vaccinated. Photo: EPA
HCMC resumed most activities last Friday after over four months of imposing different levels of social distancing.
The capital city of Hanoi has also been relaxing mobility restrictions in recent weeks and allowing outdoor activities for small groups. Restaurants can sell takeaways.
To hasten recovery, AHK Vietnam proposes that the government completes its "green pass" policy, a key factor in facilitating factories resume production.
"We expect to fully acquire the green pass by the end of October 2021 for the German business community."
The British Chamber of Commerce in Vietnam, meanwhile, wants more guidelines on acquiring the green pass for its workers, given the administrative hassles at present
The green pass, which could be physical or electronic or both, is set to contain all Covid-19-related information of a person, including vaccination status, recent test results and contact history.
"The update of vaccination status on the e-health book has been slow and inconsistent. Some people are required to take additional steps after being vaccinated to get the update done, especially after a long wait," said Chris Jeffery, BritCham Vietnam chairman.
Regular testing is needed until the greater percentage of the population has been vaccinated, but as this process is costly. Therefore, the government could consider mandating companies to test in house to reduce its financial burden, he added.
"If implemented well, testing does not need to affect business performance."
Jeffery also proposed a full resumption of food distribution, while tourism and the service sector should gradually return to the new normal.
Simplifying domestic and international travel and quarantine procedures for returning business owners and investors with double dose vaccinations and valid test results, and the granting of visas and work permits for managers and experts are all critical factors, he added.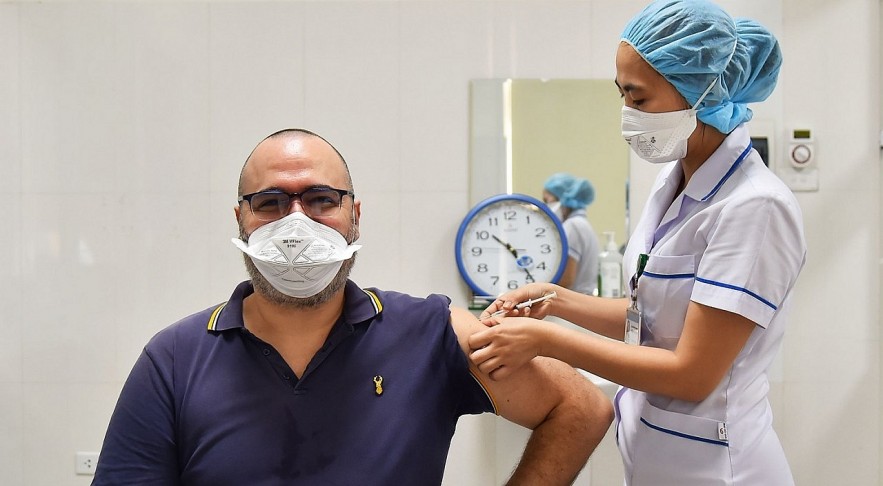 Diplomatic representative staff are vaccinated against COVID-19 by doctors and nurses. Photo: VNCDC
Alain Cany, chairman of the European Chamber of Commerce in Vietnam (EuroCham), proposed that mobility restrictions be lifted for people who have been vaccinated.
All movement of goods needs to resume again as the supply chain has already been interrupted, he said.
Confident vibes
Foreign businesses have also expressed confidence in Vietnam's strategy of controlling the pandemic and bring the country to a new normal, said the vnexpress.
Chris Helzer, Nike global vice president of trade, told government officials Thursday that the reopening process should be simplified and balanced between different areas and localities.
Vietnam can bring the pandemic under control without resorting to long-term social distancing measures, he said.
Although the fourth Covid-19 wave has caused temporary setbacks to foreign companies in Vietnam, many of them remain invested in the country with long-term vision.
Food and drink company Nestlé, electronics giant LG, and packaging firm Tetra Pak have all recently made additional investments in Vietnam, while Samsung has affirmed Vietnam as its new global research and development hub.
Foreign direct investment pledges rose by 4.4 percent year-on-year in the first nine months, according to the Ministry of Planning and Investment.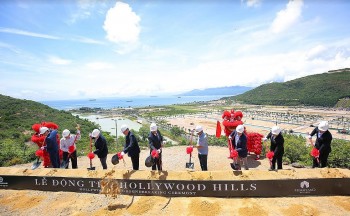 Economy
On October 2, at Hai Giang peninsula (Quy Nhon city, Binh Dinh), Hung Thinh Corporation held the groundbreaking ceremony of Hollywood Hills by YOO Inspired by Starck – a subdivision at MerryLand Quy Nhon. The event marks the first time that the world's No.1 ranked design and branded residence company YOO Inspired by Starck is officially present in Vietnam, with a collection of villas designed by creative director, Philippe Starck.