Visiting Co To by Scanning QR Code
Domestic and international tourists just need to scan the QR code on their smartphone or visit https://cototourism.vn to be provided with more useful information about the special national relic that honors President Ho Chi Minh.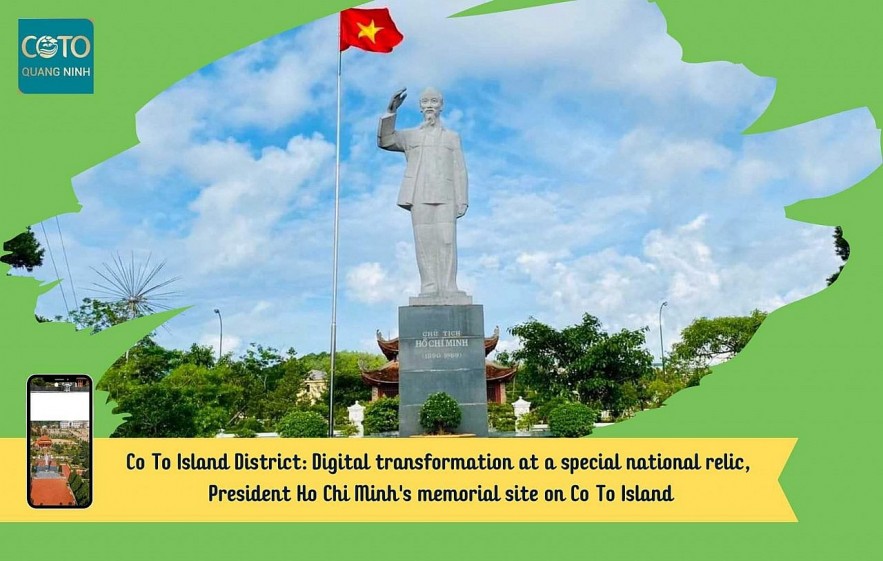 Visit the special national relic - President Ho Chi Minh's memorial site on Co To Island with digital applications.
Co To is famous for its peaceful and unspoiled beauty, with majestic natural landscapes, friendly, and hospitable islanders. This place is also known as the most beautiful island in the North - Co To - A beautiful green pearl full of charm.
Not only having many products, Co To is also endowed with a unique wild beauty. The sea here is always clear blue, with the white sand beaches stretching as far as the eye can see.
Anyone who has come here cannot forget the feeling of being immersed in the water at Hong Van, Van Chay, and Tai Van beaches. In addition to the beautiful natural scenery, people coming to this place can also visit historical sites, such as the special national relic, the memorial site of President Ho Chi Minh.
Recently, through the help of digital technology, visitors can view the relic site and Co To island district through digital applications. They can listen to the introduction, see all the information related to the monument, the economy and society of Co To district, Co To tourist information on their smartphone.
The Co To district authority said that the above fascinating experience is the result of the effective implementation of the main goals, tasks and solutions set out in Resolution No. 09-NQ/TU, dated February 5, 2022 of the Provincial Party Committee; Action Program No. 17-CTr/HU, dated March 30, 2022 of the Standing Board of Co To District Party Committee on the implementation of Resolution No. 09-NQ/TU, dated February 5, 2022 on comprehensive digital transformation Quang Ninh province to 2025, orientation to 2030.
With a scan of the QR code, visitors are provided with full information by pictures and the audio guide at 5 monuments and 3 places in the complex: President Ho Chi Minh Monument; Temple of President Ho Chi Minh; Doc Khoai relic site; President Ho Chi Minh's memorial house; Salt field; Tung Co To Park; National flagpole on Co To island.
In addition, the application integrates more information about Co To, Co To tourism, Co To culture for visitors to learn and have the best experience.
When talking about this application, Nguyen Hai Linh, deputy head of Culture, Information & Tourism Department highlighted the purpose of this endeavor.
"Application of information technology in activities at a special national relic, President Ho Chi Minh's memorial site on Co To Island aims to modernize and further improve the management, conservation and promotion of heritage values in the district. It provides information services for domestic and foreign tourists, builds and develops typical products of the memorial site."
The implementation of digital transformation will create a full data warehouse, helping tourists find information easily. Through scanning the QR code, it is possible to track the number of visitors searching for information. The application also serves to research, study and promote Co To tourism.
When this application is completed and put into operation, it will promote the value of the special national relic and the memorial site of President Ho Chi Minh on Co To island.
The district will continue to carry out research, synthesis and collection of in-depth, complete, scientific and digitized documents on the technical basis of documents about the relic site; Build both English and Vietnamese versions to introduce and promote not only in Vietnam but also in the world;
Regarding tangible cultural heritage, the district will build 2D and 3D models of the relic site; develop audio guides to support visiting delegations through wireless communication technology; build an interactive system on smartphones, photo recognition, 3D recognition.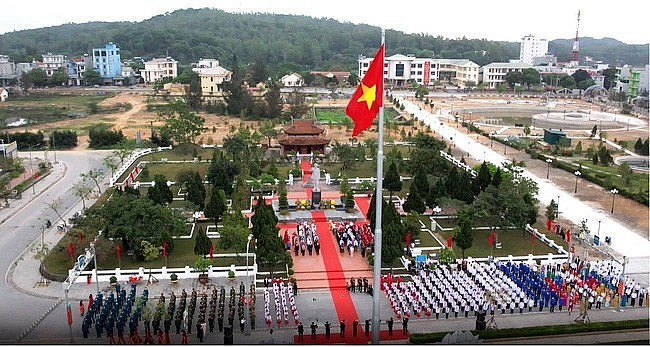 President Ho Chi Minh's memorial site on Co To island. Photo: VNA
Lee Ahn, a Korean tourist, was impressed with the island, despite not being a popular spot as of yet.
"The name Co To is still quite new in the tourist map of the North. However, for those who love to explore, especially young people, this beautiful island district is attractive. I believe, with this approach, Co To will attract foreign tourists. We will have an information channel to learn about this place in advance before deciding to travel to Vietnam."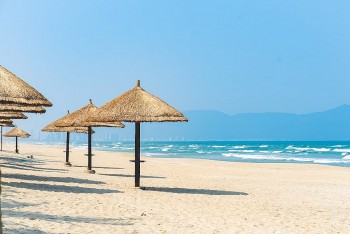 Travel
According to NZ Herald News, Da Nang beach is an ideal place to sunbathe during summer vacation.