Co To Island: A Fisherman's Paradise
Over the years, more and more tourists come to Co To. One of the most fascinating experiences in Co To is joining up with fishermen and looking for delicious treasures of the Vietnamese coast.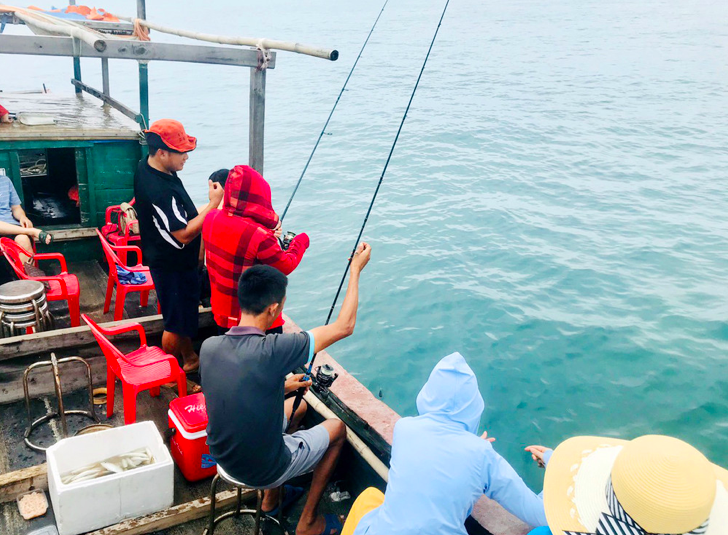 Tourists drop fishing rods near the area of Ca Chep island in Co To sea
Co To's large fishing grounds feature many places to cast a line. Along the coast of Co To, there islands such as: Ca Chep, De, Thanh Mai, Duoi Chuot and many smaller islands filled with dunes, coral reefs, calm water and rich resources. Fishing in Co To is akin to fishing in paradise.
The experience of going out to sea with fishermen in Co To comes from the desire to learn about the lives of local people. This activity can be easily organized in late summer and early autumn, when the sea is calm and has few big waves. Moreover, this is also the season of many types of fish that are easy to catch such as scad or grouper.
Usually when going fishing, visitors need to depart early from Bac Van port, from here it takes only 15-20 minutes by boat to reach the fishing area near the small islands, the waves are quiet or go to areas with beautiful scenery such as Su Tu, Ca Chep Island.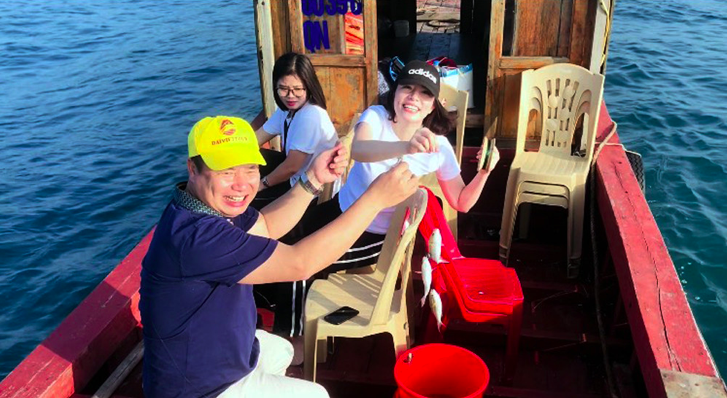 Visitors are excited about the results after a short time of fishing
Accompanied by local people, visitors will be guided by fishermen on how to tie the fishing line, release the net, find the right bait, the time and area to drop the fishing line. Tourists participating in fishing experience are excited because after a short time, they have obtained unexpected results. Just let go of the rod for a moment and the fish will bite the hook. Rarely do visitors leave empty-handed.
Perhaps the most interesting thing is that visitors can enjoy the fruits of their fishing, right on the boat. The dishes are processed by fishermen such as sour fish with salad.
On the journey, visitors can enjoy the scenery within the marine protected area; drop a big net in the middle of the sea to swim or go to visit the long sandy beaches, rocky reefs at Ca Chep and Su Tu islands, catch snails and explore the island. In the afternoon, visitors can be lucky to watch the sunset on Bac Van sea, learn about fishing village activities, fish market on the sea, end an interesting day at the beach. If you want to extend the trip, you can continue to experience squid fishing, night fishing along the coast in the Bac Van area.
Over the years, more tourists come to Co To with the purpose of enjoying the beautiful scenery, learning about the life of fishermen and fishing. Experiencing with fishermen fishing, squid fishing in the middle of the sea right on Co To island is a discovery, giving tourists a sense of excitement.
Co To Island
Co To Island in Quang Ninh province is probably one of the most beautiful and romantic islands in Vietnam with transparent blue sea, white smooth sand, golden sunshine, and green mountains and forest.
Consisting of around 50 islands, Co To is an archipelago in the east of the Quang Ninh province. Currently around 6000 people live there in roughly 1500 households. There is great tourist potential and it is expected that the islands will be developed into tourist zones in the near future, so now is the best time to visit as the archipelago is still unspoiled. Being only 6 miles (9 kilometers) away from Halong Bay, Co To is great to visit in combination with a Halong Bay trip, cited visithalongbay.
How to get there
There are several ways you can travel to Co To with the bus being the most ubiquitous mode of transportation. The departure point will be Hanoi. Keep in mind that Co To is an island and that you need a different form of transportation for the last leg of your trip.
First leg: Hanoi to Van Don or Cai Rong port by bus.
Second leg: Van Don or Cai Rong port to Co To island by ferry or speedboat.
Bus
It's best to catch a bus to Mong Cai or Cua Ong from either the My Dinh or Luong Yen bus station, whichever is more convenient. Tickets range from US$5 to US$9. The bus leaves around every half hour and takes about 4 to 5 hours to get there. The last stop on the Hanoi to Co To line is Nga Ba Van Don (Bai Chay). When traveling to Co To, it's best to ask the bus driver to drop you off at the Van Don post office as it's only 1 mile (1.6 kilometers) from there to Cai Rong port. Either walk or take a taxi from Van Don post office to the port.
Motorbike
Traveling by motorbike has the great advantage that you're your own boss and can make the most of the trip there. The disadvantage is that it's hard to take a lot of luggage and it might not be as comfortable or safe as a bus. This option is only recommended for experienced drivers as Vietnamese roads can be quite treacherous.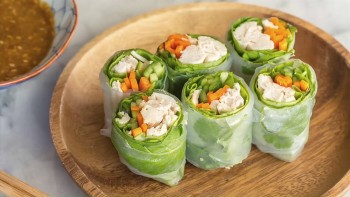 Travel
Rolls are a easy-to-make dish that is loved by many Vietnamese diners as well as Korean stars.