VNT Offers Helpful Forum for Overseas Vietnamese to Develop Homeland
VietnamTimes (Viet Nam Union of Friendship Organizations) is a reliable address for overseas Vietnamese to quickly and objectively update political, economic, cultural, and social news. The agency has created a helpful forum and connection between expatriates and the motherland.
That statement was made by Steve Bui and Ngo Pham Tran when being asked why they chose VietnamTimes to express their feelings of attachment to the homeland and make recommendations for the country's socio-economic development policies.
On February 3, 2023, at the 7th National Press Award on Party Building (Golden Hammer and Sickle) - 2022, "From regional development policy, it is necessary to organize a national development space" by Steve Bui and Ngo Pham Tran published on VientamTimes received the award for the excellent work of overseas Vietnamese authors.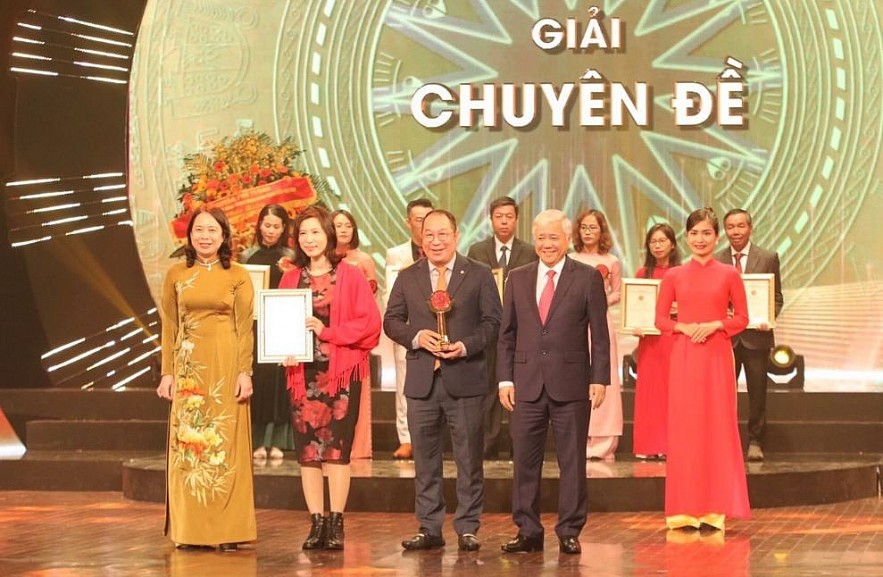 Acting State President Vo Thi Anh Xuan, and Chairman of the Central Committee of the Fatherland Front Do Van Chien presented the prize to Steve Bui,Vietnamese in Japan and Ngo Pham Tran, Vietnamese in Taiwan (Photo: Thu Ha).
Steve Bui said at the event: "I as well as many overseas Vietnamese have commented on some contents of resolutions on socio-economic development to ensure national defense and security for the regions. Through that, we would like to express our desire and analyze the methods of socio-economic development and security protection from the perspective of people who have been economically active in many countries for a long time. We feel honored and happy because our opinions receive attention and recognition, and that they have made valuable contributions to the construction of the homeland and the country."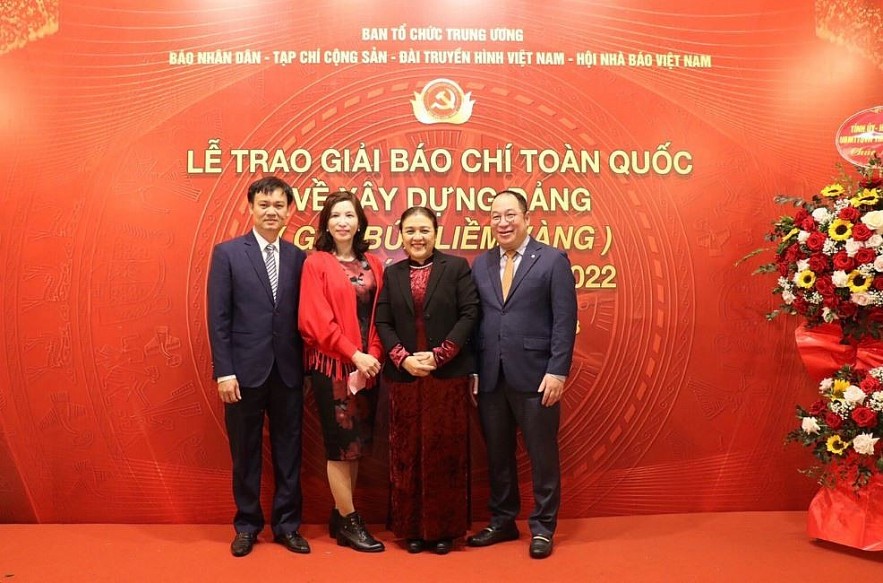 Ambassador Nguyen Phuong Nga, President of the Viet Nam Union of Friendship Organizations (second from right) took a photo with overseas Vietnamese authors and representatives of VietnamTimes (Photo: Thu Ha).
Ngo Pham Tran expressed her honor in participating in the plan for the country's socio-economic development policies. She is proud that her contributions were recognized by the award.
"The article is the wisdom of expatriates in many countries that we are fortunate to represent. Its success, however, owes big to the VietnamTimes team of reporters and editors who have been connecting and supporting the authors. For many years, VietnamTimes has accompanied overseas Vietnamese in general, and of the Vietnam-Taiwan Economic Association in particular. Besides its Vietnamese webpage, VNT has 5 foreign language websites including English, Chinese, Russian, Laotian, Khmer, so its articles can spread far and wide to many readers around the world," said Ngo Pham Tran, Chairman of the Vietnam-Taiwan Economic Association.
The authors expressed their wish that VNT will soon upgrade its overseas Vietnamese topic into a special page; build a forum exclusively for overseas citizens; organize more contests similar to "Storytelling Memorabilia"; showing attention in promoting economic exchange and cooperation programs with the expatriate community. Thereby, it would to spreading the beauty of Vietnamese culture, country, and people to countries where overseas Vietnamese live, study and work, attracting the attention and investment of overseas Vietnamese to build their homeland.
Overseas Vietnamese authors said that in the coming time, they will continue to make concrete and practical contributions to the economic development of their homeland such as: attracting more high-tech investors to Vietnam to improve Vietnam's economy from a traditional transformation to a high-tech economy, supporting Vietnamese products to the global market, connecting and supporting training high-quality talent, as well as contributing to spreading the country's socio-economic development values and achievements to friends around the world.