Vietnamese Student to Win First Prize in the Asia Digital Technology Skills Competition
Competing with more than 1,000 candidates, a Vietnamese student won the first prize of the Digital Technology Skills Competition organized by ICDL Asia.
The ICDL Asia Digital Challenge awarding ceremony took place within the framework of the 2022 ICDL Asia Digital Literacy Day held at the National Economics University, Vietnam.
This is the 5th year the contest has been held and attracted the participation of more than 1,000 contestants from 14 countries in Asia, namely China, Japan, Thailand, Malaysia, Indonesia...
This year, the contestants competed in 3 categories, including Business (digital skills applied in business activities such as digital marketing, using excel spreadsheets...), Design (3D model design), and Emerging Technologies (new technologies such as AI, big data, cloud computing, internet of things).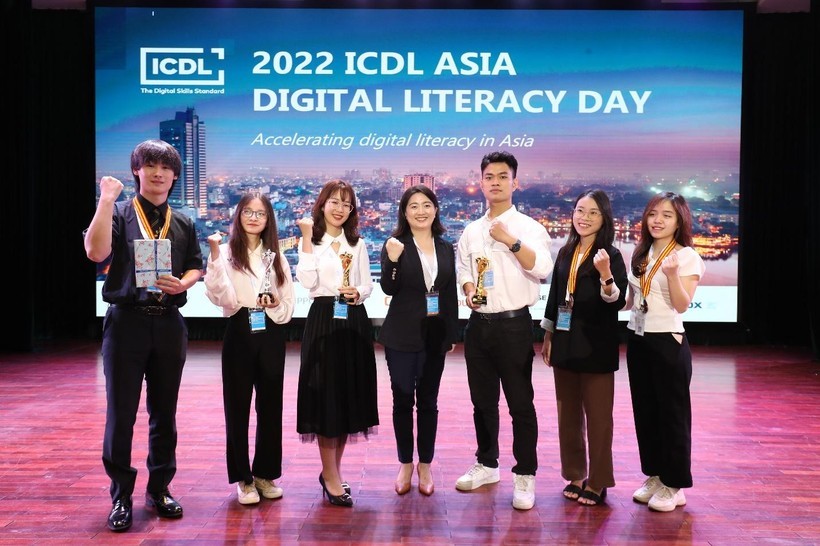 Vietnamese contestants achieved high results at ICDL Digital Challenge 2022. (Photo: GD&TD)
After 3 months of competing in the qualifying round, national final, and Asian final round, the Vietnamese delegation has achieved impressive results. Tran Thanh Tung, a student of the Vietnam Banking Academy, won the first prize in the Business category. Luong Hong Nhung, a Vietnam National Economics University student, won the second prize in Emerging Technologies.
Tran Thanh Tung said: "To me, ICDL Asia Digital Challenge is a rewarding learning experience. When participating in the contest, I have a new opportunity to improve my skills related to my major at university: digital marketing, the use of Microsoft tools such as Word, Excel, Powerpoint... These are all necessities that can be applied in the upcoming internship and future work."
"In addition, the contest also allowed me to connect and meet other friends in Asia. We shared a lot of stories about our culture and learned about digital skills standards in each country", said Tung.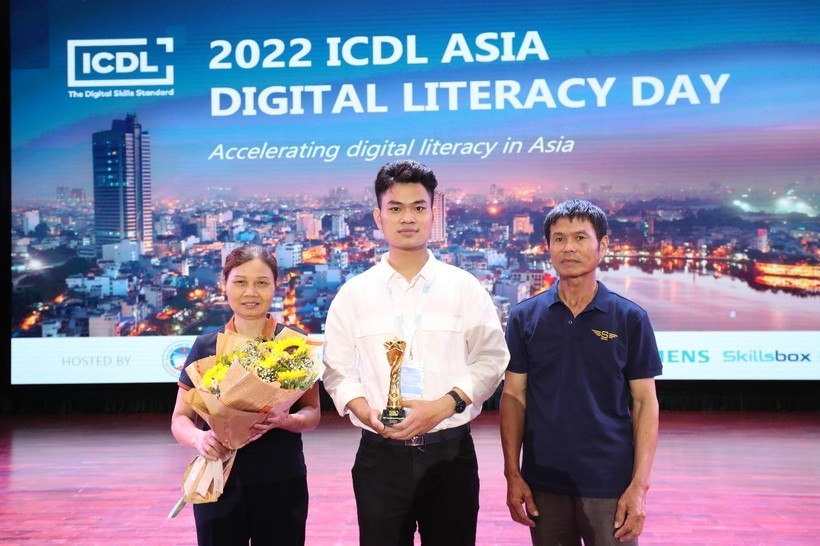 Tran Thanh Tung with his family at the ICDL Asia Digital Challenge 2022 Award Ceremony. (Photo: GD&TD)
The ICDL Digital Challenge was first organized in 2017 to develop ICT talents in the region, bridge the gap between countries, exchange cultures, and provide many opportunities to build expertise and skills for participants.
The contest is held annually by ICDL Asia to create an intellectual playground for students, facilitate the opportunity to hone and improve their information technology skills, and at the same time build ideas, logical thinking, and applying technical skills to life, catching up with the trend of the industrial revolution 4.0.
ICDL is the global management unit of the international certificate of information technology skills. ICDL is available in more than 100 countries and territories, in 43 languages ​​, and with 24,000 test centers.
In Vietnam, the ICDL International Certificate is recognized as a foreign certificate that fully meets the criteria with all the skills prescribed by the Ministry of Information and Communications in Circular No. 03/2014/TT-BTTTT promulgated on 11/3/2014 on standards of skills in using information technology.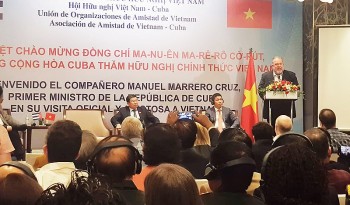 Friendship
Cuban Prime Minister Manuel Marrero Cruz met representatives from the Vietnam-Cuba Friendship Association in Hanoi on September 30, as part of his visit to Vietnam from September 28 to October 2.