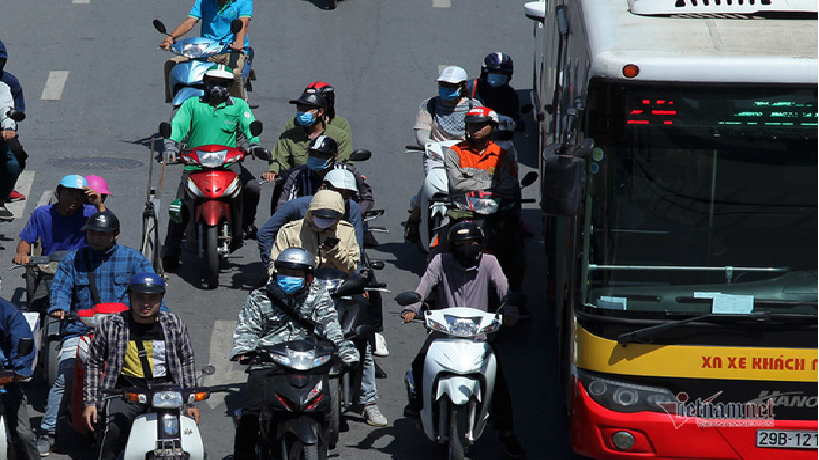 Photo: vietnamnet
Vietnam weather forecast
The heatwave that has been scorching northern and central Vietnam over the past days is expected to persist in the coming days, with temperatures reaching up to 40C, according to the National Hydrometeorological Forecast Centre.
The low pressure from the west had expanded toward southeastern areas and combined with foehn effect to cause high temperatures.
The heatwave intensifies especially from Thanh Hoa to Quang Binh provinces. The temperature will be 37 to over 40C.
Ultraviolet (UV) indexes in Hanoi and central Da Nang city on July 9 are forecast to reach strong levels, raising the risk of skin damage in direct sunlight.
The prolonged heatwave may cause health issues and increased risks of fires and other accidents at residential areas as demand for electricity spikes.
Wildfire warnings have also been issued in the northern and central regions.
It is forecast that the hot weather in the North will last until the end of July.
While in the central region, especially in provinces from Nghe An to Phu Yen, new long heatwaves are likely to still occur in August, said Hoang Phuc Lam, deputy director of the National Centre for Hydro-meteorological Forecasting.
Hanoi weather forecast
Scattered clouds and sunny spells; both will be present in the coming days. During the day, there is no rain. With a high around 37C, it's extremely hot.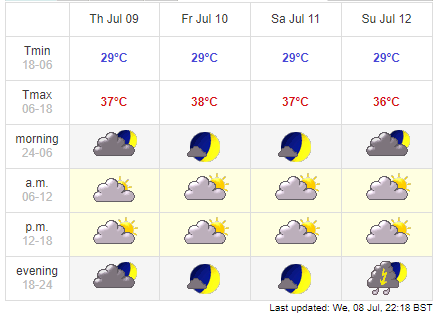 Hanoi weather forecast. Photo: weatheronline.co.uk
Da Nang weather forecast
Mainly cloudy with just occasional bright spells or glimpses of the sun likely. It remains dry throughout the day. With a high around 38C, it's extremely hot.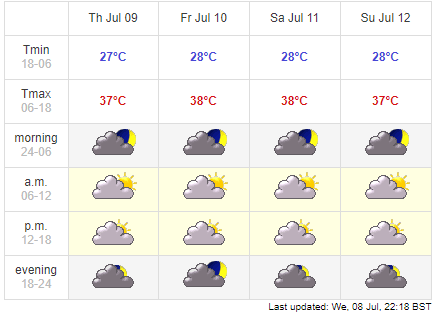 Da Nang weather forecast. Photo: weatheronline.co.uk
HCM City weather forecast
In the next few days, there will be some sunny spells. On Saturday (July 11), thunderstorms are possible. The daily high temperature near 33C.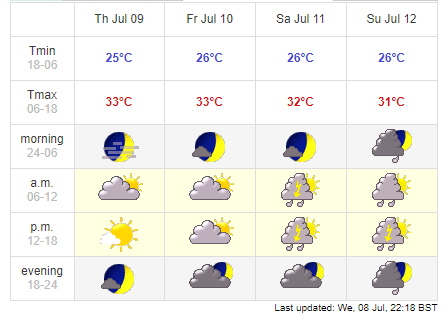 HCM City weather forecast. Photo: weatheronline.uk
China weather forecast
The Chinese National Meteorological Center (NMC) continued to release orange alert, the second highest for rainstorms. On July 9, heavy rain to rainstorm will grip central-southern Guizhou, northeastern and western Yunnan, southern Sichuan, northern Guangxi, central-western North China, and central-northern portions of South of the Yangtze River Region. Heavy downpour will lash southwestern Hunan, northern Jiangxi, northwestern Fujian, and southwestern Zhejiang. Torrential rain (250-260mm) will pelt northern Jiangxi. There will be severe convective weather like short-range heavy rainfall. The hourly intensity will reach 40-60mm.
From July 11, the main rain belt will move northward to Sichuan Basin, Huanghuai Region, and Jianghuai Region.
In the following three days, North China will be subjected to a relatively large scale rainfall process. Light to moderate rain or thunderstorm will lash most portions of North China.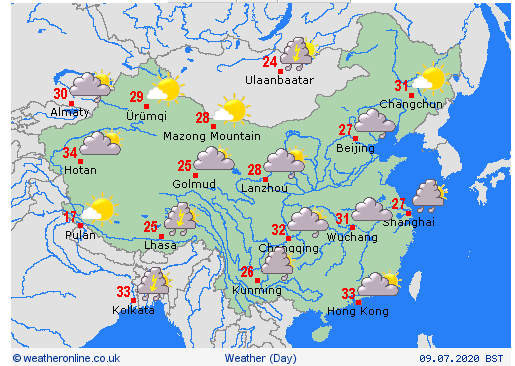 Photo: weatheronline.co.uk
As of last July 3, there were 119 people dead or missing nationwide as a result of the rainstorms, while the emergency ministry estimated economic losses to be in excess of 40 billion yuan (USD 5.7 billion).
China's State Flood Control and Drought Relief Headquarters upgraded the emergency response for flood control from level IV to level III on July 8, Xinhua news agency reported.
State television reported the Chinese government's office for flood control said 13,117 emergency response and rescue staff had been deployed to deal with the floods.
A key reservoir for flood control in southeastern Zhejiang province opened its spillways for the first time in nine years to lower water levels.
Nearly 11 million students in China set to sit their college exams on July 7, however, exams in some parts of Anhui province were postponed as a result of the worst flooding for 50 years, the local government reported.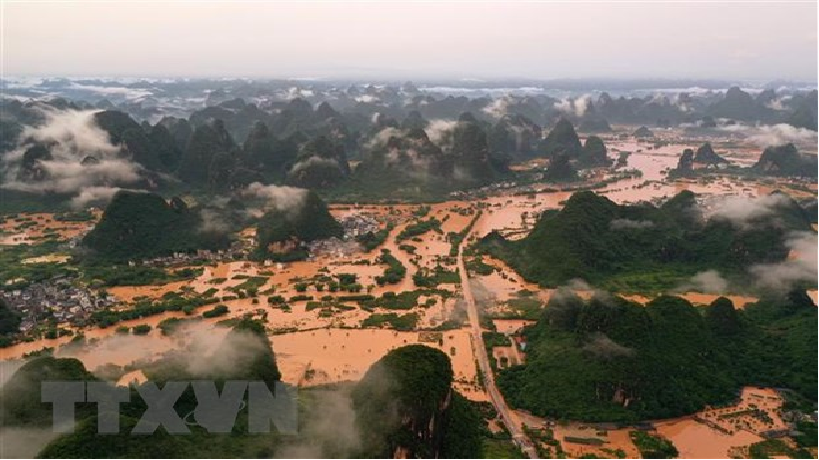 China's State Flood Control and Drought Relief Headquarters upgraded the emergency response for flood control from level IV to level III. Photo: Xinhua/VNA
Thailand weather forecast
During July 9, the southwest monsoon that prevails across the Andaman Sea and Thailand will weaken. Decreasing rain is forecast over Thailand but still occur isolated heavy rain in windward of southwest monsoon of the North, the East, and the South. During July 10-14, the strengthening southwest monsoon prevails across the Andaman Sea and Thailand. More rain is likely in Thailand and isolated heavy rain in the Northeast, the East, and the South. Warning: During July 12-14, people in the East and the South should beware of severe condition in this period that may cause flash flood, said the Thai Meteorological Department.
Photo: weatheronline.co.uk
Singapore weather forecast
Showers are forecast for many areas in the early and pre-dawn hours on July 9.
The wet weather is forecast to continue into the first half of July 2020. During this period, the daily maximum temperature is expected to range between 32°C and 33°C with daily highs of around 34°C on a few days.
With the prevailing Southwest Monsoon persisting in July 2020, the low-level winds over Singapore and the surrounding region are forecast to blow mostly from the southeast or southwest, and to blow from the east on a few days.
Photo: weatheronline.co.uk
Japan weather forecast
The extreme weather that has buffeted southwestern Japan has now made its way to the central and eastern parts of the country. Japan's Meteorological Agency has downgraded its heavy rain emergency warning for parts of Gifu and Nagano prefectures. But officials are telling residents to continue to exercise caution as water levels are still rising in rivers across the region.
Photo: Japan Meteorological Agency
Nakamoto Yoshihisa of the Meteorological Agency says cities and towns in the affected areas are experiencing unprecedented rainfall. The agency had earlier issued a level-5 alert, the highest in its warning system, for the two prefectures. It has downgraded this, but evacuation orders and advisories are still in place across the region.
Rivers are also swelling in neighboring Nagano Prefecture, where officials say they have received several reports of flooded homes and mudslides blocking roads. Residents in several municipalities are being urged to evacuate.
Days of continuous heavy rain of have already led to many casualties in southwestern Japan, mainly in Kyushu. Kumamoto has been the hardest-hit prefecture, with 50 deals, including 14 elderly residents of a nursing home.
Across the country, at least 57 people have died and 17 are missing as of Wednesday. Rescue workers are currently searching for survivors.
The Japanese government says it plans to designate the heavy rain as a "severe natural disaster" which will increase the amount of state subsidies available for reconstruction work.
Chief Cabinet Secretary Suga Yoshihide says rescue workers have already visited the village of Kuma in Kyushu to check on food supplies and residents' health. He added that personnel will be sent to other isolated villages, and that mudslides will be cleared as soon as possible.
Suga called on residents of the western and northeastern parts of the country to remain on alert, as the rain front is expected to linger through Friday, NHK reported.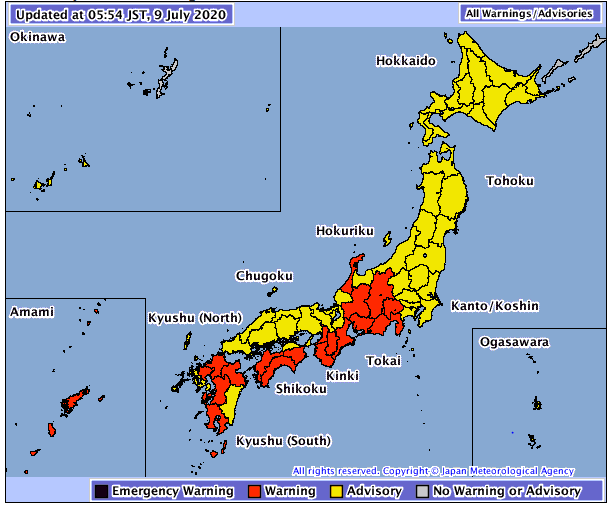 Photo: Photo: Japan Meteorological Agency
RoK weather forecast
on July 9, heatwave advisory has been issued for Hongcheon flatland and Chuncheon.
July is one of the hottest months in Seoul, sharing the distinction with August. The monthly average temperature is 24C. Daytime averages hit 27C for the month and nights are much warmer than they are during winter, averaging 20C. The record temperature in Seoul in July was 38.4C.
July is in the heart of the Asian monsoon season. Average rainfall totals in Seoul peak during July, and average 395mm during the month. The chances of precipitation average 50 percent.
Seoul sees an average 52 chance of overcast or mostly cloudy skies in July. The length of the days starts to shorten in July, ending the month at 14 hours 7 minutes. The constant rains mean an average of four hours of sunshine every day.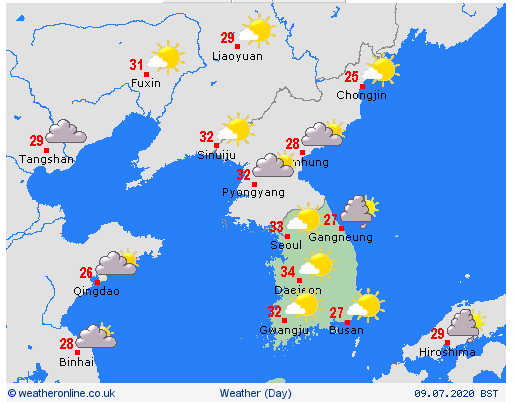 Photo: weatheronline.co.uk
Rosy Huong