More Vietnamese safely return home from South Asian countries
Several groups of Vietnamese citizens have returned home from Sri Lanka, Bangladesh, Nepal, Bhutan, and the Maldives.
Vietnam citizens in Nepal prepare to fly to Bangladesh in order to catch the repatriation flight home. Source: Vietnamese Embassy in India
A plane operated by Vietnamese budget carrier Vietjet Air landed at Van Don International Airport in the northern province of Quang Ninh on the morning of July 3, brought home about 200 Vietnamese citizens who were left stranded in several South Asian countries.
The flight had started from Ha Noi and landed in Sri Lanka and then Bangladesh to repatriate its citizens in South Asia.
Passengers on the flight were made up of those under the age of 18, students who completed their courses but were facing trouble with accommodation, the elderly, people with underlying medical conditions, businessmen, and workers with expired contracts and stranded travelers, along with Buddhist monks and nuns.
The Vietnamese embassies in Sri Lanka, Bangladesh, and India all collaborated with relevant agencies in their respective host country to create favorable conditions in which Vietnamese citizens could travel to the airport and complete check-in procedures.
Over the past three months, the Vietnamese Embassy in India, Nepal, and Bhutan has regularly contacted and assisted stranded Vietnamese citizens in Nepal, Bhutan due to the global pandemic, said a statement issued by the Vietnam embassy.
In the face of a complicated disease situation, with many countries limiting travel movement, the Vietnamese Embassies in India, Sri Lanka, and Bangladesh have been actively working with local authorities to prepare the procedures. It is necessary to allow citizens from Nepal, Bhutan, and the Maldives to transit in Sri Lanka and Bangladesh for connecting flights.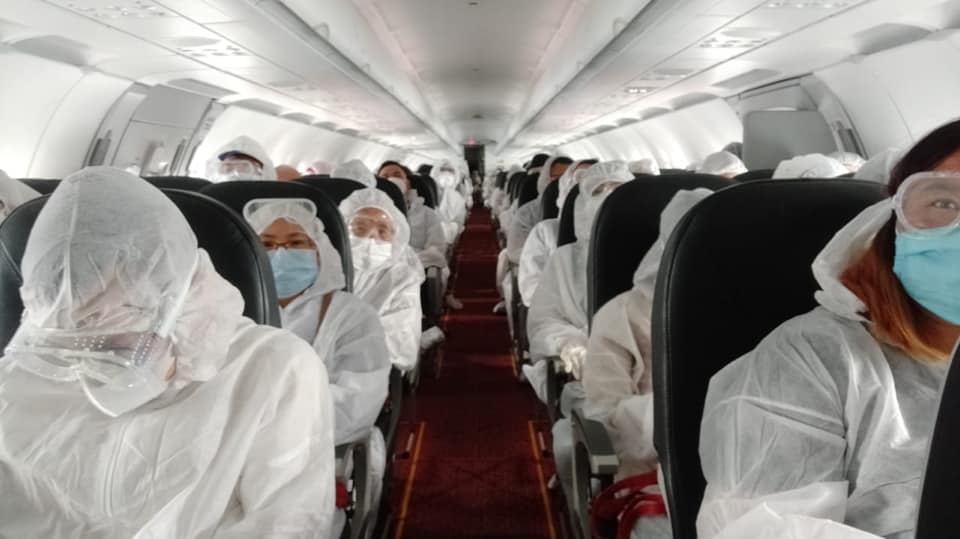 Flight VJ5967 of VietJet Air left Hazrat Shahjalal International Airport, Dhaka at 2:30am (local time), reports The Daily Star. Source: Vietnamese Embassy in India
Due to the absence of international commercial flights, 24 Vietnamese citizens in Nepal and Bhutan, with the support of the Vietnamese Embassies, have been chartered a transit flight to Dhaka, while those in the Maldives flew to Sri Lanka to join the repatriation flight to Vietnam.
A group of 14 Vietnamese students of the Asian University of Women in Chattogram (Bangladesh) traveled by road to Dhaka for the flight, reports The Daily Star.
The flight also brought some Bangladeshi citizens stuck in Vietnam back to Bangladesh.
Vietnam has recorded 355 cases of COVID-19 so far, with only 15 active patients left. The country has reported no deaths and there has been no community transmission of the disease for two and a half months.
Upon arrival at the airport, all crew members and passengers, therefore, underwent medical check-ups before being transferred to quarantine camps for health observation in line with regulations.
In the last few months, several special flights have repatriated thousands of Vietnamese from several countries and territories including Canada, France, Japan, Russia, the UAE, and the US, and other countries.
Government is making good on its pledge that "no one will be left behind" as further repatriation flights are set to take place in the near future based on developments of the COVID-19 both locally and globally, in addition to the desires of Vietnamese citizens living abroad and the quarantine capacity of Vietnamese localities./.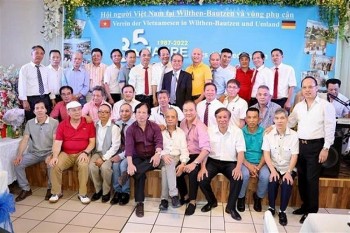 Economy
The Overseas Vietnamese Association in Wilthen - Bautzen and surrounding areas in Germany held a get-together on the occasion of the 35th anniversary of Vietnam - Germany labour cooperation.