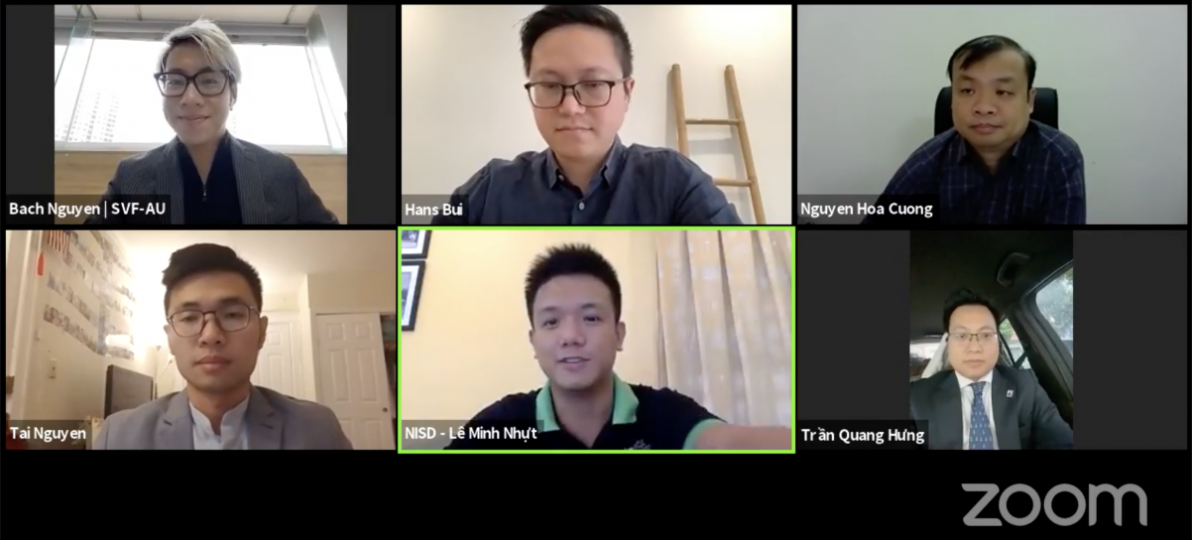 Participants at the event. (Photo: VOV)
The event was co-organized by Startup Vietnam Frontier Australia (SVF-AU) and Hanoi Youth Union and received huge support from both Vietnamese Students in Australia (SVAU) and Vietnam-Australia Innovation Network (NIC-AU).
As stated by LinkedIn, SVF - Australia programs focus on providing Australia-based startups and Vietnam-connected innovation ecosystems with access to international resources. The seminar was streamed on Facebook, attracted the attention of 8,071 reaches, 3,398 viewers, 1,183 reactions after 7 hours of broadcasting.
Speakers that joined the event include Mr. Hans Bui - Founder of Trip.Social - Representative of Vietnam startup community in Australia; Mr. Nguyen Hoa Cuong - Deputy Director of Central Institute for Economic Management (CIEM); Mr. Tran Quang Hung - Representative of VinaCapital Ventures; Mr. Nguyen Duc Tai - CEO of VietChallenge; Mr. Le Minh Nhut - Director of the National Innovation Systems Development (NISD).
The event was co-organized by Startup Vietnam Frontier Australia (SVF-AU) and Hanoi Youth Union. (Photo: Facebook)
The purpose of the seminar was to share startup ideas whilst supporting and connecting Vietnamese overseas startups with resources from the country in an effort to promote sustainable development among the Vietnamese start-up eco-system in Australia.
The function also marked the beginning of the partnership to develop a startup and innovation network among the Hanoi Youth Union, venture capital funds, Vietnamese universities, along with student associations in the United States, the UK, France, and Australia, said VOV.
During the 90-minute seminar, participants discussed a host of issues relating to resources and support policies and startup advice from the Vietnamese startup community both at home and abroad. In addition, strategies and plans for domestic investment funds with the Vietnamese startup community in Australia were also raised for discussion.
Valerie Mai