Where will costly promotion e-commerce campaigns lead?
Online sale apps are spending big money on promotion campaigns to retain consumers, but the money seems to have been spent in vain. Online sale apps are spending big money on promotion campaigns to retain consumers, but the money seems to have been spent in vain.
In order to buy a body care lotion bottle at a preferential price from a sale promotion program, Tran Thanh Truc in Ba Dinh district, Hanoi, installed a shopping app. Buying the product via this app, she enjoyed a discount of VND50,000 and did not have to pay a delivery fee under the new membership program.
One month after the purchase, Truc removed the app from her smartphone because she no longer wanted to buy things via this app.
Consumers like Truc are potential clients targeted by shopping apps. They compare selling prices offered by suppliers and choose the ones with the lowest price levels. They are willing to shift to use other apps if the apps offer more attractive prices.
With the principle 'new one in, old one out', they are not loyal clients.
Nguyen Thi Hoai, a housewife in Hanoi, said she often installs new shopping apps. She noticed that sale promotion programs tend to target new customers rather than loyal clients.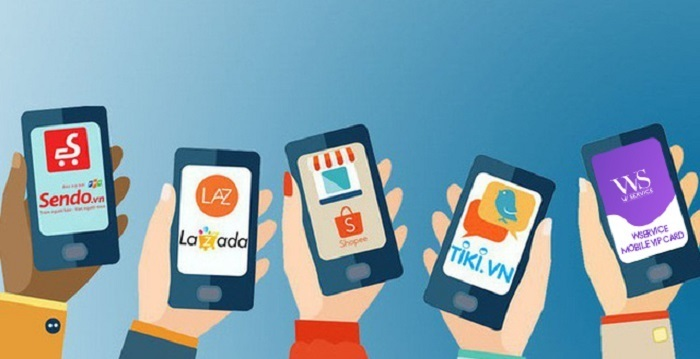 Illustrative photo: Vietnamnet
"I am the manager of our family's coffers, so I try to save every dong. I always compare the prices quoted on different apps and I will give up the apps which no longer offer discounts for products and set high delivery fees," she said.
With the habit of saving every dong, Vietnamese consumers prefer COD (cash on delivery) payment, though online payments are convenient.
Hoai confirmed that she only makes online payments when there are promotion programs run by her e-wallet or Visa card.
When asked which app is her favorite, Hoai said that she doesn't have one. She buys milk and napkins for kids via onr app, but chooses other apps for books and electronics.
Meanwhile, Do Quang Thang in Hanoi said he removed two apps because of bad quality of products and services.
"The products were advertised as having high quality, but they were really terrible," he said.
On consumers' forums, people complain that the quality of products is not exact as advertised, and the service is not professional. And trade fraud is another problem. This explains why many people turn their back on online shopping and only buy things after seeing them with their eyes, Vietnamnet reported.
A representative of a shopping app said customers will delete unsuitable apps after trying. They install apps when the apps offer preferences, but if they don't feel satisfied with the services, they will give up the apps because they have too many other choices.
The Southeast Asia e-commerce map of iPrice Group shows that the app removal rate in Vietnam is the highest in Southeast Asia, 49 percent in Q2 2020, though Vietnam was the second-largest market in the region, after Indonesia in terms of access traffic.
The average number of visits to websites in Vietnam in 2020 was four times higher than Malaysia, three times more than the Philippines, and twice as much as Thailand.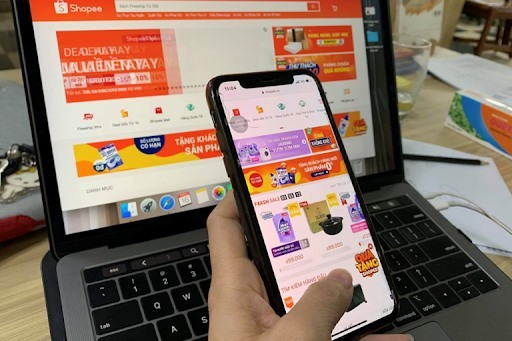 Illustrative photo: Vietnamnet
The race to win customers' hearts.
In order to lure customers like Truc and Hoai, shopping apps spend billions of dong to make their apps known to customers and persuade them to install the apps. And in order to retain them, they run promotion campaigns continuously and compete with each other every minute.
Lazada, Shopee, Tiki, and Sendo, the 'big four' in Vietnam's e-commerce market, ran big sale promotion programs in 2020, on Single's Day on November 11, Black Friday on November 27, Cyber Monday on November 30, December 12, and others.
Market analysts say that consumer psychology influences buying habits. As the Covid-19 pandemic has been controlled well in Vietnam, consumers are returning to do more shopping.
iPrice suggested that in addition to running sale promotion programs to attract customers, e-commerce firms should think of measures to improve customers' experience.
E-commerce platforms will get big benefits if using AI and Big Data which gives better recognition to customers, understands their tastes, and makes reasonable suggestions to them.
Tran Tuan Anh, managing director of Shopee Vietnam, said when people stay home during social distancing campaigns, they tend to shift to online platforms, which allows them to both satisfy their daily needs and use for entertainment purposes.
E-commerce apps need to integrate many factors for interaction, including games and livestreams to improve connections with consumers.
Vu Duc Thinh, CEO of Lazada Logistics Vietnam, said Lazada will continue to use technological resources and initiative to optimize customers' experiences. In addition, it will shorten the time needed for north-south deliveries, striving for within-day delivery service at the lowest possible cost.
At present, e-commerce platforms are still taking a loss. They accept this because they have high hopes for the Vietnamese e-commerce market, which is predicted to have a value of $29 billion by 2025.
Google predicts that Vietnam's e-commerce will obtain the highest growth rate, 34 percent, in the region by 2025.
Vietnam contributes five of the top 10 Southeast Asian e-commerce sites
Five of the top 10 most visited e-commerce websites in Southeast Asia last year were based in Vietnam.
Five of the 10 most visited e-commerce websites in Southeast Asia last year were based in Vietnam, according to a report.
The report, released by Malaysia-based market research firm iPrice in coordination with SimilarWeb and AppsFlyer, unveils that the five sites comprise Thegioididong, Tiki, Sendo, Bach Hoa Xanh and FPT Shop.
The others in the list are Shopee, Lazada, and three startups of Indonesia - Tokopedia, Bukalapak, and Blibli.
Run by retail giant Mobile World, Thegioididong ranked fifth with average web visits in 2020 reaching 28.6 million a month.
Meanwhile, Tiki, the second-largest e-commerce site in Vietnam, claimed the sixth place with 22.4 million visits a month.
Sendo, a homegrown e-commerce platform, won the eighth place with 14.3 million web visits a month, followed by Bach Hoa Xanh (8.8 million) and FPT Shop (7.2 million), according to the report.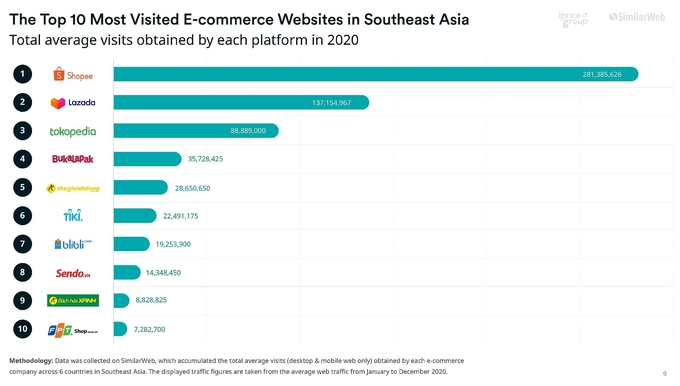 Vietnam contributes five of the top 10 Southeast Asian e-commerce sites
Singapore-based Shopee and Lazada topped the list, followed by Indonesian sites Tokopedia and Bukalapak.
Regarding traffic numbers, Vietnam was the second-highest in the region, only after Indonesia. Vietnam's traffic number was four times higher than that of Malaysia, three times higher than the Philippines, and two times higher than Thailand.
This strongly affirms the development potential of domestic firms, as well as the scale of the local e-commerce market, the report said.
Consumers in Vietnam spent an overall average of $17 per order in 2020 and electronics were the most sought item by Vietnamese consumers.
With its e-commerce market expanding 18 percent year-on-year last year to $11.8 billion, Vietnam is the only country in Southeast Asia to record double-digit growth in the sector given the COVID-19 pandemic.
In a report released by Google, Temasek, and Bain & Company last year, Vietnam's digital economy is expected to reach $52 billion in 2025.
E-commerce has driven significant growth in the country, at 46 percent, alongside strong growth across most sectors, except for travel, it said.
Indonesia and Vietnam continued to grow at double-digit rates, and Singapore remained a regional enabler for growth, despite short-term GMV decline due to the online travel sector.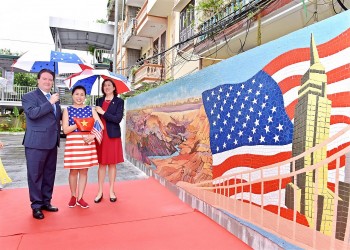 Multimedia
A ceramic mosaic mural named "Vietnam - US friendship" depicting the natural and cultural heritages of the two countries, was just revealed in Hanoi