Which Provinces in Vietnam Prepare to Resume Tourism Activities?
Provinces and cities nationwide are focusing on measures to gradually recover tourism activities in line with a safe roadmap.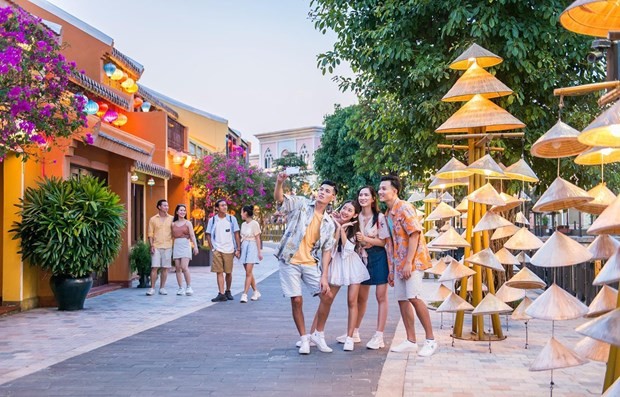 Hoi An ancient city in Quang Nam province. Photo: VNA
This month, provinces and cities began organising training courses on Covid-19 prevention and control regulations, processes in welcoming and serving tourists, criteria for safe tourism services, as well as preparations for incidents and risks, reported VNA on Oct.6.
From November, localities that have controlled the pandemic will start welcoming back domestic holiday-makers. They are required to strictly comply will regulations on vaccination and testing.
A pilot plan on welcoming international tourists with vaccine passports to Phu Quoc island in the Mekong Delta province of Kien Giang will be implemented from October this year to March 2020. This scheme will prioritise key markets that have effectively controlled Covid, and had high vaccination coverage such as Northeast Asia, Europe, the US, the Middle East, and Australia.
By the end of 2021, Vietnam will welcome foreign tourists back to other destinations, including Ha Long Bay in Quang Ninh province, Hoi An ancient city in central Quang Nam province, Nha Trang in central Khanh Hoa province and Da Lat in the Central Highlands province of Lam Dong.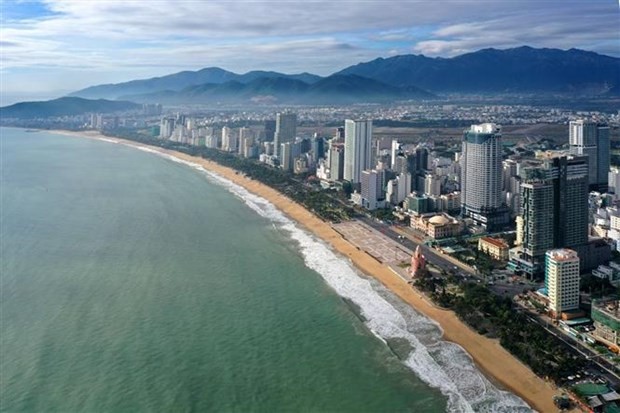 Nha Trang beach city in Khanh Hoa draws visitors at home and abroad. Photo: VNA
Khanh Hoa Province
Authorities in in the south-central province of Khanh Hoa have sought approval from the Ministry of Culture, Sports and Tourism to allow back in fully immunized tourists from Europe and Northeast Asia, according to VnExpress.
The provincial People's Committee on Oct.5 sent a draft plan of a two-phase vaccine passport program to the ministry on welcoming foreign tourists by charter flights, the government portal reported.
In the first phase of the program between November and year-end, foreign tourists will arrive by charter flights and stay at sequestered resorts on Long Beach in Cam Ranh, around 45 kilometers from Nha Trang Town.
Long Beach is situated far away from residential areas and has 12 resorts with 6,000 five-star rooms. All tourism staff there have been fully vaccinated.
In the second phase between the beginning of and March next year, visitors will be allowed at more tourist destinations and isolated resorts in Nha Trang Town such as Vinpearl on Hon Tre Island, Champa Island Nha Trang Resort and Hon Tam Resort.
Province authorities eye tourists from countries and territories that have successfully controlled Covid-19 and have high vaccination rates such as mainland China, Japan, South Korea, Taiwan, Russia, Australia, France, Germany, and some North American countries.
Visitors need to furnish a certificate showing they are fully vaccinated with a type approved by Vietnam, and got the second shot at least 14 days before arrival. Those who had contracted and recovered from Covid and visitors under 18 with a negative Covid certificate will also be allowed entry.
The province, home to tourist hotspots Nha Trang and Cam Ranh besides other attractions, has basically brought the pandemic under control. It also plans to resume intra-provincial tourism this month.
Over 900,000 people aged 18 and above in Khanh Hoa have been vaccinated and the province strives to vaccinate all tourism staff by Oct. 15 to reopen the tourism sector.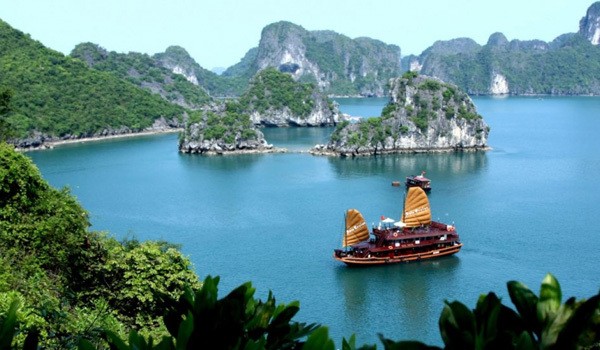 Ha Long Bay- UNESCO-recognised heritage site in the northern province of Quang Ninh.
Quang Ninh Province
To ensure pandemic safety, Quang Ninh will apply the sandbox model to tourism and prioritise serving groups of tourists once this northeastern coastal province re-opens its door to travellers from other localities.
The provincial People's Committee on Oct. 4 held a teleconference with departments, sectors, and localities to look into procedures for tourist reception so as to achieve the target of attracting 2 million visitors in the fourth quarter.
Quang Ninh has permitted local tourist sites to welcome visitors from within the province from October. It is planning to re-open to those from other localities next month.
The provincial Department of Tourism has drafted guidelines on procedures for the trial reception of visitors in the "new normal" context, including requirements related to those from within Quang Ninh and from other localities.
According to these draft guidelines, tourism businesses and service suppliers must guarantee safety from Covid-19 by meeting safety requirements for passenger transportation, vehicles, tours, and destinations.
To lure travellers from other localities, Director of the Tourism Department Pham Ngoc Thuy said, it is necessary to boost tourism promotion to attract tourist groups while ensuring safety for visitors to local places of interest.
Once getting the green light from the provincial administration, Quang Ninh will firstly re-open the Tuan Chau international tourism and entertainment complex, Ha Long Bay, and the Complex of Yen Tu Monuments and Landscape to tourists from other localities. In particular, sandbox tours such as night cruise trips on Ha Long Bay and trips to the high-end Legacy Yen Tu Resort will be given the top priority.
This trial period will undergo frequent examination and assessment, according to the official.
It is to set up links with its neighbour Hai Phong port city to open safe tours.
Under the plan, Quang Ninh will build safe multi-day tours to Tuan Chau island and the three islands of Co To, Van Don and Hai Ha, Mong Cai coastal city, as well as to mountainous communes in the province's Binh Lieu district.
Local authorities also encourage overnight tours in Ha Long Bay and closed-loop services.
The province will soon join hands with Central Highlands localities that have brought Covid-19 under control to study the launch of 'one route-two destinations' tours in the time to come.
The province has completed injecting all eligible people with the first doses of vaccine, and the administration of the second doses is expected to finish in October.
At present, people coming to Quang Ninh are still required to be fully vaccinated and have a negative RT-PCR test result for the coronavirus within 72 hours.

A corner of Bac Giang city. Bac Giang newspaper
Bac Giang Province
The northern province of Bac Giang, which has gone through 30 days without any infection in the community, allowed its tourism sites and the Yen Dung golf course to reopen for visitors from pandemic-free localities, dubbed green zones, nationwide on Oct. 4.
The move is done in a bid to gradually resume socio-economic activities in the province, according to the provincial Department of Culture, Sports and Tourism.
It has been developing three types of tourism based on local potential and advantages: cultural - spiritual tourism, historical - cultural tourism, ecological - leisure tourism.
To enter the province, tourists must be fully vaccinated, with their last shots of the Covid-19 vaccine done in at least 14 days and less than 12 months prior to the time they arrive in Bac Giang. They also need to provide a negative testing result within 72 hours.
All local tourism sites are required to seriously follow pandemic prevention regulations, including the Ministry of Health's 5K message – facemask, disinfection, distance, no gathering and health declaration.
Earlier, Bac Giang lifted its temporary close order on businesses, eateries, some education establishments, and spa and massage service facilities. The authorities also allowed the resumption of sport activities.
In more than a month, the province has posted no community cases. Bac Giang is accelerating the vaccination drive, with 609,220 doses of the vaccine given to date, covering 32.6% of the local population.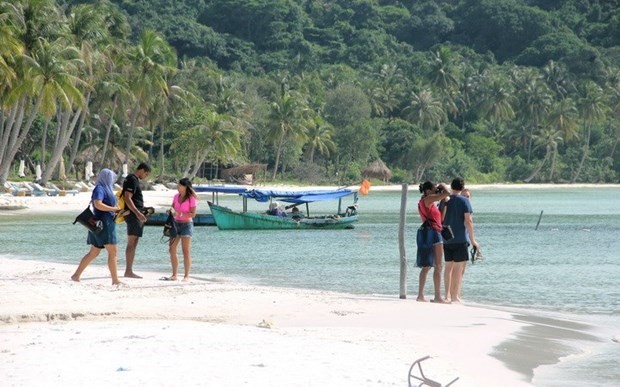 A beach in Phu Quoc. Photo: VNA
Phu Quoc Island
The reopening of the resort island of Phu Quoc to international tourists has been postponed until late November, Vice Chairman of the People's Committee of the southern province of Kien Giang Nguyen Luu Trung told Tuoi Tre News Oct.4.
After Covid-19 infection cases were found, the provincial authorities held a meeting with local leaders and decided to zone off and trace down cases, lock down several hamlets in An Thoi ward, and raise warning level from "new normal" to "at risk".
Therefore, the plan will still be launched in late November. However, testing for SARS-CoV-2 will be added in order to ensure safety for local residents and visitors. At the same time, all residents will also be fully vaccinated, including workers coming from other areas.
The province will choose enterprises in Phu Quoc, three to five-star hotels to serve. All of their staff have been given two full vaccine shots.
To ensure safety against Covid, separate services will be organized so that international visitors do not come into contact with domestic guests and do not come into contact with the local community. For example, the cable car service will spend a separate time of the day to serve international guests, not general domestic guests. Other services are similar.
During the pilot period, the scheme is only applied for international visitors involved in full-package tours organised by travel agents, and not for those with other purposes. Foreign tourists joining in the scheme will make immigration procedures via charter or commercial flights.