How to Cook Vietnamese Cốm (Young Rice Flakes)
Hanoi in the autumn season is associated with the flavor of green rice or cốm and the typical dishes from it such as fresh rice, sticky rice, cake, sweet soup, or fried grounded pork with Com.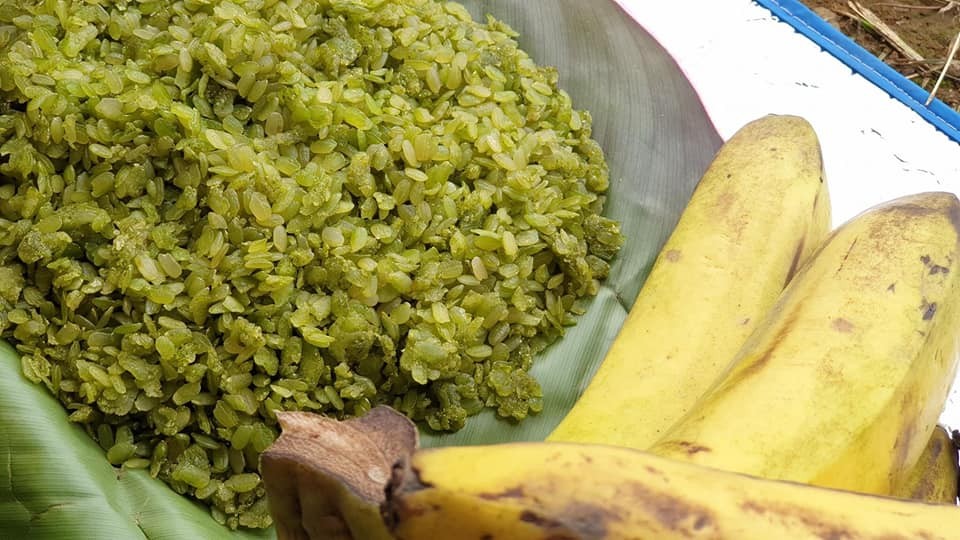 Green sticky rice is both popular and luxurious. Visitors to Hanoi often buy packages of green sticky rice flakes as gifts.
Packed in lotus leaves, the soft and fragrant green rice can be enjoyed plain, with ripe bananas, made into a cake with mung bean filling, as a sweet soup or even with ice cream. Here are some easy recipes for you.
Fresh Com
Cốm (beaten green rice or young rice flakes), a seasonal dish made from immature rice kernels that is much sought after in the fall. It is naturally green and subtly sweet because it is harvested at a specific time when the grain is neither too young nor too old.
The green rice flakes need to be carefully preserved, avoiding dry weather to keep the plasticity and fragance. Currently, finished products are stored and sold all year round thanks to the use of freezers.
Depending on the maturity of the glutinous rice grains, different kind of products are made.
Delicious fresh rice has thin, soft and chewy flexible seeds. Fresh Com is even more palatable if accompanied with banana. Fresh Com is usually made from young sticky rice harvested at the beginning of the season, which is soft and fragrant.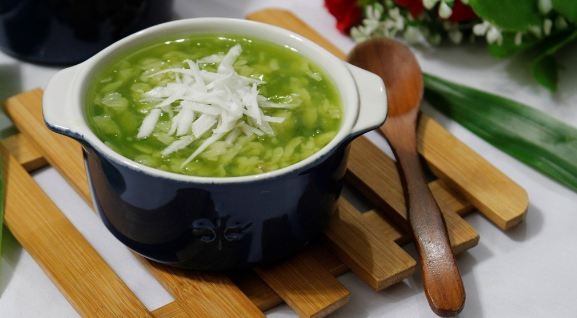 Chè cốm sweetened green sticky rice paste.
Sweetened green rice soup
Che com – sweetened green rice sweet soup is a tasty combination of green rice and coconut, and a popular delicacy in Hanoi that visitors should not miss when visiting Hanoi in the autumn.
Mung beans soaked overnight, then steamed with 1 teaspoon sugar after that crush. Fresh lotus seeds washed, then boiled with 1 teaspoon of sugar.
Rinse young green rice under cold water to clean, be careful not to rub them. Steamed young green rice: Put the young green rice, pandan leaves and 1/2 amount of steamed green beans on the steamer for about 5 minutes, then open the lid to add coconut milk, fresh grated coconut, 4 teaspoons of sugar evenly, steam for another 10 minutes until the young green rice are cooked, try some to see if they are soft.
When eating, mix the young green rice + lotus seeds + fresh coconut milk and crushed mung beans.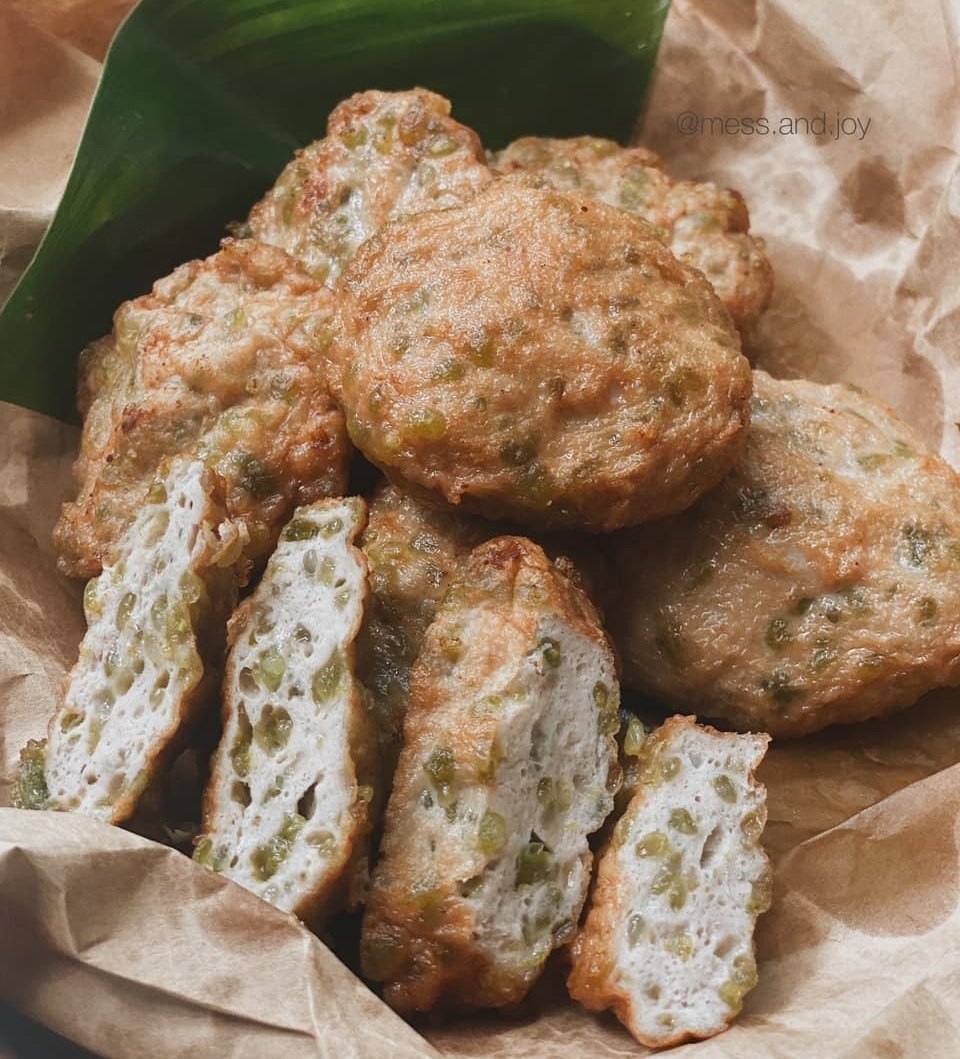 Cha Com, Vietnamese pork sausage with green rice. Source: @mess.and.joy
Fried grounded pork with Com
Unlike other kinds of cha like cha ruoi (nereididae sandworm omelette), cha ca (charcoal grilled fish) and cha muc (fried patties with squid eggs) which are mainly composed of seafood ingredients and little fish, cha com is mainly made of com and has the subtle scent of new rice. Other ingredients for the dish include lean pork and pork paste.
Prepare the green rice: If you use dry green rice, after you buy them, wash them thoroughly. Then soak them with warm water for about 3-5 minutes and then drain.
Crack the egg into the bowl, add the green rice and mix well. Mix minced pork and raw sausage with 1 tablespoon fish sauce. Add the mixed green rice and eggs and continue to mix well. The meat to mix with com should be lean shoulder pork, which contains fat, so the taste will not become too dry or the dish overly reduce on being fried.
The mixture will then be added with salt, seasoning and delicious fish sauce. It will be left to absorb all the spices for less than ten minutes. After that, the mixture is kneaded into small pieces and steamed from 15 to 20 minutes. Finally, cha com is fried until it becomes light brown on both sides.
The qualified cha com must meet with several criteria, such as the skin is crisp, com inside soft and the fragrance of the grain mixed with lotus. It can be dipped into chilli or fish sauce to be eaten with cooked rice or rice noodle.
For vegan version, puree the tofu and mix it with green rice, chopped dried onions, vegetarian fish sauce, then flatten and fry until golden.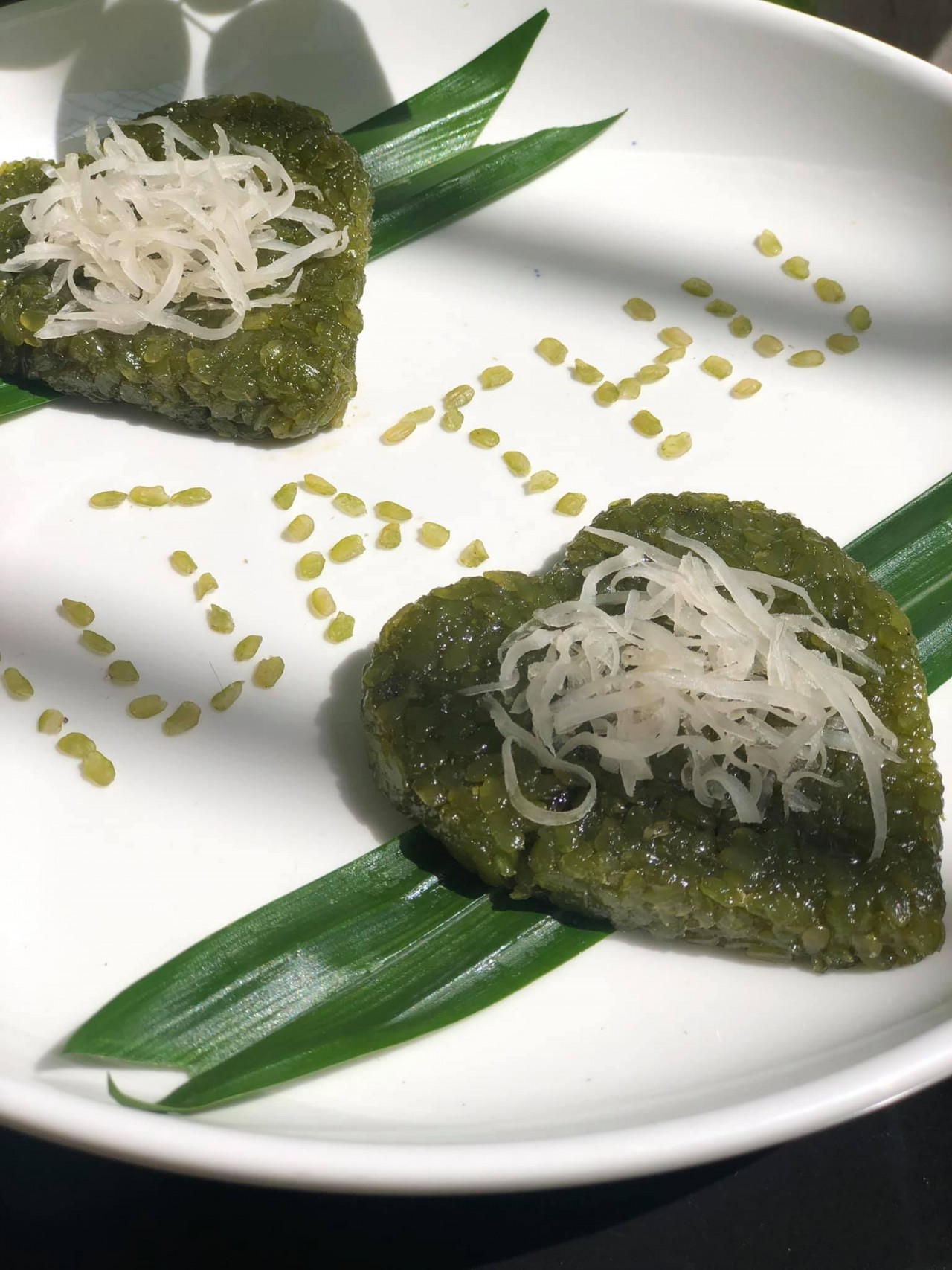 Com xao (stir-fried green rice) .
Sweet stir-fried green rice
While cha com is a great choice for the main course, com xao (stir-fried green rice) is a fantastic idea for dessert or for tea break. While not as popular as other dishes made from the grain, com xao enchants with the first bite.
Sweet sticky rice and stir-fried rice are a couple that are popular with customers on the days of Hanoi's autumn. Stir-fried green rice has Hanoi's special flavor. Mixed with grated coconut, it becomes an appetizing dish.
Though being simply cooked, the dishes are specialties of Hanoi with an unforgettable taste. Fresh rice is stir-fried with sugar, grated coconut, then wrapped in lotus leaves.
Cốm used to cook com xao must be made in early autumn, soft and plastic. Its colour is not too green but turns a little bit yellow and especially, it must have the scent of the new sticky rice.
Though the process of choosing com as its main ingredient is a bit strict, cooking the dish is not too difficult.
Put a pan on the stove for 1/2 cup of sugar water and pandan leaves and bring to a boil until the sugar dissolves.
Take out the pandan leaves and pour in the young green rice and stir-fry quickly until the rice are soft and cooked.
Add cooking oil to make the young green rice more fragrant and fat. Then add grated coconut and stir until evenly. Remove to a plate or shape into a mold as you like. Grated coconut sprinkled on top (optional).
For grated coconut, stir a little sugar to infuse. Then put the coconut and dry it, then turn off the stove. The fresh coconut part is easy to rot and seep in, ruining com xao.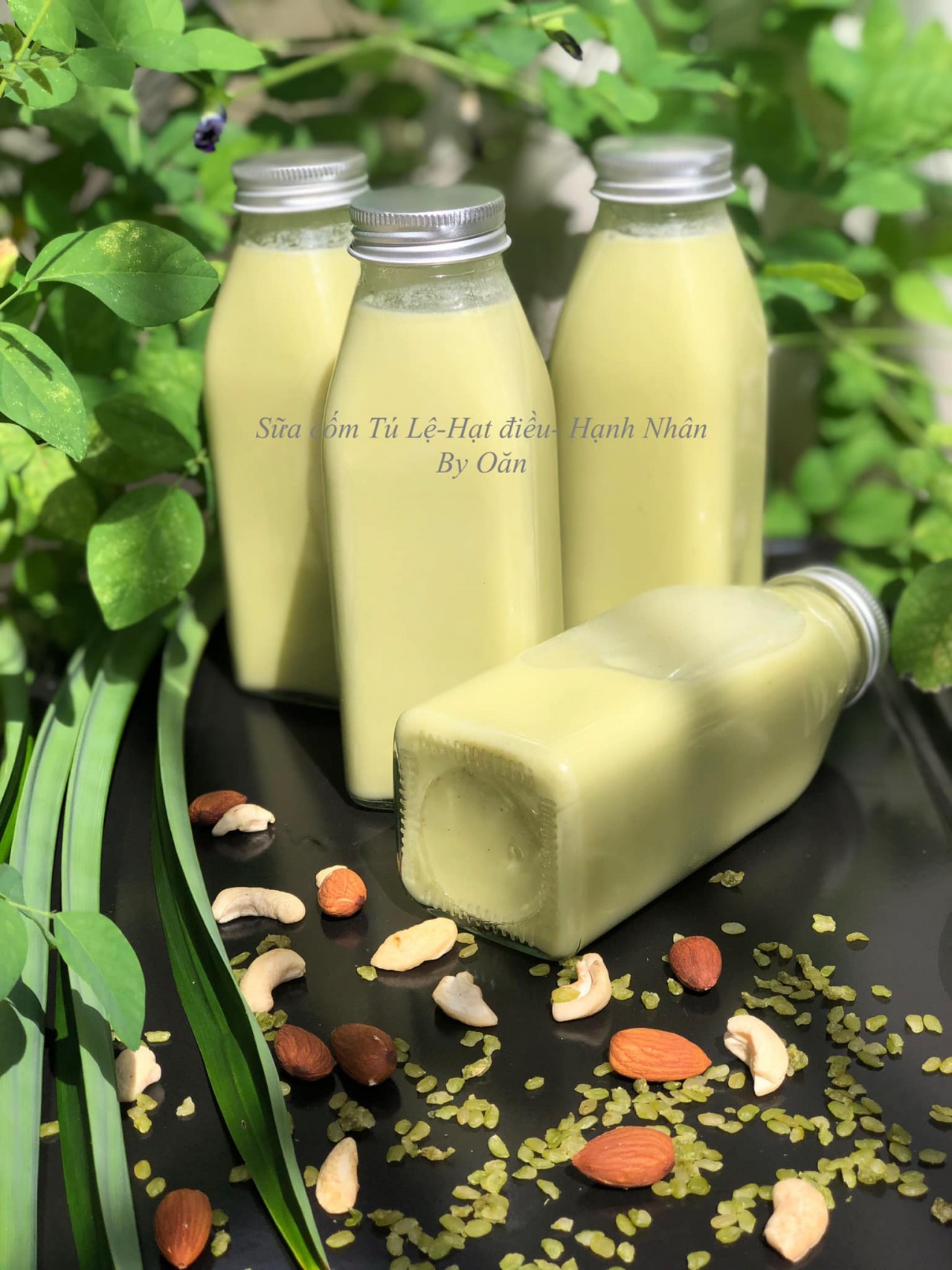 Almond Cashew Young Green Rice Milk. Source: Oan
Green rice milk
Soak cashews and almonds overnight. The next morning, wash the seeds and remove the shells of the almond.
Put the young green rice and the soaked seeds in a pot and boil for 5 minutes, until the seeds and nuggets expand a bit, then put them in a blender until smooth.
Pandan leaves are washed, dried, and then put in the blender with 100ml of water.
Add the mixture of young green rice and seeds to the pot and bring to a boil, then add sugar to taste. Put pandan leaf juice in, turn off the stove, wait for the milk to cool, then bottle it and put it in the fridge.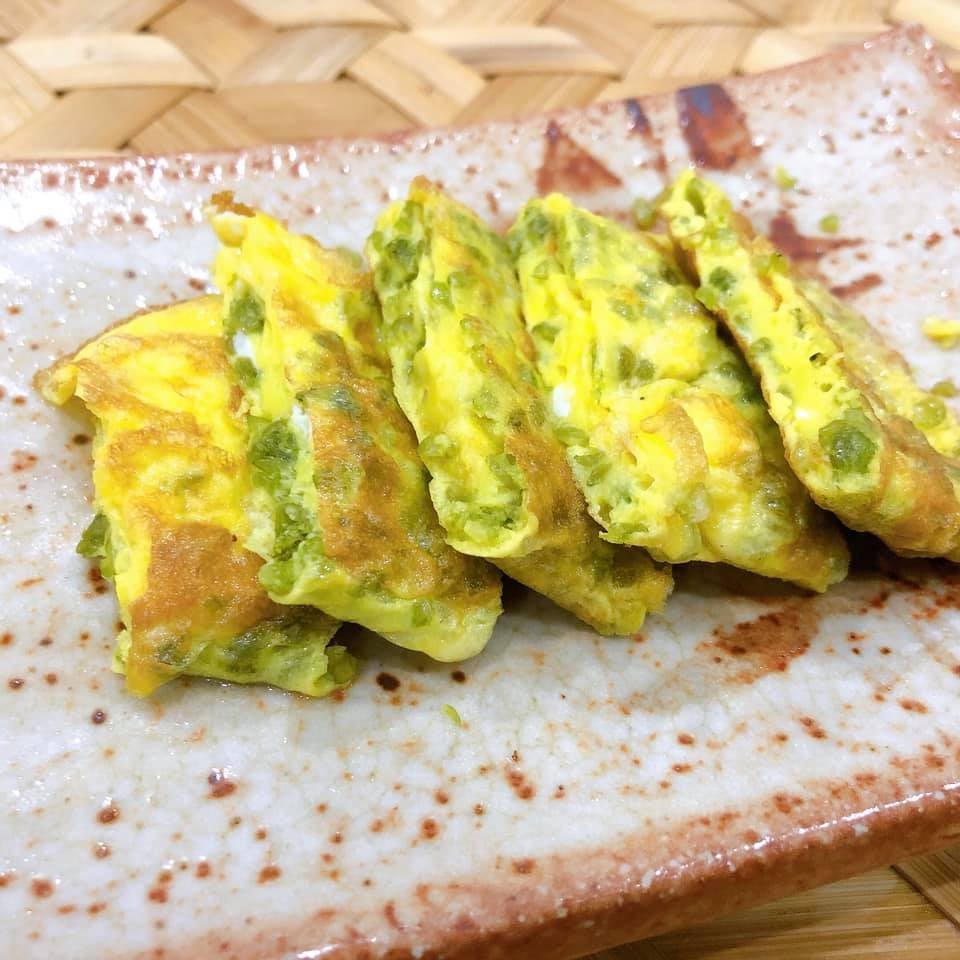 Egg roll with young green rice.
Fried eggs with young green rice
Prepare the green rice: If you use dry green rice, after you buy them, wash them thoroughly. Then soak them with warm water for about 3-5 minutes and then drain.
Crack the eggs into the bowl, add the young green rice, fish sauce, a pinch of salt, pepper and mix well.
To preserve the original scent of com, no onion is added.
Pour a thin layer of the egg mixture into a pan to cook. Once the bottom of the egg mixture is set, roll it up in multiple thin layers until the egg looks like a thick log. Finally, shape the egg and slice into thick pieces for serving. Enjoy with hot rice.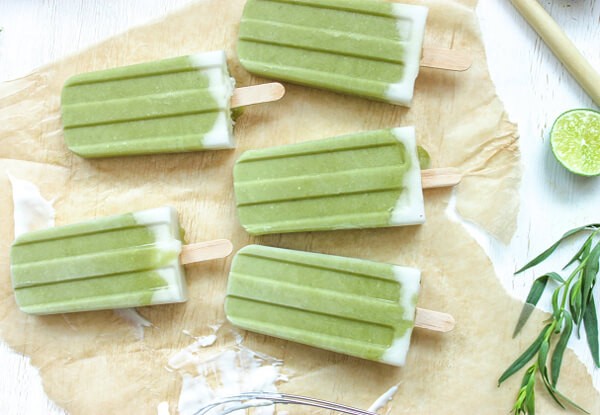 Green Rice Flakes Ice-cream (Kem Cốm).
Green rice and pandan ice cream
Kem Cốm (Green Rice Flakes Ice-cream) is one of delicious Vietnamese dessert recipes in Hanoi capital. The great flavor of green rice flakes cannot deny. When it combines with pandan leaves, fresh milk and cream I bet you cannot stop eating it.
Place sliced pandan leaves and ½ cup of water in a food processor, blend until smoothed. Pass through a fine sieve to get about 80ml of concentrate pandan liquid, discard the solid.
Soak green rice in water for 5 minutes, drain and place in a food processor together with half of the milk and salt, blend for 1 minute. Transfer to a pan, add the other half of the milk into the pan and pandan water, place over low heat, stirring. Turn off the heat and pour into a bowl, leave to cool, stirring occasionally.
In the mean time, pour whipping cream into another bowl. Use mixer to stir well about 5 – 10 minutes then fold gently into the cooled rice mixture. Pour the ice-cream mixture into an airtight container and seal. Place into the freezer until firm.
Fried Shrimp with Green Rice Flakes (Tôm Chiên Bọc Cốm).
Fried shrimp with green rice flakes
Just use shrimp and fresh green rice flakes, processed in 10 minutes; you have got a stunning dish to use with mayonnaise sauce, it is tasty and beautiful. This dish is more delicious when serve hot to feel the crispy of green rice flakes and the sweet of shrimps.
Peel off the cover of shrimps, leaving the tail, cut the shrimp in 2 parts in vertically, but keeping the two parts stick together.
Sprinkle salt and pepper on shrimp and wait about 15 minutes to absorb. Add green rice flakes on dish then roll shrimp to make 2 sides shrimp is covered by green rice flakes.
Heat oil in a small pan, add shrimps and fry on medium heat until green rice flakes is golden and fragrant. Take out shrimps on plate added paper napkin.
You can also make cốm rang (puffy green rice that resembles rice krispie) with or without suger for a fun and crispy treat.