White House secretary announced 234 pages of affidavits alleging election irregularities
White House press secretary Kayleigh McEnany claimed to be holding 234 pages of affidavits from Michigan on Fox News on Tuesday.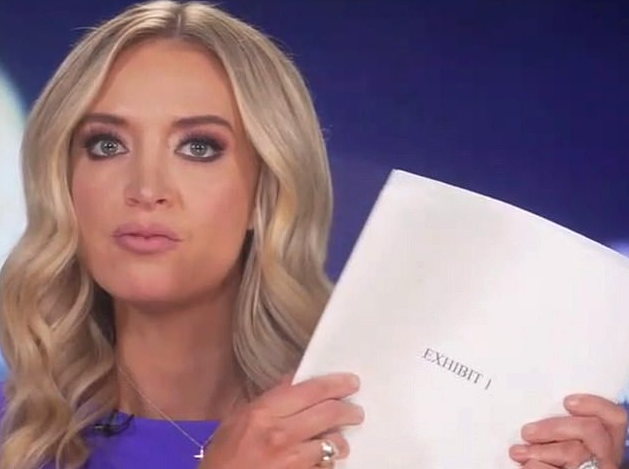 White House press secretary Kayleigh McEnany claimed to be holding 234 pages of affidavits from Michigan on Fox News on Tuesday as she reiterated claims of voter fraud. (Photo: Daily Mail)
Hundreds of pages claimed as proof of election fraud
White House press secretary Kayleigh McEnany appeared on Fox News to present 234 pages of affidavits she claimed were proof that election fraud took place, as she listed new cases the Trump campaign alleges to have uncovered.
Yet she was given free reign on Tuesday night, listing a number of allegations as both she and RNC Chair Ronna McDaniel vowed that they would continue to contest the election result until the end.
McDaniel revealed that they have now received claims of 11,000 incidents of fraud from witnesses and have compiled 500 affidavits from these witnesses so far, as they work slowly to verify their claims. So far Republicans have filed a tiny handful of affidavits making it impossible to verify McEnany's claims that the 500 contain fraud.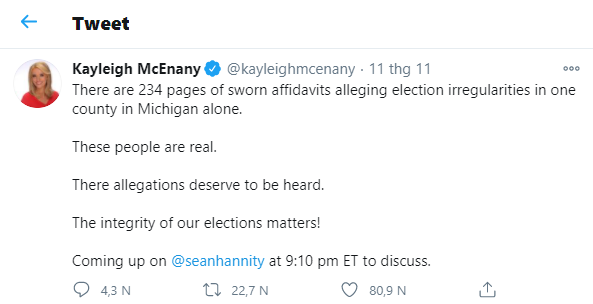 Kayleigh McEnany's tweet about the fraud files. (Photo: Twitter)
Yet their claims of new evidence came just minutes after former RNC Chair Reince Priebus warned Hannity that if the GOP is to continue fighting for the chance to appeal the results they have to stop trying to make claims of fraud in places which they convincingly lost, said Daily Mail.
"We keep hearing the drumbeat of 'where is the evidence?' Right here, Sean, 234 pages of sworn affidavits, these are real people, real allegations, signed with notaries," McEnany said. "This is one county, Wayne County, Michigan".
McEnany also shared details of another affidavit where a woman alleged that "her son was deceased but nevertheless somehow voted."
Trump's ongoing lawsuits
Late Tuesday, the Trump campaign announced the filing of a lawsuit in the U.S. District Court in the Western District of Michigan that alleges pervasive election irregularities and violations in Wayne County and seeks a review of the Dominion Voting software which caused glitches in several states.
Trump has alleged voter fraud and said any declarations of victory are premature, with his campaign having launched multiple legal challenges in Pennsylvania, Wisconsin, Georgia, Arizona, Nevada, and Michigan. The president said on Tuesday that his campaign is making progress and said that he will ultimately be declared the winner of the 2020 election, cited The Epoch Times.
The suit alleges county of Wayne election officials allowed various fraudulent processing of votes, including telling poll workers to backdate ballots and not verify signatures on absentee ballots. Several witnesses have filed sworn affidavits attesting to alleged election fraud. The plaintiffs, two poll challengers, are seeking a temporary restraining order on ballot counting. The case is pending.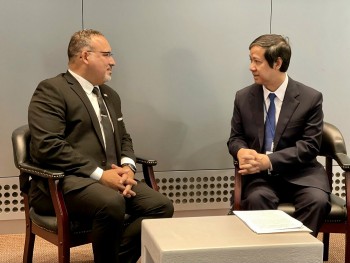 Overseas Vietnamese
Vietnam hopes the US will help the country develop general education and creating a firm foundation for the training of high quality human resources in the country.