Why hasn't China congratulated Joe Biden as President elected?
When asked why China has not yet congratulated US new President-elected Joe Biden, the Chinese Foreign Ministry replied that Beijing would follow international practice.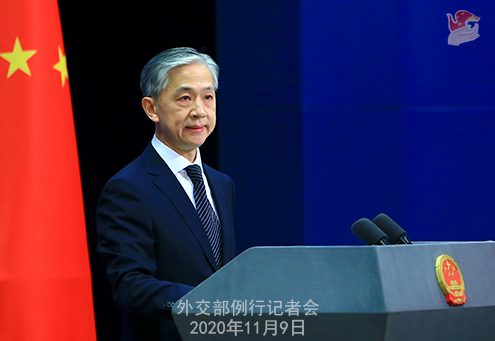 Foreign Ministry Spokesperson Wang Wenbin's Regular Press Conference on November 9, 2020. (Photo: China Ministry of Foreign Affairs)
On November 7, four days after the U.S. presidential election was held, American media outlets determined that Democratic candidate Joe Biden had secured enough votes in key states to give him a majority of the electoral college – thus securing his place as the next president of the United States. Despite incumbent President Donald Trump's refusal to concede defeat and insistence that there was rampant electoral fraud, most world leaders were quick to send their congratulations to Biden, but China remained silent.
In China's first comments on the outcome of the U.S. presidential election, Beijing on Monday declined to congratulate Democrat Joe Biden as the victor, citing the lack of official election results, said Just The News.
As stated by The Diplomat, at the Foreign Ministry's daily press conference on November 9, spokesperson Wang Wenbin was asked why China's government hadn't issued a statement congratulating Biden on his win. Wang replied tersely that "we noticed that Mr. Biden has declared election victory. We understand the presidential election result will be determined following the U.S. laws and procedures."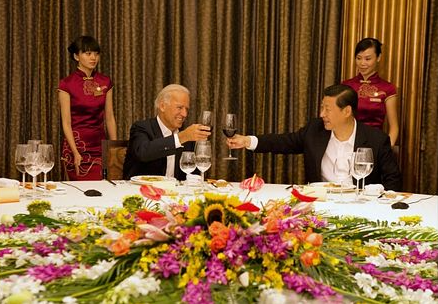 Then-Vice President Joe Biden raises a glass with then-Vice President Xi Jinping during a 2011 visit to Beijing, China. (Photo: White House)
The exchanges began with questions from an unnamed CNN correspondent. "After most American media declared Biden's victory of being elected as the president of the United States, leaders of many countries have sent congratulatory messages to him," CNN said. "Why has China been dilatory in making statements? Is it because you think the outcome of the US presidential election is still uncertain, or do you have other considerations? When will China send a congratulatory message?"
Notably, Wang didn't specifically say that China was waiting on the lawsuits to peter out before acknowledging Biden as the winner. Instead, he said only that China "will follow international customary practices."
Officially, of course, U.S. election results are never fully sealed in the week after the election. Votes are still being counted in many states, and the electoral college (which actually casts the deciding votes) doesn't even meet until December. But generally it is clear well before then who the ultimate victor is – and most governments, including China's, don't usually wait for the formalities. For example, Xi congratulated Donald Trump on his presidential election win on November 9, 2016 – well before states had officially certified the final results, much less before the electoral college had convened.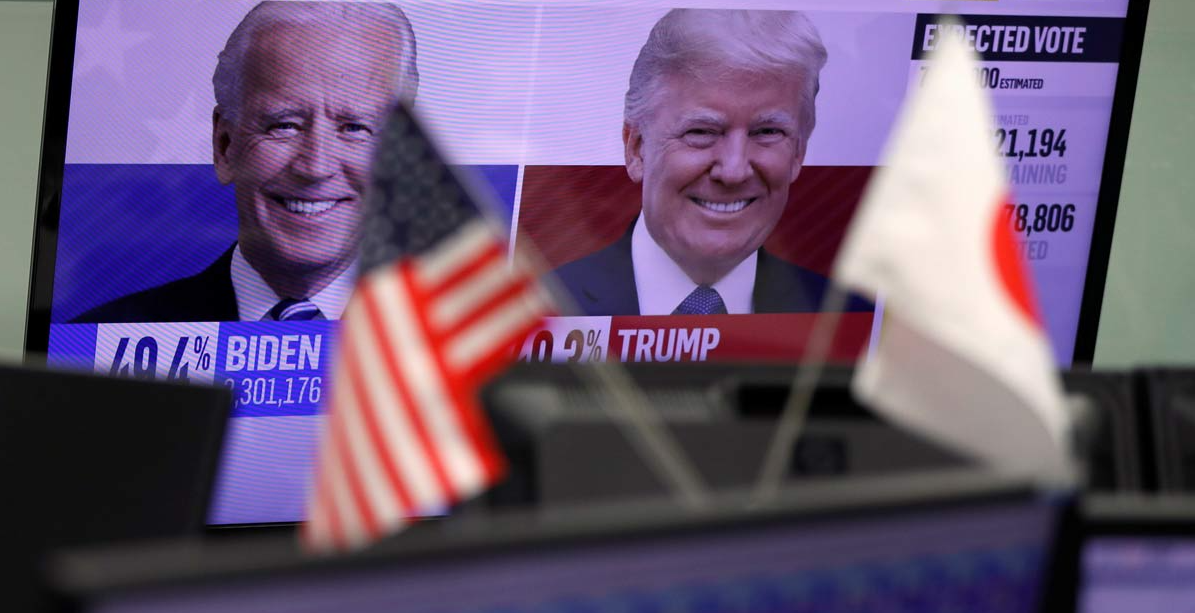 A monitor showing the reports on the U.S. presidential election (Photo: Reuters)
The obvious difference, of course, is that in 2016, Hillary Clinton conceded the election, while Trump has shown no indication of admitting defeat this time. Instead, he has promised to fight in the courts despite having little legal grounds to do so. Given that Trump would most likely need to see results in several states overturned to actually secure victory, his chances of avoiding a Biden presidency are extremely remote.
Xi Jinping is joined by Russia's Vladimir Putin, Brazil's Jair Bolsonaro and Mexico's Andrés Manuel López Obrador in not issuing congratulations to Biden, said The Diplomat.
US-China relations are at their worst in decades over controversies from technology, trade, and the Covid-19 pandemic to the issue of Hong Kong and the South China Sea. Also on Nov. 09, several major Chinese newspapers published editorials on Joe Biden's victory, with optimism that bilateral relations will be restored to a foreseeable state and This improvement can start with a commercial problem.