Who Is Johnny Dang – Vietnamese Jeweler Behind Success Of American Rappers?
Although Johnny Dang is not a musician, he is considered as one of top-ranking stars in the American rap world for his jewelery flagship designs.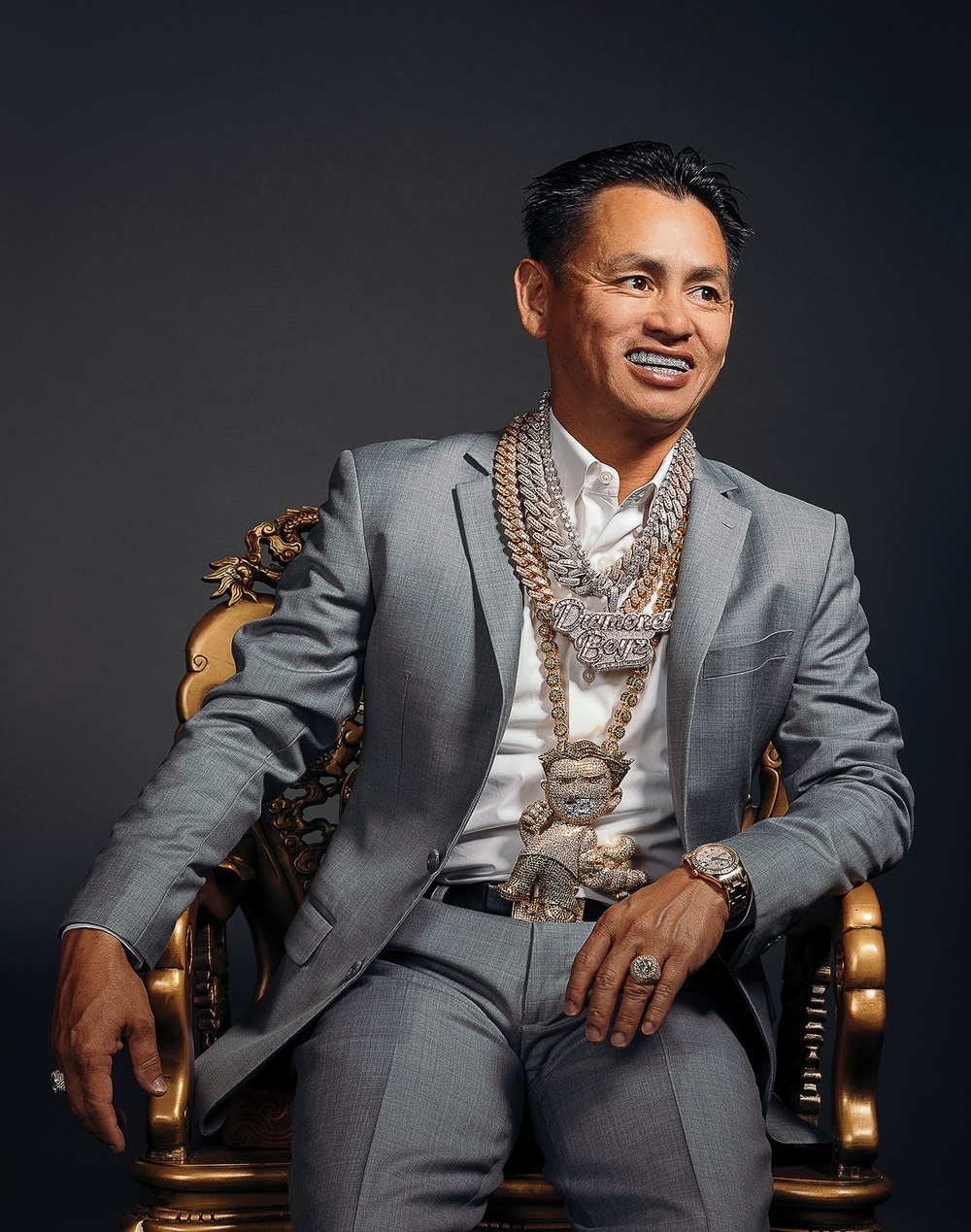 Johnny Dang was born in Vietnam and then moved to the US with his family. Photo Texas Money
Johnny Dang is an icon among hip-hop's A-list. Over his two decades as a jeweler, the 47-year-old Vietnamese-American immigrant has sold grills, watches, and pendants to Kanye West, Beyoncé, and Lil Wayne; had his name shouted out in verses by Migos and Wale; and made cameos in music videos by Nelly and DJ Khaled.
"I never knew about hip-hop until I went to Houston," Dang told NBC News. "Honestly, I did not know I could be that big today. All I knew was there was a big opportunity here."
From repairing jewelry in a flea market…
Dang, known today as "TV Johnny," was born just before the end of the war in Dak Lak province, Vietnam. His father was a soldier during the war in Vietnam before fleeing to the US in 1987. He told Johnny to learn to make jewelry while the family remained in Vietnam, before they reunited in Texas nine years later.
While still in Vietnam, Dang began learning about how jewelry was made so he could help his dad out with his business. However, he quickly realized that there were major differences between the styles and technologies being used in America versus what he learned in Vietnam.
"The jewelry in America is much larger, especially for hip hop. The amount of gold karats used in jewelry here is also much more than in Asia," Dang told Forbes.
According to Dang, much of the fine jewelry in Vietnam and Asia is often handcrafted, with jewelers setting stones manually, whereas jewelry production in the United States is much more automated and software driven, requiring strong technical skills. After arriving in America, Dang quickly taught himself how to use these new tools. Even now, he makes a point to ensure that he and his team are always aware of the latest advances in technology and processes—not just for scalability, but to maintain the highest quality of work.
In 1996, Dang, his mother and siblings moved from Vietnam to reunite with his father, who they had been separated from for nine years.
It was the first time Dang had left the country. "After landing, I couldn't believe my eyes because I saw a two-level freeway," he said.
After moving to Houston, Texas, he joined the Houston Community College and studied English.
Dang got to work at a flea market repair stall, earning about $100 per month. By 1998, he had his own mall store (named TV Jewelry — T for Tuan, Johnny's Vietnamese name; V for Vietnam).
…To creating his own designer jewelry empire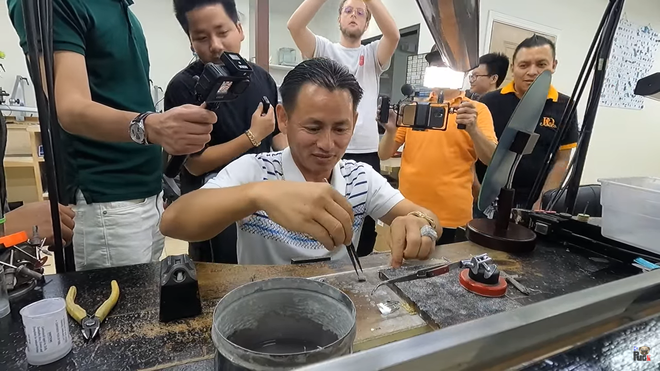 Photo Soha
While repairing jewelry in the flea market, Dang met rapper and entrepreneur, Paul Wall. Wall was impressed by Dang's ability to make grills which didn't require the filing of teeth, which was the common practice at the time, and Wall had the connections and insight in the industry that helped Dang break into the hip hop scene. And so their partnership began, and continues to this day.
Dang asserts that his unique ideas for grill styles and trends are what catapulted their popularity, as grills became much more prevalent in hip hop culture about two years after he started making them with Wall. Even early on, Dang tried to make things unique for each of his rapper clients, using things like round diamonds, different colored diamonds, and various embellishments that would make them look one-of-a-kind. These rappers served as powerful brand ambassadors for Dang and his craft in the early days, and they still continue to help expand his jewelry empire, both offline and online.
While Dang is the flag bearer for the South, IF & Co. is the jeweler to the stars on the West Coast. Co-founded by cousins Ben Yang (aka Ben Baller) and Steve Her (aka Slauson Steve), their customers have included Michael Jackson, Mariah Carey, and Drake, NBC News reported.
King of bling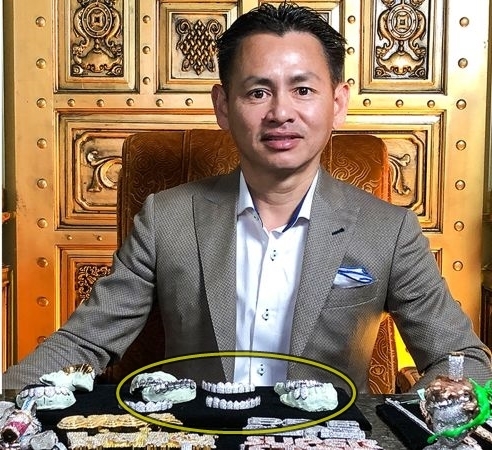 He is known as the king of bling. Photo Daily Motion
Just search "Johnny Dang" on Genius' lyrics database, and you'll see his name mentioned in dozens of popular rap songs, from award winning artists like Migos, Gucci Mane, Lil Pump, Keith Ape, Chief Keef, and many more. Dang is said to be the inspiration behind Nelly's 2006 hit song, "Grillz," which was the top song on the Billboard charts in 2006. You can actually see Dang dancing around in the background of the video if you watch closely.
The Instagram page of Dang's business, Johnny Dang & Co, is an endless stream of famous entertainers wearing Dang's jewelry, hugging him like family, and showing off giant smiles of diamond encrusted grills as they visit his 16,000 square foot shop resembling a small palace. Kanye West, Jay Z, Beyonce, Nicki Minaj, Lil Wayne, Cardi B, Rick Ross, and dozens (if not hundreds) of other big names are all loyal clients of Dang. Some fans have even tattooed illustrations of Dang on their body.
But Dang wasn't always known as the king of bling, with his golden palace of fine jewelry.
In 2004, Steve Her and Yang founded IF & Co. — which stands for "Internally Flawless," a grade of diamond clarity, as well as "Icee Fresh," a now-retired name — to focus on custom jewelry. Yang, once a music producer for Dr. Dre, had the celebrity contact list; Her had the jewelry business experience. According to James Her, "Ben started to notice, 'Hey, Steve's gaining traction catering to the same people that I'm connected to. So why don't I just put two and two together and try to make 22 out of it?'"
Miley Cyrus, Katty Perry, Snoop Dogg and Beyoncé are Jonny Dang's regular customers.
Treat every customer like a celebrity, and don't try to rip celebrities off!

While Dang may have a long list of celebrity clientele, he trains all his staff at Johnny Dang & Co to treat all their customers with deep respect, as if they were all celebrities. He contributes this level of service, quality, and his constant innovation to his repeat customers, many of which have been with him for over 15 years now.

Dang also adds that it's important to "treat celebrities like everyone else." Meaning, "don't try to rip them off." While it may be tempting for businesses to jack up prices for customers with deep pockets, Dang says he charges the same prices for everyone. Obviously celebrities might have a bigger budget for a bigger chain or adding more diamonds, but Dang isn't trying to cheat people to make an extra buck.
Who is Johnny Dang's wife?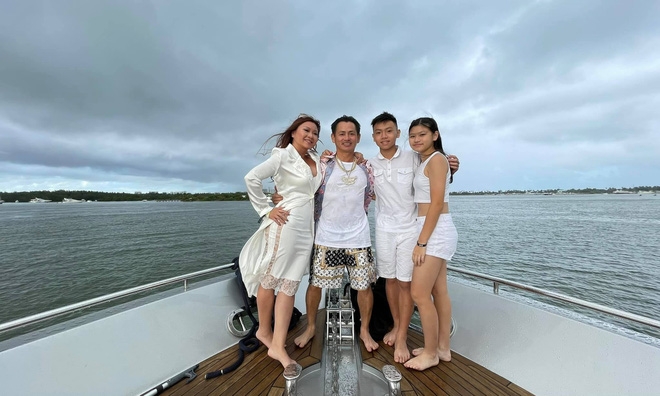 Johnny Dang and his family. Photo Soha
Johnny Dang is married to Jennifer Dang. The couple celebrates their marriage anniversary every year on August 14. Johnny and Jennifer share two kids; a son and a daughter. Their daughter turned 15 on September 6, 2020, and their son turned 14 on April 19, 2021. Johnny seems to be living a happy life with his wife, and two kids.
How much is Johnny Dang's net worth?
Through his unique and high-quality Jewelry designs, Johnny Dang has amassed a total net worth of around $20 million. He has been the favorite of many known hip-hop artists, and he has designed many unique designs for them. Johnny is also involved in charity works. He often hosts charity giveaways for kids in Texas and helps kids in Vietnam through his Charity organization, Johnny Dang Charities.
Well-known in Vietnam
Johnny Dang is also famous in Vietnam. Johnny Dang made the grillz sets for young rappers like Binz and Suboi. Before that, Dang collaborated with Vietnamese singers Ho Ngoc Ha and Tuan Hung.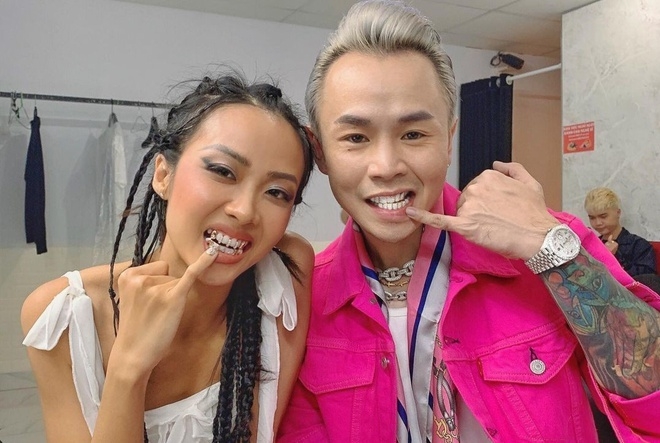 Rappers Subin and Binz also own grillz made by Jonny Dang. Photo courtesy of Binz
Rapper Hieuthuhai once mentioned Johnny Dang in the song "Crab" at the "King of Rap" show: ''You can call me Johnny Dang/Everything is made of gold''. Rapper MCK opened the his performance at Rap Viet with two rap sentences: "You're full of gold like Johnny Dang/More than 100 million in the bank, you're a money man".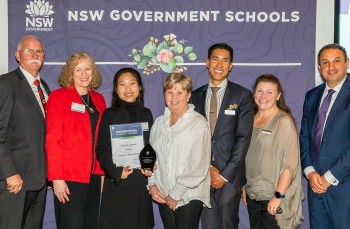 Overseas Vietnamese
The award for international students studying at New South Wales state schools (Australia) honors excellent ones from many countries, including a Vietnamese female student.