Who is Jungkook - Most popular K-pop Idol: Biography, Personal Life
Being the most searched K-pop Idol on 2 of the biggest platforms, Google and YouTube for years, it comes as no surprise that BTS's Jungkook is the most popular K-pop Idol on Pinterest.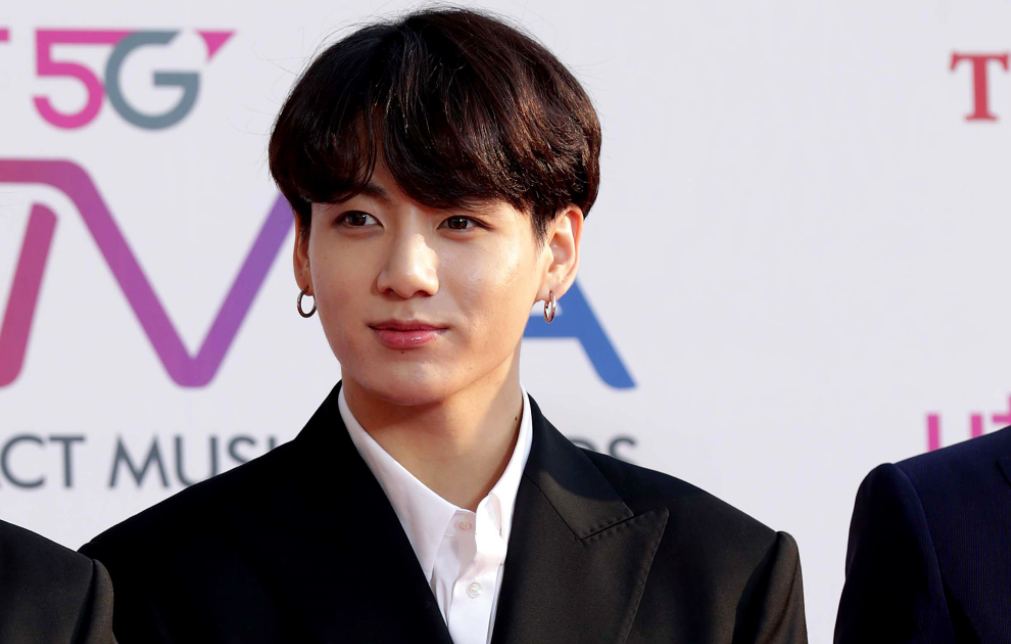 Photo: NBC
Jungkook's Biography
Jungkook, whose real name is Jeon Jeong-guk, is the lead vocalist, dancer, and rapper of the South Korean musical band, Bangtan Boys or BTS. He is the youngest member of this hip-hop group which also has Kim Taehyung, Rap Monster, Jimin, Jin, Suga, and J-Hope, according to The Famous People.
Having been a part of BTS since 2013, the young man is popular amongst the youth and is known to uplift the audience during concerts with his raps and dance moves. Jungkook is extremely talented and this is the reason that despite being so young he has received a huge fan following as well as popularity not just in South Korea but other Asian countries as well. Most of his songs and videos have become huge hits. Besides being a talented singer, rapper, and dancer, Jungkook has a charismatic personality. His attractive looks have also contributed to his success.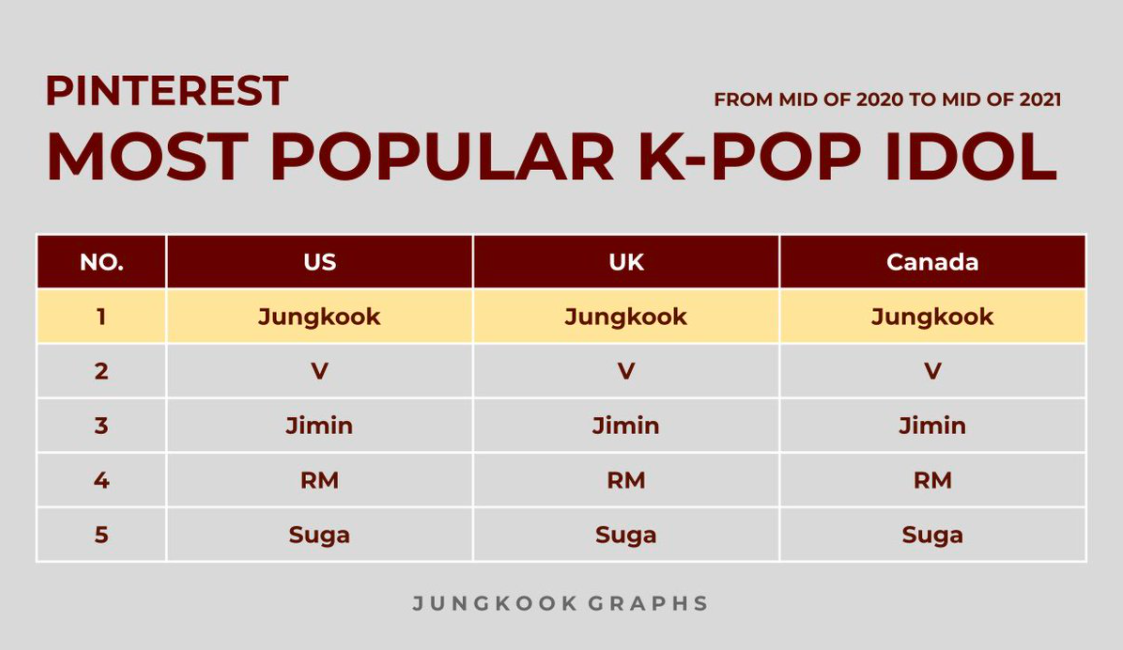 Photo: Jungkook Graphs
Jungkook's Early life & Education
Jeon Jung-kook was born on September 1, 1997, in Busan, South Korea. He attended Baekyang Elementary and Middle School in Busan. When he became a trainee, he transferred to Singu Middle School in Seoul. Jungkook initially had dreams of becoming a badminton player when he was young but seeing G-Dragon perform "Heartbreaker" on television, influenced him to want to become a singer.
In 2011, Jungkook auditioned for the South Korean talent show Superstar K during its auditions in Daegu. Though he was not selected, he received casting offers from seven entertainment companies. He eventually chose to become a trainee under Big Hit Entertainment after seeing RM, now his fellow band member and leader in BTS, perform. To work on his dance skills in preparation for his debut, he went to Los Angeles during the summer of 2012 to receive dance training from Movement Lifestyle.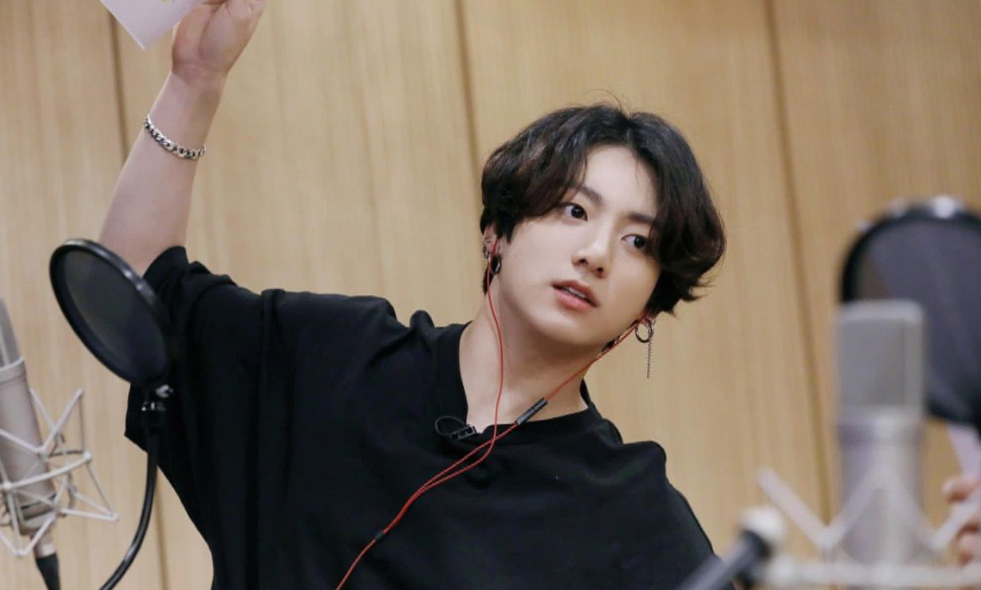 Photo: Pinterest
Career & Achievements
At the age of 13, Jungkook gave the audition for the television talent show 'Superstar K' but was rejected. Fortunately, on his way home, he got offers from eight different talent agencies. He was soon signed by Big Hit Entertainment.
In the year 2013, he became a part of BTS and released his debut song 'No More Dream' for the album '2 Cool 4 Skool'. After this, Jungkook, along with his bandmates, released several hit albums and songs. The band has also done innumerable stage shows and has even toured across several countries. The band's success can be perceived from the massive fan following and international popularity it has received. Note that the boy band has also been honored with several awards to date. Some of the awards it has earned are Melon Music Award, Golden Disk Award, Seoul Music Award, and Bonsang Award, to name a few.
He collaborated with some other Korean singers as well as political leaders for the song 'One Dream One Korea'. This song depicts the relationship between South Korea and North Korea and the longing for the unification of the two nations. Also, Jungkook was featured in Jo Kwon's music video 'I'm Da One' in 2012.
Jungkook has appeared in many TV shows as well. He appeared in three episodes of 'BTS China Job' in 2014. Two years later, he did a few TV projects including, 'Flower Boy Bromance', 'Special MC in Music Core', and 'National Idol Singing Contest'. Also in 2016, the singer cum dancer became a part of the 'Flower Crew' reality program along with the likes of Jo Se-ho, Yoo Byung-jae, and Ki Min-seok.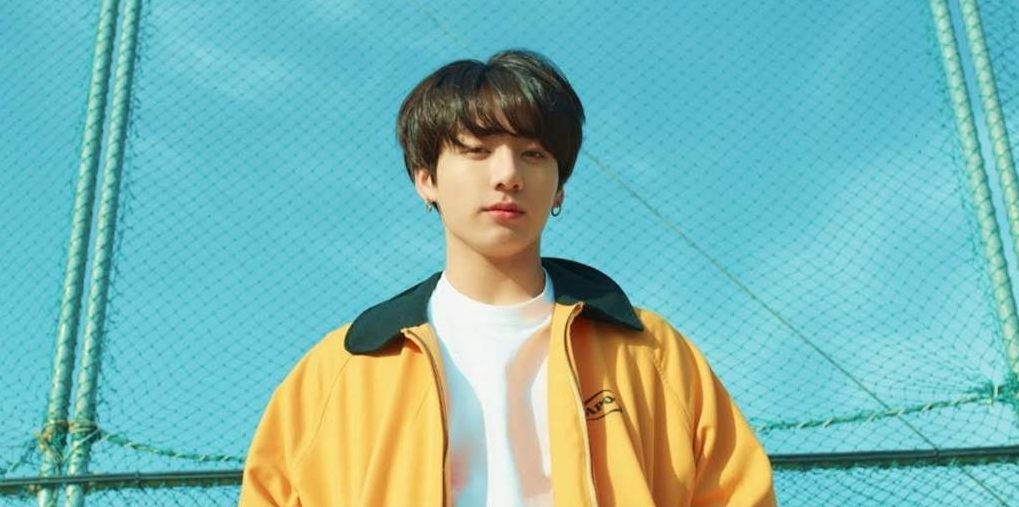 Photo: Amino
Jungkook's popularity on social media
In a 2019 survey conducted by Gallup Korea, Jungkook ranked as the third most-loved celebrity of the year in South Korea. He debuted on the list in 2016 at 20th, then ranked 17th in 2017, and then 8th in 2018. In 2018, Jungkook placed first for 10 weeks in a row for the magazine Hi China, under the most beloved celebrities list in China. Jungkook is also extremely popular on social media amongst fans. In December 2018, a video of him singing in the studio became the most retweeted tweet in South Korea that year.
According to All Kpop, Jungkook is popular on Twitter and trending almost every day, with millions of mentions to his name on the platform. Holding the record for the Most Liked Tweet and the Most Retweeted Tweet of BTS' Official Twitter account, Twitter becomes another platform proving Jungkook's popularity.
On TikTok, Jungkook holds the highest view count in his individual hashtag.
On Instagram, Jungkook's name is the most related to the world 'K-pop,' and his hashtag holds the record for the second most used K-pop Idol hashtag, with just a million of a difference from the first. Two of his recent photo concepts for 'Butter' were the fastest to gain 1M likes among all members, showing his popularity there.
Jungkook's popularity has earned him the nickname "Sold Out King" as items that he is seen using often sell out quickly. Jungkook was 2019's most-searched male K-pop idol on Google according to their mid-year chart. He topped the chart again in 2020 and was the most searched K-pop idol on YouTube in 2019 and 2020.