Who Is Ryan Kaji – The World's Highest Paid Youtuber At The Age of Nine?
Ryan Kaji, a nine-year-old boy whose father is Japanese and mother is Vietnamese, earned USD 30 million in 2020 from unboxing and reviewing toys, becoming one of the highest paid Youtubers in the world.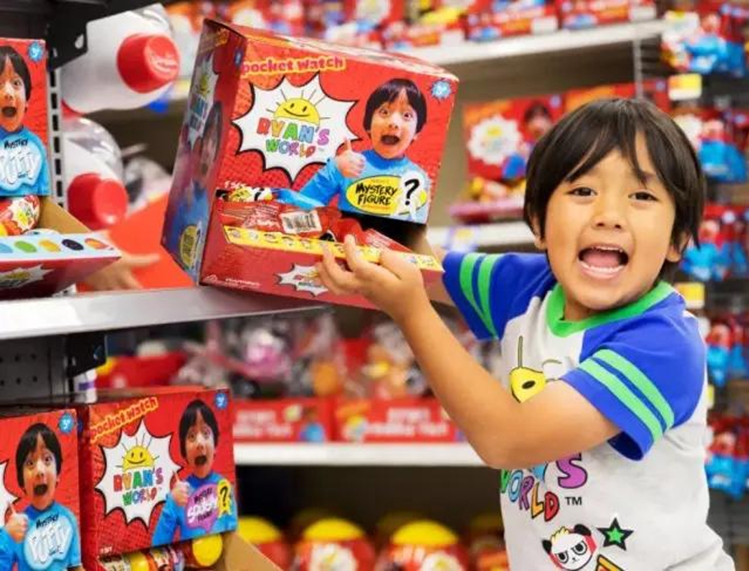 Ryan Kaji earned nearly $30 million from his channel in 2020. Photo Cyzone
How much does he earn from his own Youtube channels?
According to Forbes, Ryan Kaji earned nearly $30 million from his channel, which boasts 42 million subscribers and almost 13 billion views. Kaji's channel includes video reviews of new toys and home science experiments.
From 2016 to 2017, Kaji was able to earn more than $11 million in revenue through Ryan's World. And in 2018, he doubled his earnings with $22 million worth of revenue to become the highest-paid YouTube star in the world. The online sensation continued to dominate the video platform in 2019 after earning $26 million. In 2020, Kaji's channel earned $30 million, solidifying his place at the top of highest-paid YouTube stars for the third year in a row.
Kaji, who is described as a "child influencer", first began making YouTube videos in March 2015 after watching other toy review channels and asking his mother, "How come I'm not on YouTube when all the other kids are?"
Who are Ryan Kaji's parents?
Loann Kaji, Ryan Kaji's mother, was born Kieu-Loan Thi Nguyen in 1984. She grew up in Houston, Texas, the daughter of Vietnamese immigrants. Not much is known about her childhood, but we do know that she attended college at the University of Houston.
Loann continued her studies at Texas Tech University, and it's there she met fellow student Shion Guan in 2009. Guan was enrolled in the university's civil engineering program, and left his native Japan in order to attend school on the US.
After Ryan was born and Kaji and Guan got married, they settled into life Texas. Guan worked as a structural engineer, and Kaji was working as a chemistry teacher at a local high school. She was also certified to teach English as a second language.
It's hard to say exactly what Kaji's personal net worth is. As Ryan's mom, and co-creator and manager of the channel and associated businesses, she obviously takes a cut of the money they make. Ryan's net worth is estimated to be around $26 million. Aside from the channel, which still puts out new content on a daily basis, the family also has an exclusive licensing deal with brand licensing company Pocket.watch.
How did Ryan Kaji start his first Youtube videos?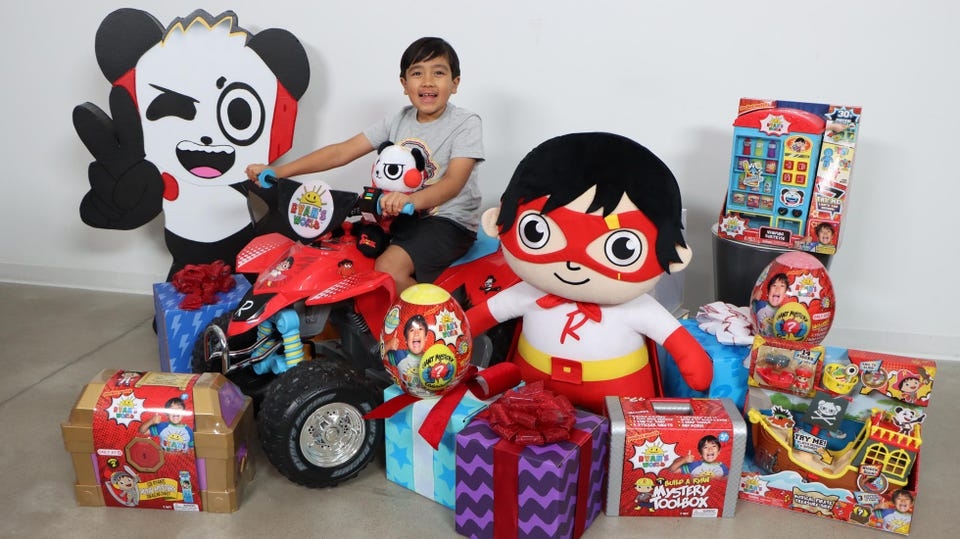 Kaji's content has focused on educational videos like DIY science experiments and at-home workouts. His place at the top of our annual list of highest-paid YouTube stars. Photo courtesy of Ryan Kaji
In 2015, Ryan's mother Loann and father Shion created Kaji's toy channel (later renamed Ryan's World) in the same year, and uploaded some videos of Ryan's toys unpacking, playing with toys, and doing scientific experiments at home.
At first, they thought it was just a child's hobby, a joy to be able to share life with children from other countries.
But within a year, Kaji's channel turned out to be one of the most popular children's channels on YouTube.
Kaji's rise on YouTube made sense as his parents established the channel during the 'unboxing' craze on YouTube. Furthermore, Kaji was this smiling, effervescent kid, doing kids' stuff without uttering bad words or banter. He appealed to children and their parents alike. However, Kaji's father told Business Insider that it didn't make sense to him that so many people watched Ryan's homemade videos.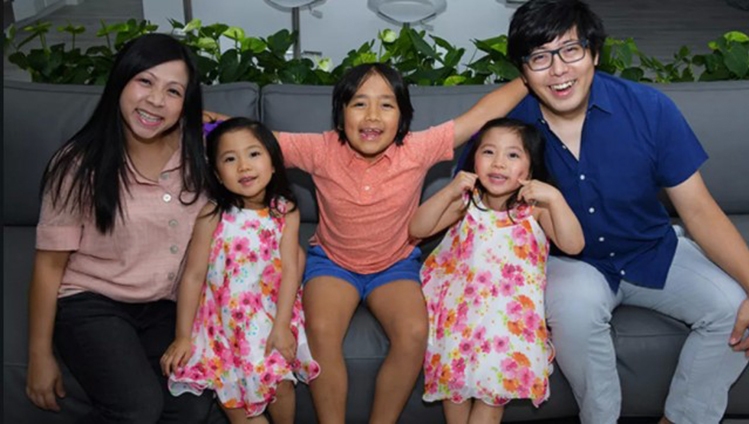 Kaji, his parents and his twin sisters. Photo Cyzone
"More than just in the US, we see that growth globally. At first, I was very confused and surprised to see our homemade-quality videos being watched by so many kids around the world," he said.
Kaji's parents celebrated the channel's success, but at first, they wanted to stay away from the limelight. They came up with the name 'Kaji' so people couldn't find out their real last name. They participated in interviews, but they always declined to have their names published. Ryan's parents also kept their home a secret until September 2019, when The Daily Mail reported their home to be in a gated community in Cypress, Texas.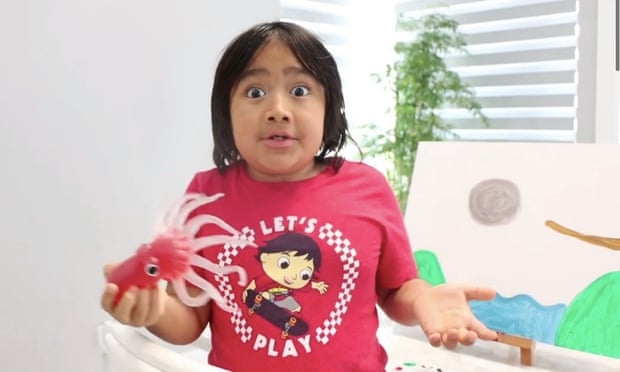 Ryan Kaji 'unboxes' and reviews toys on his YouTube channel. Photo Ryan's World
However, as Kaji's brand continued to grow, the boy's parents revealed their identities. In reality, they had no choice because, as a child, Kaji needs adults to handle the business side of things while he smiles at the camera and attracts more subscribers.
Kaji's most popular video, Huge Eggs Surprise Toys Challenge, has more than 2bn views, making it one of the 60 most-viewed videos ever on YouTube, the Guardian reported.
Ryan's parents quit their jobs as a structural engineer and a high school teacher to help their son develop channel content. This began to change from a hobby to a family career.
Now, the production company Sunlight Entertainment established by Ryan's parents has grown into a 30-person team consisting of producers, editors, animators and voice actors.
The young online sensation has an estimated net worth of USD 32 million, according to Celebrity Net Worth.
Foundation of an entertainment company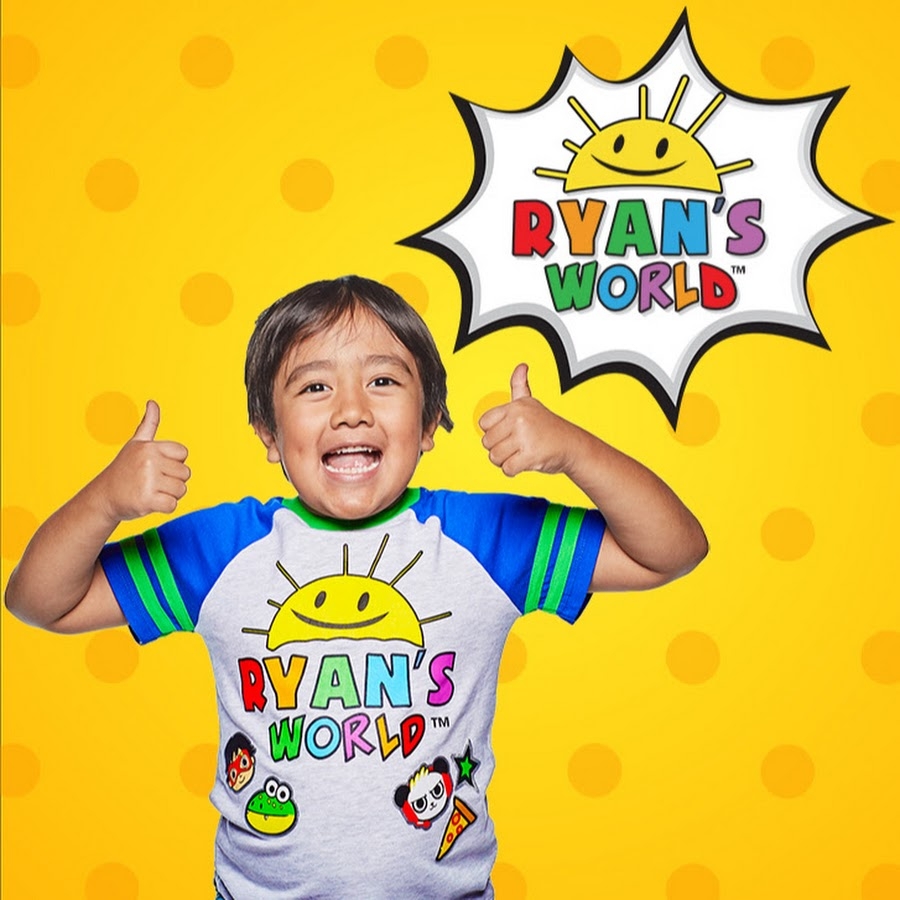 Ryan Kaji acts confidently in front of cameras. Photo Tyson Wiki
Due to their YouTube success, Kaji's family was able to found Sunlight Entertainment, which manages all of their channels. In 2020, the young star was reported to be the first YouTuber featured in the "Macy's Thanksgiving Parade." A giant float based on Kaji's superhero alter ego was seen making its way through the crowd filled streets in November 2020, Forbes cited.
Other than his YouTube channel, Kaji also earned an estimated $200 million from Ryan's World branded toys and clothing, according to The Guardian.
Kaji's parents also landed sponsorship and merchandising deals with Walmart and Target. They are planning to release a new footwear line in coordination with Skechers USA, Inc. this year, Bloomberg reported.
About Sunlight Entertainment

Sunlight Entertainment is Ryan Kaji's family-owned and operated production company that develops family-friendly content, and is driven to help kids learn. Founded in 2017, Sunlight Entertainment was created by Ryan and his family to help streamline the workflow of one YouTube's largest kids' channels, Ryan's World.

Sunlight Entertainment continues to grow and currently manages eight YouTube channels: Ryan's World, Ryan's World Español, EK Doodles, Ryan's Family Review, Vtubers, Combo Panda, Gus the Gummy Gator and The Studio Space. The company employs a 30-person team of videographers, editors, animators, writers and voice actors to help produce live action and animated content — releasing about 25 videos a week. Currently, Ryan's World has rapidly evolved from a toy review YouTube channel to a global kids play and entertainment brand through digital and broadcast entertainment, toys and consumer products.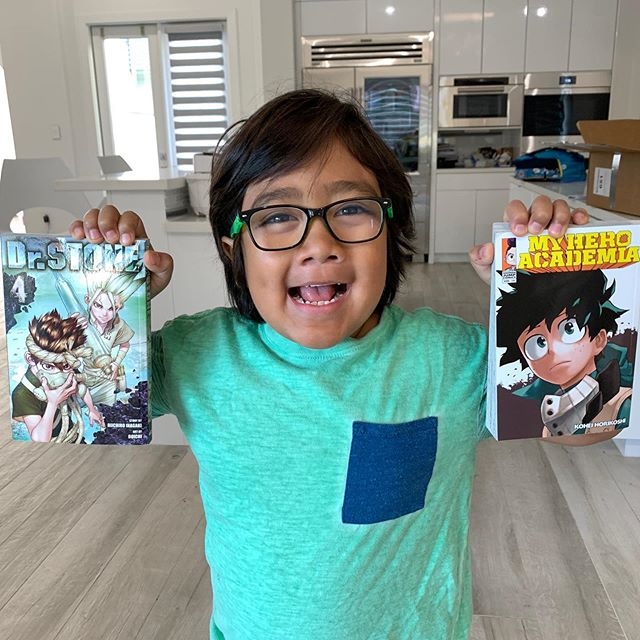 Ryan Kaji reviews comics. Photo Austine Media
In spite of being a millionaire before he could count his age in double digits, Kaji hasn't lost sight of his real dreams: "I want to be a gamer," he says, before his dad, Shion, cuts in and explains that he's also learning how to code — and that the earnings are in trusts that he can't touch until adulthood. Until then, he still has to fight his parents for screen time, including on You Tube.
Kaji's father said "Right now, he loves making videos. Every time I tell him we're going to film, he gets so excited. As long as he's loving it and it doesn't disrupt his daily routine, we plan on continuing. But the moment he's not having fun anymore, that's when it will be time to stop."
Ryan isn't the only child YouTube star in the family. His twin sisters, Emma and Kate, started their YouTube journey way earlier compared to when Ryan first appeared on camera.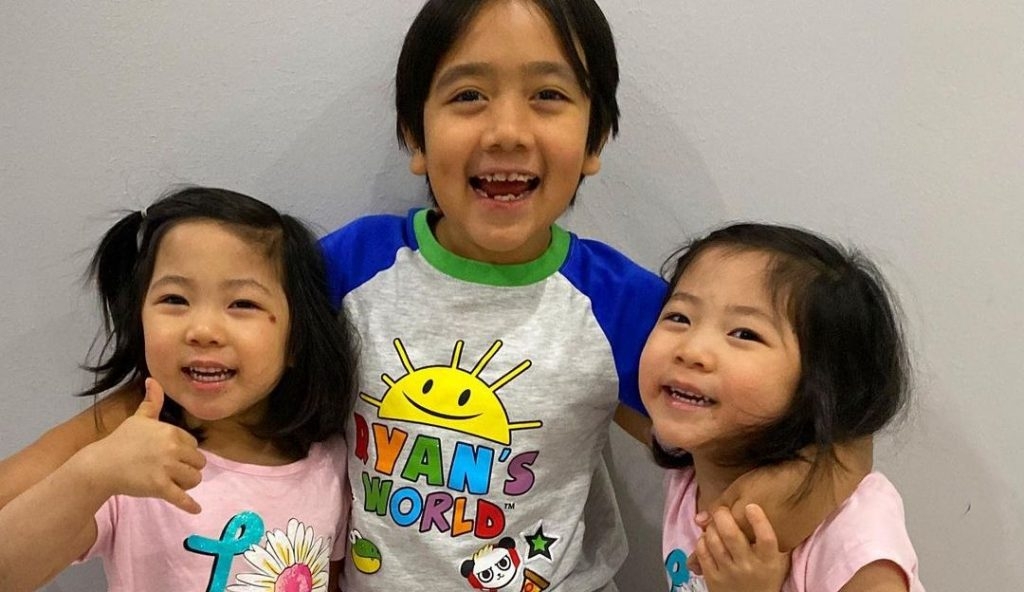 Photo The Netline
YouTube channels owned by Ryan Kaji and his family:
Ryan ToysReview/Ryan's World: 30 million subscribers
Ryan's Family Review/ Kaji family: 7.48 million subscribers
The Studio Space: 2.45 million subscribers
Combo Panda: 1.87 million subscribers
VTubers: 1.96 million subscribers
Gus the Gummy Gator: 1.22 million subscribers
EK Doodles: 603,000 subscribers