Who is Kim Hong-Bin: South Korea Paralympian Missing After Fall From Pakistan Mountain
On Tuesday, Kim Hong-bin, a South Korean climber fell into a crevasse over the weekend in bad weather after scaling a mountain peak in northern Pakistan and has not been found.
A South Korean Paralympian has gone missing after a fall from the world's 12th highest mountain, the 8,047-metre (26,400 foot) Broad Peak in Pakistan's north Karakoram Range, the Alpine Club of Pakistan has said.
Kim Hong-bin, 57, who represented his country in Alpine skiing at the 2002 Winter Paralympics in Salt Lake City, had reached the summit with other climbers on Sunday, but met bad weather on the way down, the club said on Tuesday.
Mr Kim, who had all his fingers amputated after suffering severe frostbite while climbing in Alaska in 1991, reached the summit of Broad Peak on Sunday as part of an expedition organised by a small group, the Korea Herald reported.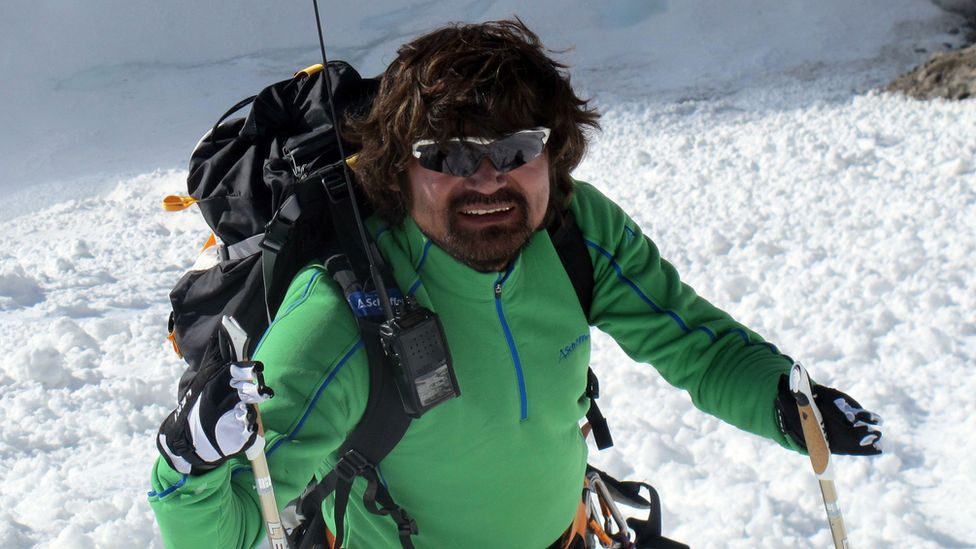 Photo: Alamy
The climber is believed to have later slipped and fallen while descending the Chinese side of the mountain in poor weather, the secretary of the Pakistan Alpine Club, Karrar Haidri, said.
"Since then no information is available about him," he added, telling the Associated Press that planned search efforts on Tuesday included help from the South Korean embassy in Islamabad.
"The rest of the group looked for him, but could not stay up there, and had to come down," Karrar Haidri, head of the Alpine Club, told Reuters news agency.
"A search operation is currently being put together, and when the weather permits, helicopters will join the effort."
South Korean President Moon Jae-in said in a Tweet he would hold on to the hope of finding Kim alive and await his safe return.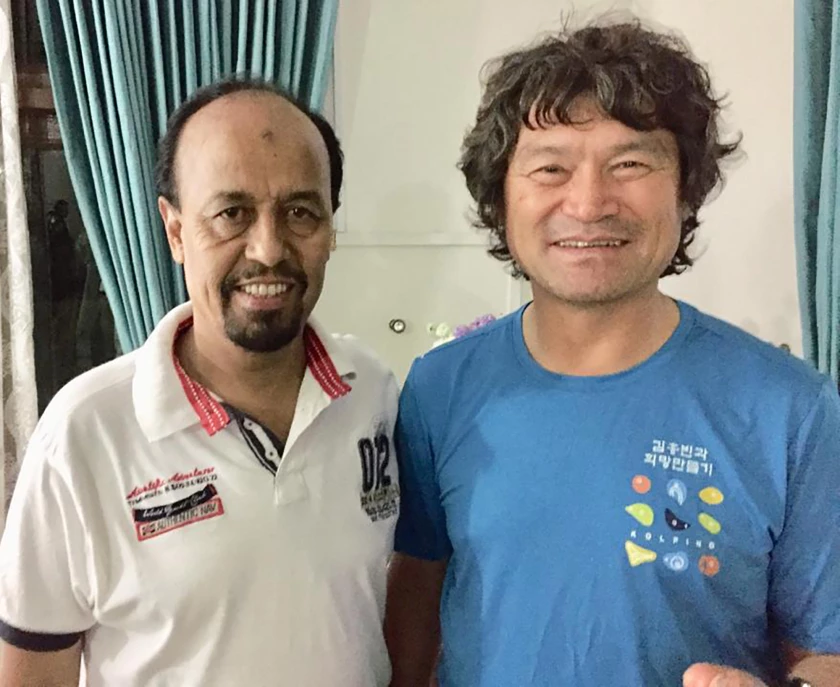 The Pakistan Alpine Club's secretary, Karrar Haidri, left, with South Korean climber Kim Hong Bin in Islamabad, Pakistan.(Pakistan Alpine Club)
Broad Peak was the final summit in Kim's quest to climb the world's 14 tallest mountains, called the "Eight-thousanders" because all are more than 8,000 metres. He climbed Mount Everest in 2007.
Moon's message came a day after his congratulatory comments to Kim as the first disabled person to have scaled all 14 peaks.
"Hong-bin is now the first person with a disability to climb all eight-thousanders in the world," Haidri said.
Kim lost all his fingers to frostbite in 1991 while climbing Mount Denali in Alaska. He then took up Alpine skiing, and also competed at national level in paracycling.
Helicopter takeoff expected
South Korea's foreign ministry asked Pakistan and China to help locate Kim, ministry spokesman Choi Young-sam told a briefing.
Both have agreed and Pakistan said a helicopter would take off as soon as possible, weather permitting, said Choi.
Rescue operations
Following a successful ascent, tragedy struck as the climbers made their way down. According to Korean media, Kim made a call back home using his satellite phone. "It's late at night. I stayed up all night in distress. It is very cold," he said.
A Liaison Officer (LO) report seen by Dawn.com says that on July 18, at around 8pm, Anastasia Runova, a female climber from Russia, fell into a crevasse during her descent from Broad Peak. "Her body remained hanging by the rope, blocking the descent of more than 15 climbers from various expeditions on top of Col (8,000m above on Broad Peak)."
"A rescue was coordinated with the climbers already available at Camp 3 to rescue the climber. At around 2:45am on July 19, she was successfully evacuated from the crevasse. As she was being brought down to Camp 3 at around 3am, Kim was understood to be in distress. Another rescue was coordinated."
Two British climbers Peter Brittleton and Paul Etheridge, two Russians Anton Pugovkin and Vitaly Lazo and three local high-altitude porters (HAPs) Muhmmad Hussain, Mohammad Yousaf and Imtiaz Sadpara began searching for Kim.
"At around 11am, Vitali discovered that Kim had fallen through a crevasse overhanging the Chinese side of Broad Peak near the main summit Col at approx 7,800m elevation."
According to sources, the Korean mountaineer was found hanging by a rope and unable to move up or down, but "appeared conscious and responsive".
Sources said that during the rescue effort, Kim did not comply with all of the rescuers instructions — perhaps due to language barriers.
"At some point during the rescue, Kim got detached from the rescue rope, and subsequently fell and disappeared down the steep face on the Chinese side of the mountain. Vitaly and the rescue team searched the upper face but could not find any sign of Kim. The rescuers noted the fall down the Chinese face was not survivable," the report added.
Talking to Dawn.com, Alpine Club of Pakistan secretary Karrar Haidri said Korean diplomats were on their way to Skardu. "A search operation will be carried out in the coming days. Local high-altitude porters (HAPs) will be sent on the mountain."
A formal announcement will be made by the family and the Korean embassy in the coming days.
On behalf of the ACP and the Pakistani climbing community, Haidri said that Kim was a friendly and passionate man who must be remembered for his courage. "Over the years, he came to Pakistan many times. He loved this country and was looking forward to celebrating his 14 x 8000 success here as well as in Korea. The pandemic delayed his goal but finally he made it here."
A life without limits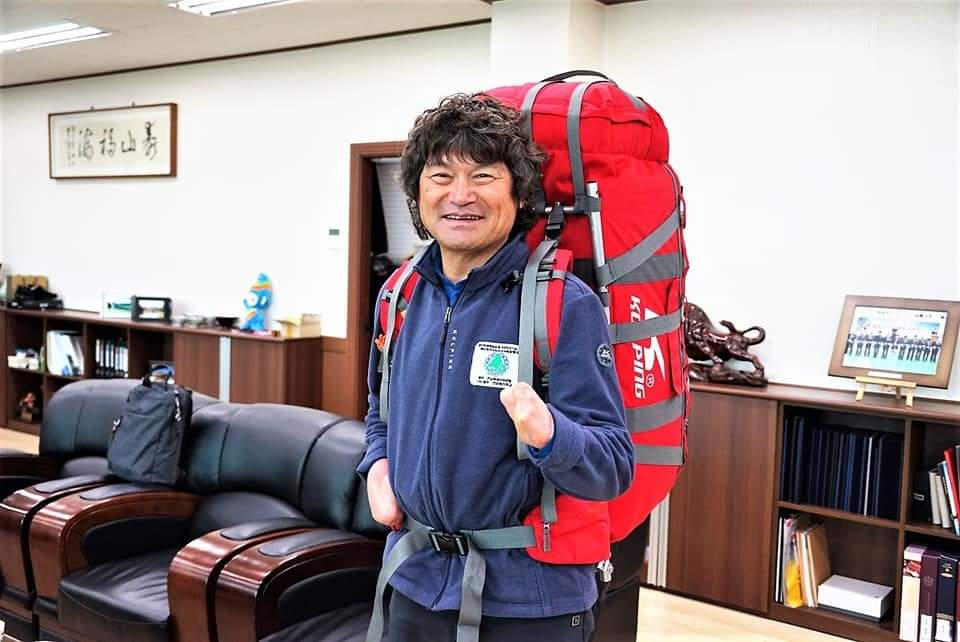 Photo: Getty Images
Born on Oct 7, 1964, Kim has been an avid climber for most of his life. In 1991, at the age of 27, he lost all his fingers due to frost bite during the solo ascent of Denali (formerly known as Mt McKinley) in Alaska, USA. However, the tragedy did not deter him from climbing and he continued to push the limits.
"If the accident at Mount McKinley had not happened, I would have remained an ordinary climber. The hardship made me challenge the seemingly impossible. I overcame the handicap a mountain gave me by climbing mountains," the climber said in an interview.
"I returned to Korea after three months of treatment at a hospital in Alaska, but it was impossible to live my everyday life without help from others. I couldn't even eat by myself. I was tempted to take my own life several times," Kim said.
However, with encouragement from his colleagues, Kim got back on his feet again and began training more rigorously than ever. "Since I cannot take advantage of climbing equipment such as ropes, sticks and an ice axe, I have to build up my physical strength."
Kim made a successful comeback as a mountaineer on Mount Elbrus, the highest peak in Europe (5,642 meters) in July 1997. Two months later, he scaled Mount McKinley, a bitter-sweet victory that tempted him to go for more. "I declared that I would conquer the highest peaks on all seven continents. People cheered me in my presence, but I know most were skeptical about my plan," Kim said.
Due to his handicap, Kim relied on help from fellow climbers or accompanying porters for very basic things like unzipping his pants to relieve himself, putting on socks and lacing his hiking boots. Still his spirits were up and he went on to do great feats. Over the years, the ambitious high-altitude climber competed for his home country at the Paralympics in Salt Lake City in 2002 and completed the Seven Summits.
He summited two 8,000ers — Gasherbrum II and Shishapanmga — in 2006 and since then there was no looking back. Sunday's successful ascent was the last peak he needed to complete the 14 x 8000.
For many, hearing stories of climbers getting into life threatening situations may seem like a death wish. But to climbers it's a feeling that is hard to explain.