Who is Matt Hancock - UK former health secretary resigns for kissing scandal?
Matt Hancock, UK Health Secretary announced his resignation on June 27, a day after apologising for breaching social distancing rules.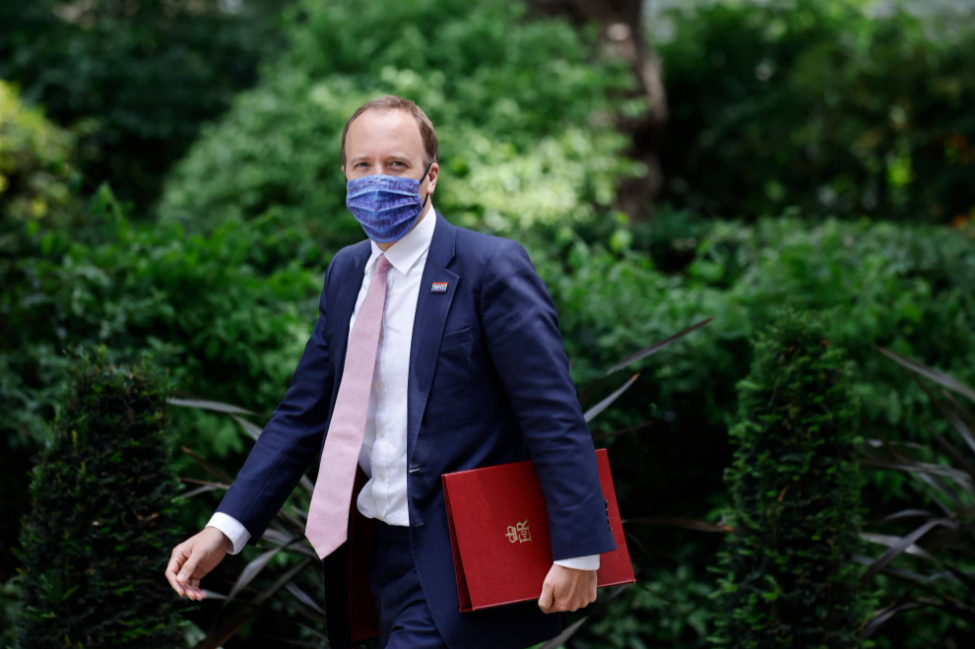 UK Former Health Secretary Matt Hancock. (Photo: The Japan Times)
Matt Hancock - Biography & Career
Matthew John David Hancock (born 2 October 1978) is a British politician who served as Secretary of State for Health and Social Care from 2018 to 2021. Before entering politics, Matt worked for his family business, as an economist at the Bank of England, and as Chief of Staff to the Shadow Chancellor of the Exchequer. He holds degrees from Oxford and Cambridge Universities.
According to UK Government's website, Hancock was Secretary of State for Digital, Culture, Media, and Sport from 8 January 2018 to 9 July 2018. He was previously Minister of State for Digital from July 2016 to January 2018.
Matt was elected Conservative MP for West Suffolk in May 2010. From 2010 Matt served as a backbencher on the Public Accounts Committee and the Standards & Privileges Committee. Matt entered government in September 2012 and has served in a number of Ministerial Roles, including for skills and business, and as Paymaster General. He oversaw the expansion of apprenticeships and championed the digital transformation of government. From July 2016 he served at DCMS as Minister of State for Digital and was responsible for broadband, broadcasting, creative industries, cyber, and the tech industry.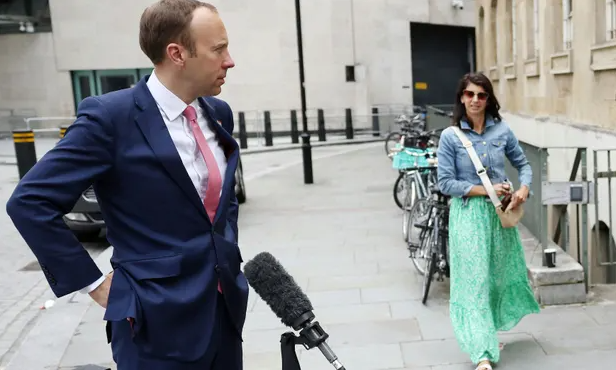 Matt Hancock and Gina Coladangelo stand outside the BBC headquarters in London. (Photo: Henry Nicholls/Reuters)
Matt Hancock - Personal Life
Hancock married an osteopath, Martha Hoyer Millar, in 2006, and together they have three small children, a daughter, and two sons as well as a dachshund called Hercules. With noble connections, Martha, is the granddaughter of Frederick Millar, 1st Baron Inchyra, a British diplomat who served as Ambassador to West Germany from 1955 to 1956. Baron Inchyra had four children, two sons, and two daughters, their youngest, Dame Annabel Whitehead, was a Lady-in-Waiting to Princess Margaret and later to the Queen, according to Tatler.
It has been revealed that after Hancock received a call from the Sun on Thursday 24 June, detailing the CCTV leak and the story they had got hold of, that he went home and told his wife, putting an end to their 15-year relationship. Friends told the Times that his relationship with Coladangelo is a 'love match' and that they are likely to set up a home together.
Gina Coladangelo - Who is she?
The health secretary Matt Hancock has been accused of having an affair with a close friend, Gina Coladangelo, acting as a taxpayer-funded adviser to his department. The woman accused of having an extramarital affair with Matt Hancock has been a close friend of the health secretary for more than 20 years.
The former lobbyist - who is married to the founder of fashion brand Oliver Bonas - was initially taken on as an unpaid adviser at the department on a six-month contract in March 2020, before being made a non-executive director. Sky News reported in November that Hancock had failed to declare he had appointed Coladangelo before giving her a £15,000-a-year role on the board. Coladangelo and Hancock have been friends since they attended Oxford University together. The Sunday Times said: "Before Matt does anything big, he'll speak to Gina. She knows everything."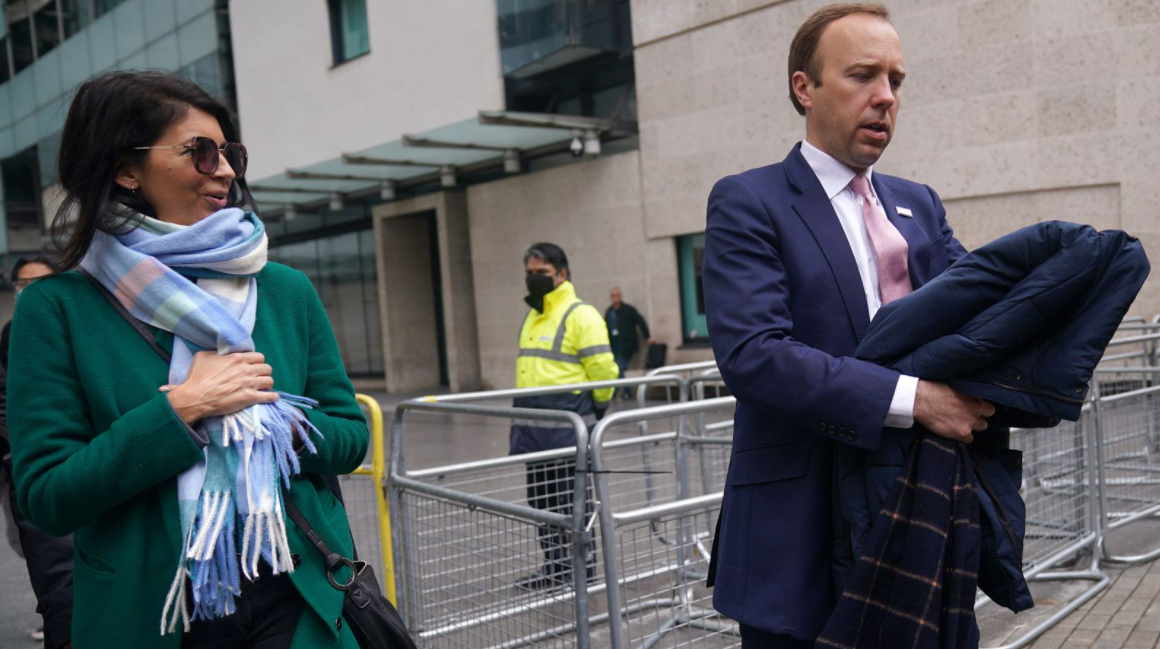 Matt Hancock and Gina Coladangelo. (Photo: Sky News)
Hancock's kissing scandal - Why he had to resign?
On June 25, UK tabloid The Sun published photographs—that it claims were taken on May 6 from a CCTV camera—of Hancock kissing Coladangelo at his office. "Matt Hancock has been caught having a secret affair with his top aide," ran a caption to one of the photographs published by The Sun.
According to the tabloid, whistleblowers have revealed that the former health secretary had been spotted cheating on his wife of 15 years by having an affair with Coladangelo, who is also married.
It was not only the kissing but Covid-19 restriction measures that matter. As of now, across the UK individuals are required to maintain a distance of at least two meters from people they are not meeting. However, people can choose to have contact with friends and family. For employers, the Health and Safety Executive (HSE) has said that while people should maintain a distance of two meters. But "if it is not viable, keeping 1m apart with risk mitigation is accepted".
Apart from this, the UK government has said that people in workspaces should "maintain social distancing guidelines wherever possible". The guidelines state, "These are 2 meters or 1 metre+ with risk mitigation where 2 meters is not viable. This includes when they arrive at and depart from work, while they are in work, and when they travel between sites." It also emphasizes that social distancing applies to all parts of the business which includes entrances and exits, break rooms and canteens, and other such settings.
Significantly, at the time this purported photograph was taken, England was in Stage 2 of Covid-19 restrictions, which means that more than two people could not gather indoors. For workspaces, more than two people could gather indoors but only if it was considered necessary. After the incident came to light, Conservative MPs, ministers and a group called Covid-19 Bereaved Families for Justice demanded that Hancock be sacked by the government. This, along with public anger, built pressure on Hancock to resign.
Hancock's registration finalized
Matthew Hancock, 43, who replaced Jeremy Hunt as Health Secretary on July 9, 2018, to become UK Secretary of Health, stepped down last weekend. Sajid Javid took over his position.
In a letter to the UK Prime Minister Boris Johnson dated June 26, Hancock wrote, "The last thing I would want is for my private life to distract attention from the single-minded focus that is leading us out of this crisis. I want to reiterate my apology for breaking the guidance, and apologize to my family and loved ones for putting them through this."