Ukrainian woman spends 20 years in Vietnam to nurse sick husband
When her husband was completely paralyzed due to a stroke, Svetlana Nguyen sold her assets and flew to Vietnam to took care of her husband while raising three children.
Hanoi's heat in mid-June is almost unbearable. In the hospital, Svetlana Nguyen uses all her strength to move her husband to a wheelchair.
Wiping sweat from her face, the blonde Ukrainian whispers to her husband "we will move to a new hospital, Papa" and gently holds his hand. Thang glances at her even though he cannot speak. Svetlana is elated. She knows he is gradually recovering. Almost 20 years have passed since Thang first suffered the stroke. By now, Svetlana is used to spending more time at the hospital than at home.
"Sometimes I feel I cannot go on, but whenever I look at my husband and children, I am motivated to strive forward," Svetlana says.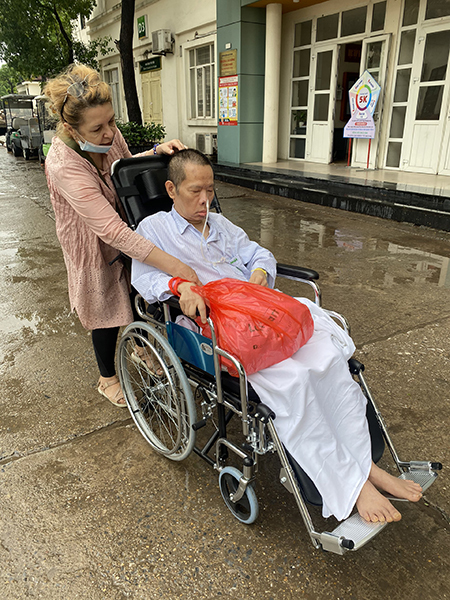 Svetlana Nguyen and Nguyen Van Thang at the hospital. Thang suffered four strokes in the past 20 years. Photo:

Suzana Nguyen.
Their love blossomed in 1988 when Svetlana and Thang met at the Kiev Customs Office. They married two years later. The young Vietnamese decided to stay in Ukraine. In 2000, he told his family he would back home to develop his business so he could bring his wife, nine-year-old daughter and two sons to Vietnam.
A year later, Svetlana was informed that her husband had suffered a stroke. He was alive, but his body was completely paralyzed.
"I cried like I had never cried before. I felt so desperate, but I told myself to keep it together. Maybe a miracle could happen," the 55-year-old woman recalled. "We had to try our best no matter what. We came to each other with love when healthy, so we should treat each other with love in sickness."
Svetlana could have never foreseen the difficulties she would have to face when she married Thang 30 years ago.
Every day, Svetlana wakes up early to prepare meals for the entire family, then massages her husband's limbs to relieve his pain. Svetlana had to carry him on her shoulders to put him in chair. She does this so that Thang will not suffer from bedsores.
There were times when both her husband and children were sick. Svetlana burst into tears from exhaustion. When her tears dried, Svetlana came back to work because she was the breadwinner of the family. Svetlana only returned home once in the past 20 years to sell her assets and even her engagement ring to have money to cure Thang's illness.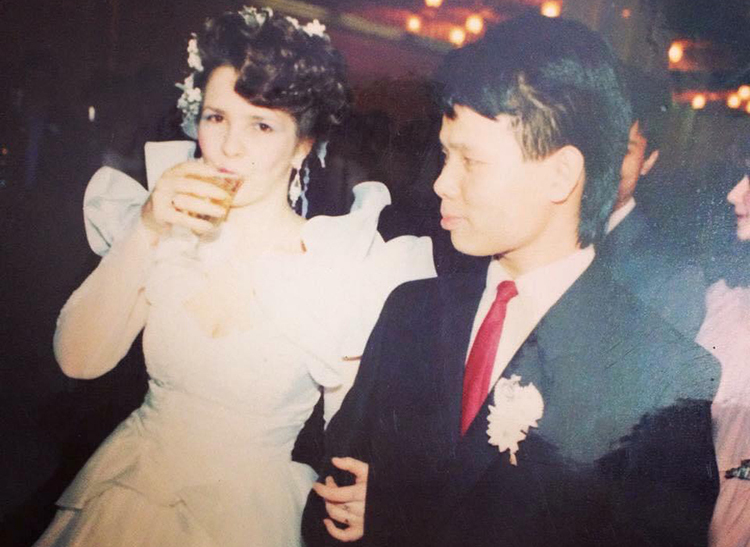 Svetlana and Thang's wedding in Kiev. Photo: Svetlana Nguyen
Seeing her struggling, Svetlana's friends told her to come back to Ukraine and start a new life, but Svetlana said "we are still together because we love each other. If I leave, who is going to take care of him?" Thanks to her efforts, Thang's health gradually improved. After two years, he could walk and do certain activities without help.
As their family's savings kept depleting, Svetlana decided to find a job. With assistance from her in-laws and friends, Svetlana opened a coffee shop on Ngoc Khanh Street, Hanoi, in 2004. Her two children had to spend half a day helping Svetlana at the shop because they could not afford staff.
Svetlana's shop sometimes welcomed fellow Ukrainians and former students of the Soviet Union, who suggested she offer Ukrainian food.
When expanded the shop, the life of the family of five became better. Her three children no longer had to wear old clothes donated by others, and she did not need to borrow money to cover Thang's medical costs. Svetlana managed to send all her children to university. Her youngest son is studying in Canada, while the other two have opened a Russian restaurant in Ho Chi Minh City.
Natalia, a friend of Svetlana and Thang, said she admired the Ukrainian woman's positivity and determination. "To pay for Thang's medical costs, she has been working non-stop. Last Easter, sometimes she had to work until 2 a.m. to complete customer orders, then went to the hospital in the morning. Not once did she show any signs of exhaustion," Natalia said.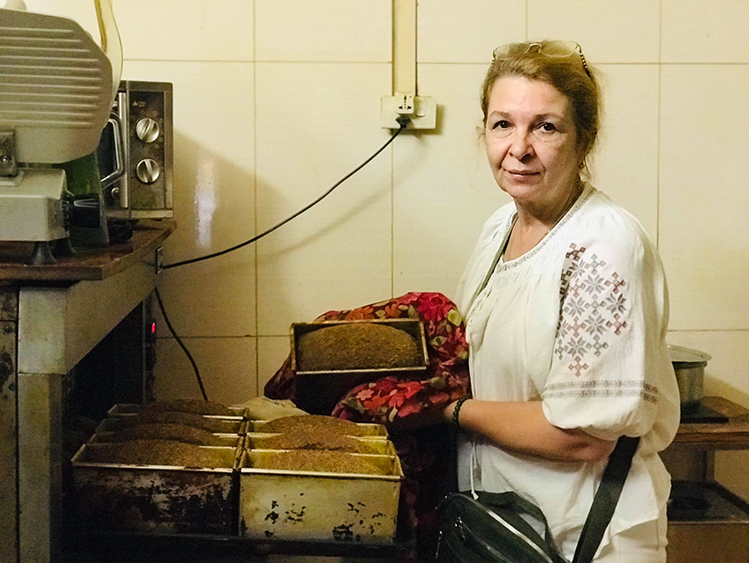 Svetlana Nguyen standing next to a batch of newly baked traditional Russian black bread. Photo: Hai Hien
Life keeps challenging the Ukrainian woman.Thang has been continuously admitted to the hospital and has had four strokes in the last 20 years. In February 2021, he suffered from heart failure, brain congestion and a stroke at the same time. Covid broke out in Hanoi in late April, so his family was not allowed to take care of him at the hospital.
There were times when he was unconscious for days on end, so his doctor told her he might not make it. Svetlana broke down, feeling as if her efforts were in vain. When possible, she held Thang's hands and told him about their love and children. He responded to her once and held her hands tightly. Svetlana was determined to request continued medical treatment for her husband. "I always believe he will recover one day," she told Thang's doctor.
With Thang hospitalized, Svetlana takes care of everything at home. She wakes up at 5 a.m. to visit him, then works at the family's restaurant until midnight. When restaurants in Hanoi had to close for over a month due to social distancing orders, the restaurant did not generate any profits. To pay for Thang's medical costs, she borrowed money from others, but never thought of giving up.
Twenty years are enough to change the appearance of a city and any human's course of life, but to Svetlana, her love for Thang remains unchanged. "I just want to grow old with him and spend the rest of our lives together," she says.
The Ukrainian woman hopes her husband will recover one day, so they can revisit Kiev, where they met and fell in love.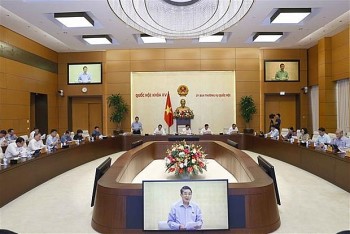 National
The National Assembly (NA) Standing Committee examined the draft revised Law on Protection of Consumer Rights on August 15 as part of its monthly session.