Who Is Oldest Person In History and At Present?
The history of mankind has been filled with amazing things. The World Guinness Record has named the oldest person ever lived in history and the oldest person alive in 2021.
Jeanne Louise Calment : The world's oldest person in history
The greatest fully authenticated age to which any human has ever lived is 122 years 164 days by Jeanne Louise Calment (France). Born on 21 February 1875 to Nicolas (1837 - 1931) and Marguerite (neé Gilles 1838 - 1924), Jeanne died at a nursing home in Arles, southern France on 4 August 1997.
According to Guinness World, she was born on 21 February 1875, around 14 years before the Eiffel Tower was constructed (she saw it being built), and some 15 years before the advent of movies. The year after her birth, Tolstoy published Anna Karenina and Alexander Graham Bell patented the telephone. Jeanne Louise Calment from France lived a quiet life. But an unprecedentedly long one.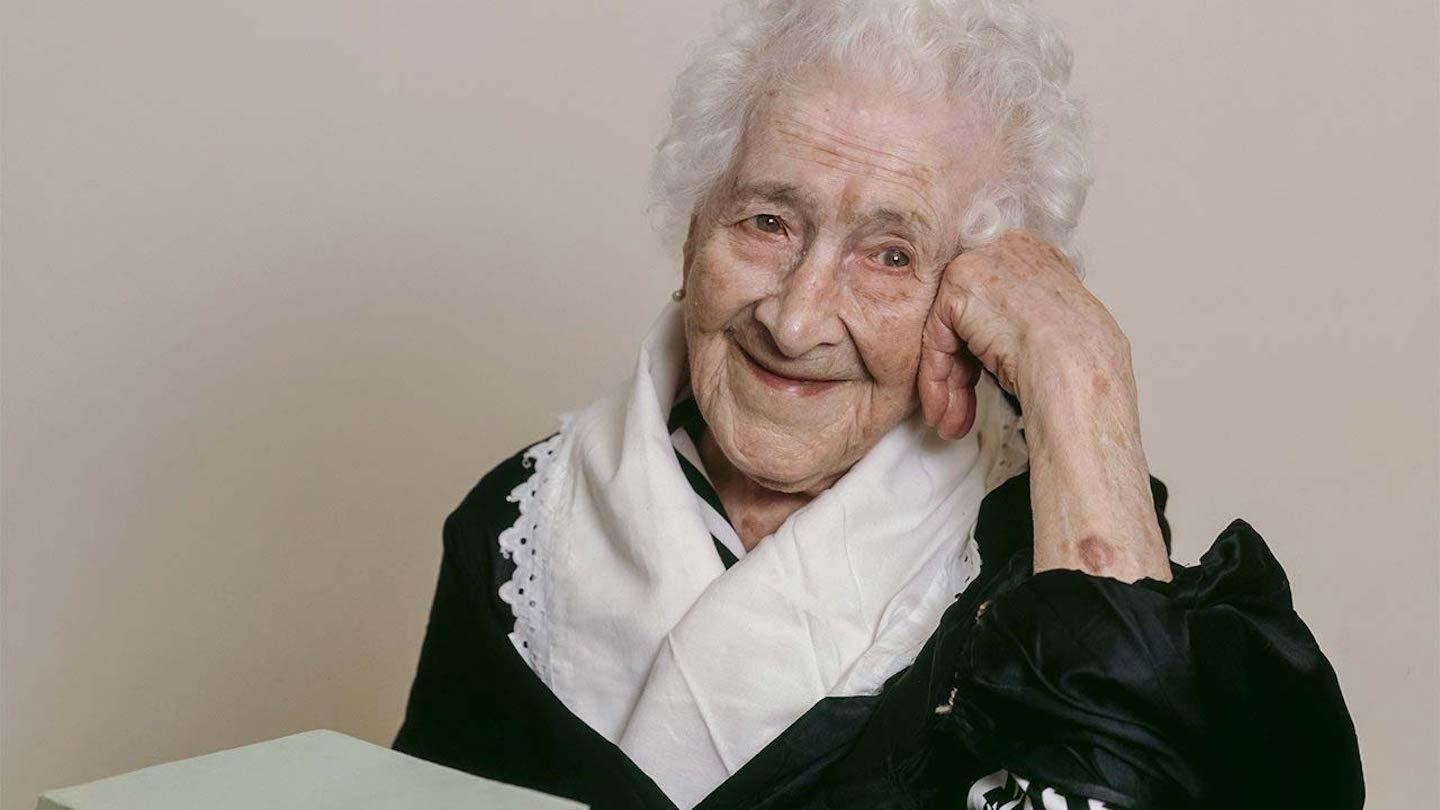 Jeanne Louise Calment. Photo: Amazing Zone
Her marriage to a wealthy distant cousin, Fernand Nicolas Calment, in 1896 meant that Jeanne didn't have to work for a living. That may have played a part in her extraordinary longevity: she was free to swim, play tennis, cycle (she was still cycling until the age of 100) and roller skate, all of which promoted excellent good health. Inevitably, in due course, those around her passed away – including her husband (poisoned by some spoiled cherries, aged 73), her daughter Yvonne (who died from pneumonia in 1934) and even her grandson, Frédéric (who died in a car accident in 1963). But not Jeanne.
As she was without heirs, in 1965 a lawyer named André-François Raffray set up a "reverse mortgage" with Jeanne. According to this arrangement, he would pay her 2,500 francs every month until she died, whereupon he would inherit her apartment. It must have seemed like a good deal for Monseiur Raffray (then aged 47) – after all, Jeanne was 90 at the time. Incredibly, however, Jeanne outlived him. He died thirty years later and his family continued the payments. By the time of her death, they had paid Jeanne more than double the value of her apartment.
Jeanne remained in fine health for the majority of her life – she even took up fencing at the tender age of 85. Her diet was good too, rich in olive oil (which she also rubbed into her skin), and she restricted herself to a modest glass of wine every now and then. But she also had a sweet tooth, with a particular fondness for chocolate: she ate almost 1 kg (2 lb 3 oz) of it each week. And she loved her cigarettes: Jeanne had smoked from the age of 21 and only quit when she was 117. She was able to walk on her own until she was one month before her 115th birthday, when she fell and fractured her femur; thereafter she needed a wheelchair to get around.
She lived on her own until the age of 110, when she had to move into a nursing home. Two years later, on 11 January 1988, she became the oldest living person; and two years after that, now aged 114, she appeared in a film about Van Gogh, Vincent et moi (1990), as herself, thereby becoming the Oldest film actress ever. Working as a girl in her father's shop in Arles, France, she had sold painting canvasses to Van Gogh. "He was ugly as sin, had a vile temper and smelled of booze," she later recalled:
She even went on to become a recording artist: aged 120, her voice featured on a four-track CD, Time's Mistress.
What are Calment's secret of longevity?
Jean Calment came from a bourgeois family and never has to work. Her husband, a cousin, was a prosperous storeowner who offered her a life of ease revolving around tennis, bicycling, swimming, roller skating, piano and opera. In later years, Calment lived mostly off the income from her apartment, which she sold cheaply to a lawyer when she was 90.
Andre-Francois Raffray, who apparently relied on the actuarial table, signed a contingency contract with Calment and agreed to pay a life annuity of 2,500 francs ($500) a month under a deal to make him the owner of Calment's flat when she dies. Yet, he died at 77 and his family was still paying for more than a year unitl she died. Altogether, they paid more than 900,000 francs ($180,000), three times the value of the house, according to Anson.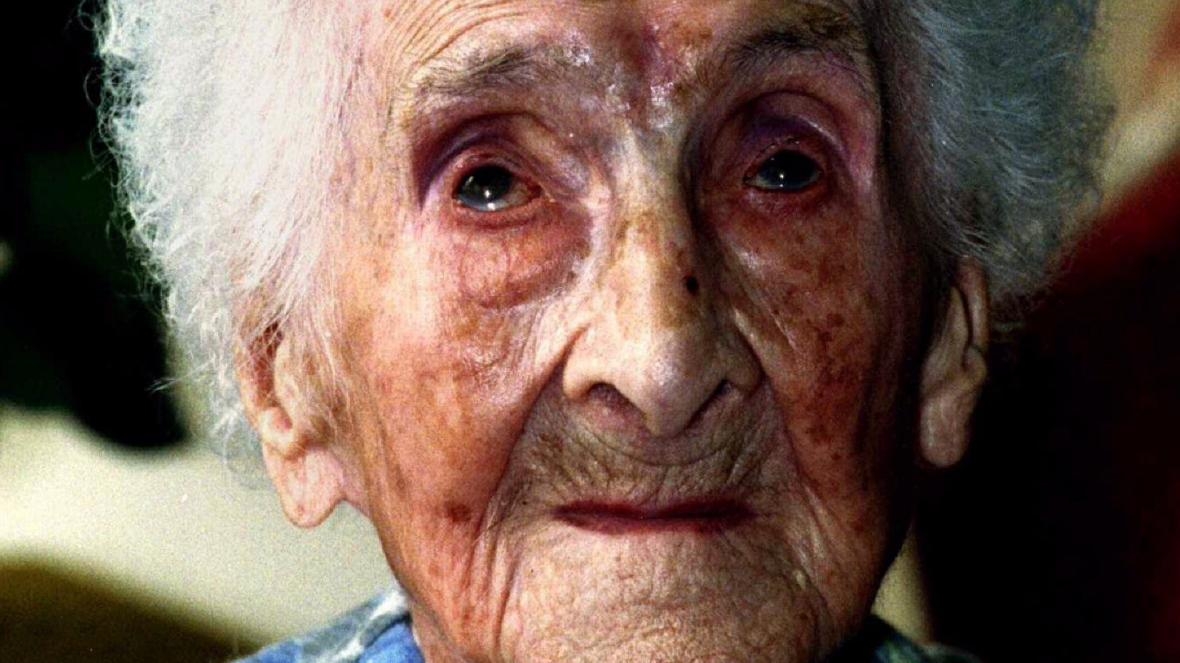 Photo: World Guinness Record
Internationally, researchers are fascinated with Calment for both her longevity and her vitality. "She never did anything special to stay in good health," said French researcher Jean-Marie Robine. They attribute her longevity to her immunity to stress. She once said " If you can't do anything about it, don't worry about it.".
Calment herself credited an occasional glass of Port vine and a diet rich in olive oil for her longevity. She also recommended laughter as a recipe for longevity and jokes that "God must have forgotten me." ( L'Oubliee de Dieu?). For skin care, she recommends olive oil and a dab of make-up. "All my life I've put olive oil on my skin and then just a puff of powder. I could never wear mascara, I cried too often when I laughed."
She took up fencing lessons at 85 and rode bicycle until 100. However ------
She used to ate two lbs. of chocolate per week until her doctor persuaded her to give up sweets at the age of 119. She quit smoking only at 119, but her doctor said her abstinence was due to pride rather than health — she was too blind to light up herself, and hated asking someone to do it for her.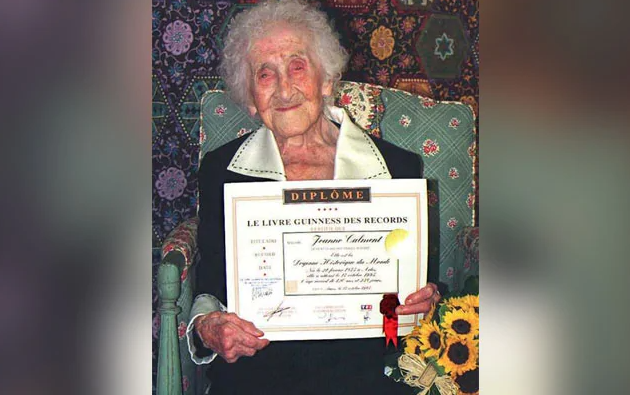 Jeanne Louise Calment and her Guinness Record certificate. Photo: NDTV
What are her notable quotations?
Calment was as alert as a hummingbird and shows no signs of senile dementia. She was well known and liked for her tart wit. Some of her famous quotations are listed below:
"I've waited 110 years to be famous, I count on taking advantage of it," she quipped at her 120th birthday party.
Also on her 120th birthday, when asked what kind of future did she expect, she replied "A very short one."
Getting used to growing media attention with every year that passes, she quips: "I wait for death… and journalists."
"When you're 117, you see if you remember everything!" She rebuked an interviewer once.
Her birthdays were a sort of family holiday in Arles, where all the people of Arles gathered around their "Jeanne D'Arles". In one of this party, somebody took leave by telling her, "Until next year, perhaps," she retorted: "I don't see why not! You don't look so bad to me."
She may be most famous in France, where she was the "doyenne of humanity", for her many bons mots, including "I've never had but one wrinkle, and I'm sitting on it."
Who is the oldest person alive?
Guinness World Records has declared a new holder of the title of world's oldest man living after confirming the age of Emilio Flores Márquez, a retired sugar-cane farmer from the Caribbean island of Puerto Rico.
Born on August 8th, 1908, he was 112 years and 326 days old as of June 30th, overtaking the previous record holder. Márquez, who was the second child and first son in a family of 11 children, began working on his family's sugar-cane farm as a boy, watering and loading the cane on to wagons.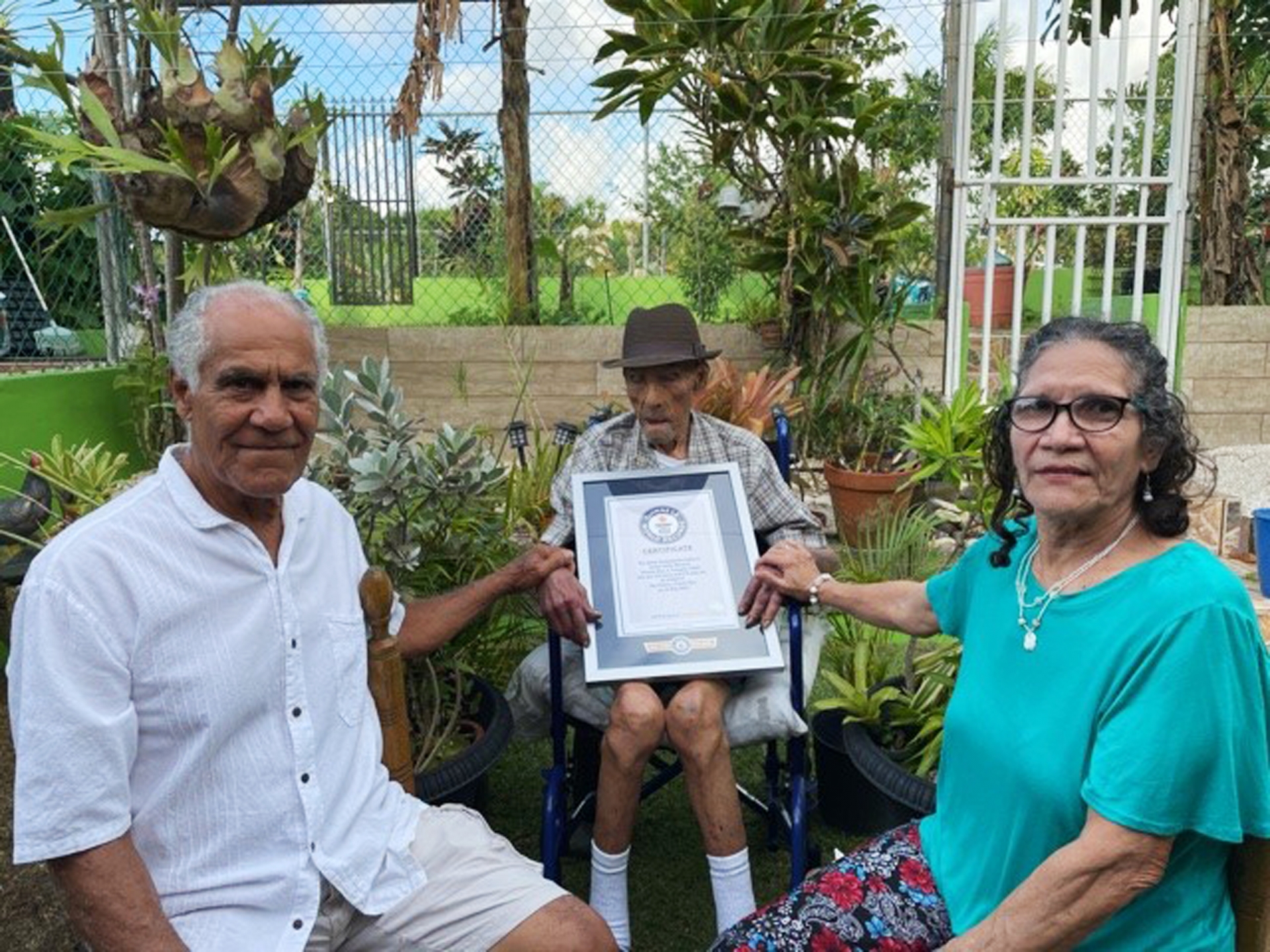 Emilio Flores Márquez center, with his two children, Tirsa and Millito. Photo: Guinness World Record
He and his wife, Andrea Perez, had four children, two of whom are still alive, and now look after him. He also has five grandchildren and five great-grandchildren; his wife died in 2010, after of 75 years of marriage.
As reported by Irish Times, Márquez, who had a pacemaker fitted at the age of 101, attributes his longevity to a life full of love. "My father raised me with love, loving everyone. He always told me and my siblings to do good, to share everything with others."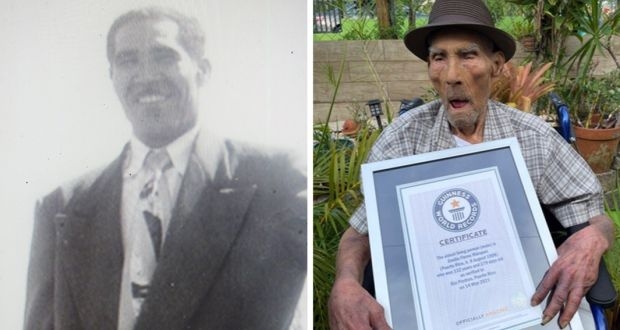 Photo: Infornet
Craig Glenday, editor-in-chief of Guinness World Records, says: "It's always an honour to celebrate these remarkable human beings, and this year we've processed applications from not one but two contenders for the title of oldest living man. I am thrilled to feature Sr Márquez – born, interestingly, on the eighth day of the eighth month in the eighth year of the 20th century – and bring his fascinating story to the wider public."
Márquez has some way to go before he beats the record of the world's oldest living person, a Japanese woman named Kane Tanaka, who was born on January 2nd, 1903, making her 118 years and 179 days old as of June 30th, 2021.